A cooking class is a memorable way to imbibe a local culture; this time, Balinese culture. One gets to the heart of a home by seeing exotic and familiar ingredients in all their raw glory. One gets to handle them, prepare them, cook them, and present them as they should be. And the best part is to sit down and feast on them.
This is what I exactly did in a Balinese cooking class at Casa Luna Cooking School. Run by Australian-born Janet DeNeefe since 1989, Casa Luna is listed among the world's best cooking schools. DeNeefe had lived in Bali for over thirty years and is married to a Balinese man. She is also an award-winning author and the Founder & Director of Ubud Food Festival and Ubud Writers & Readers Festival.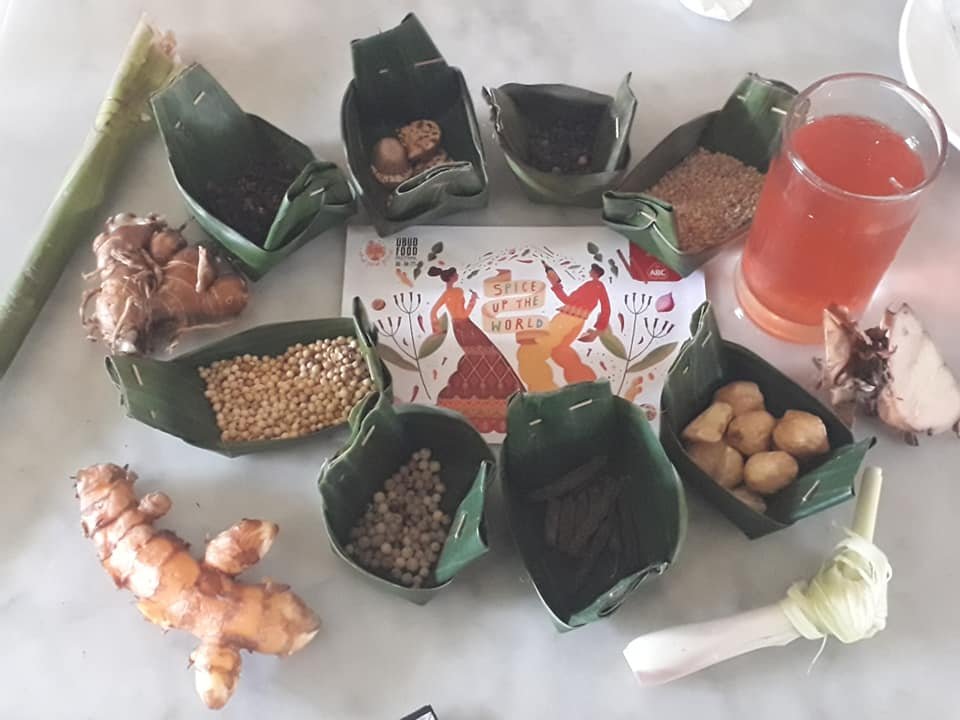 What did I learn from that cooking class? I learned that Balinese cuisine uses similar ingredients as Philippine cuisine. But, of course! As Southeast Asian neighbors and kindred spirits, we share herbs and spices such sesame seeds or lunga (lenge), galangal or langkawas (lengkuas), ginger (jahe), turmeric (kunyit), lemongrass (sereh), soy sauce (kecap asin), coconut (kelapa), garlic (bawang putih), pandan leaf (daun pandan harum).
However, I also learned that our neighbor uses candlenut (kemiri), cloves (cengkeh), coriander seeds (ketumbar), nutmeg (pala), long pepper (tabiabun), aromatic ginger (kencur) that gives Balinese food its distinctive taste, torch ginger (bongkot), tamarind (lunak), palm sugar (gula merah), Asian lemon basil (kemangi), and the salam leaf (daun salam). The fruit and leaves of the kaffir lime are also used which can be substituted by our very own kalamansi.
Here, we learned how to make sambal, a chili paste or sauce which is the base of many Balinese dishes. As essential as our guinamos but with more extensive uses, the sambal unites a menu the same way that salt and pepper does for Western cooking. We made various sambals and curries to accompany vegetables such as pumpkin, banana flower, and balunggay. All these under the tutelage of Yukde, our charming, giggly and bubble instructress, with the help of her equally charming kitchen assistants.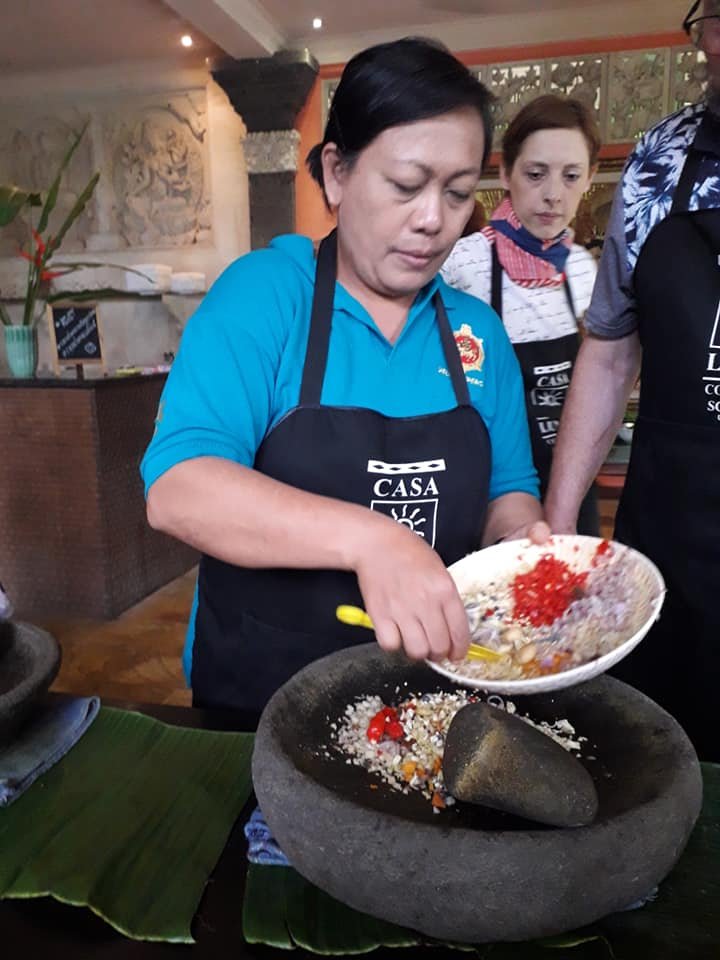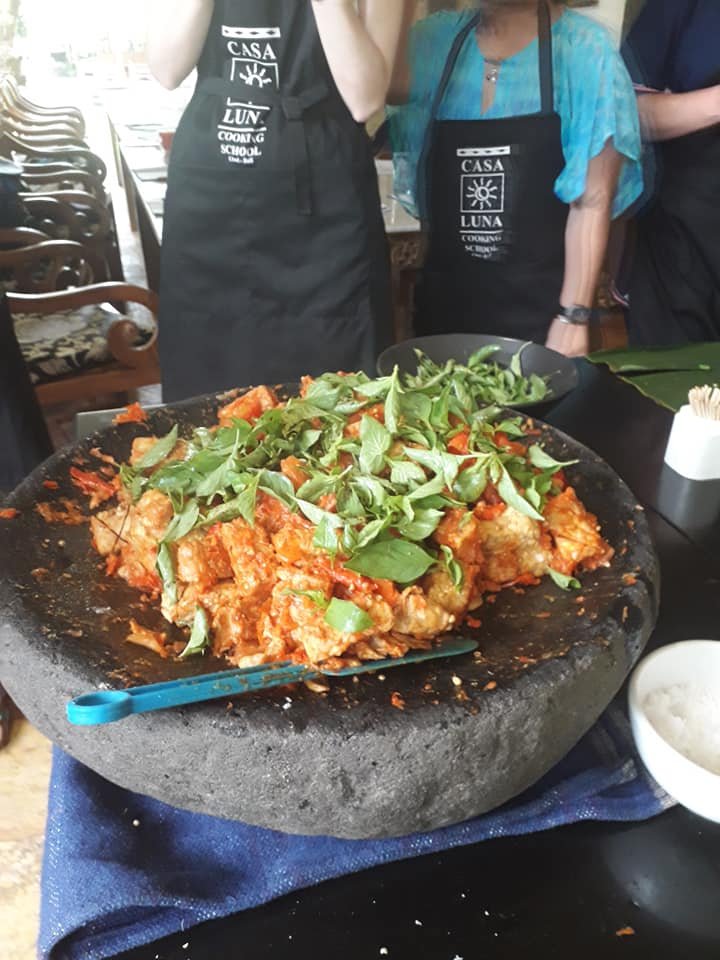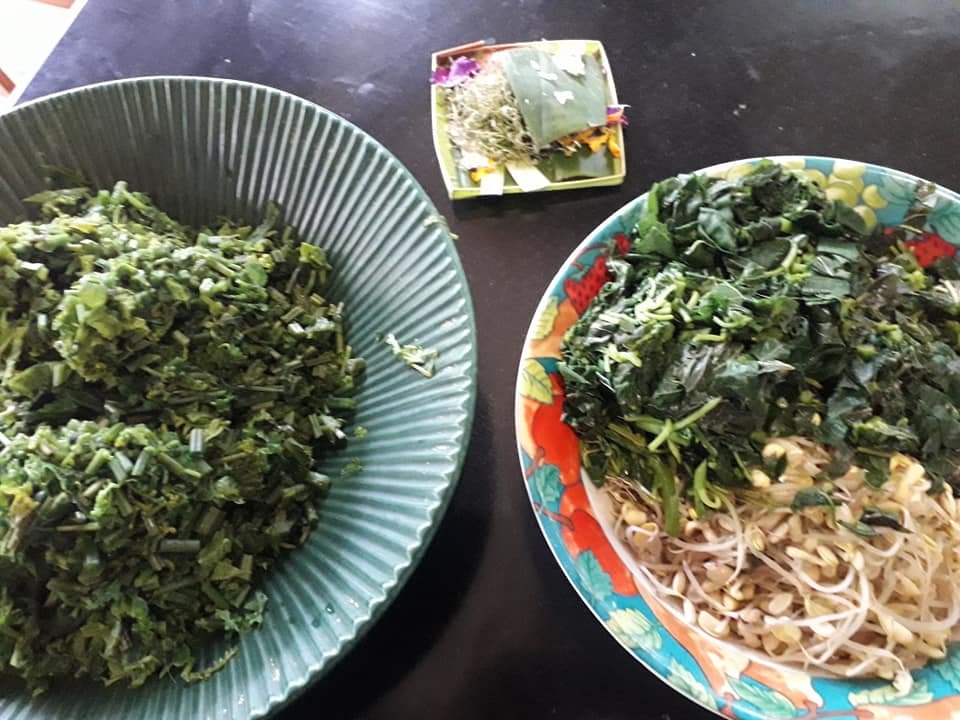 Fresh, lovely ingredients make up very healthy meals in a Balinese household. Huge stone mortars set on the ground and long-handled wooden pestles are still being used for home cooked meals. At Casa Luna, we used the rounded flat-sided stone mortars with a curved surface (as opposed to our bowl-shaped mortars) and short-handled pestles that have ends carved to enable the user to crush and bruise ingredients horizontally.
When all 9 dishes were prepared and set on a long table, 9 classmates from Australia, Italy, England and the Philippines shared a memorable meal in the restaurant set in a cool, green courtyard garden. A chilled hibiscus tea accompanied our lunch. Here's its recipe: put red hibiscus petals in a cup, add hot water, sugar; stir, and squeeze a little lime juice.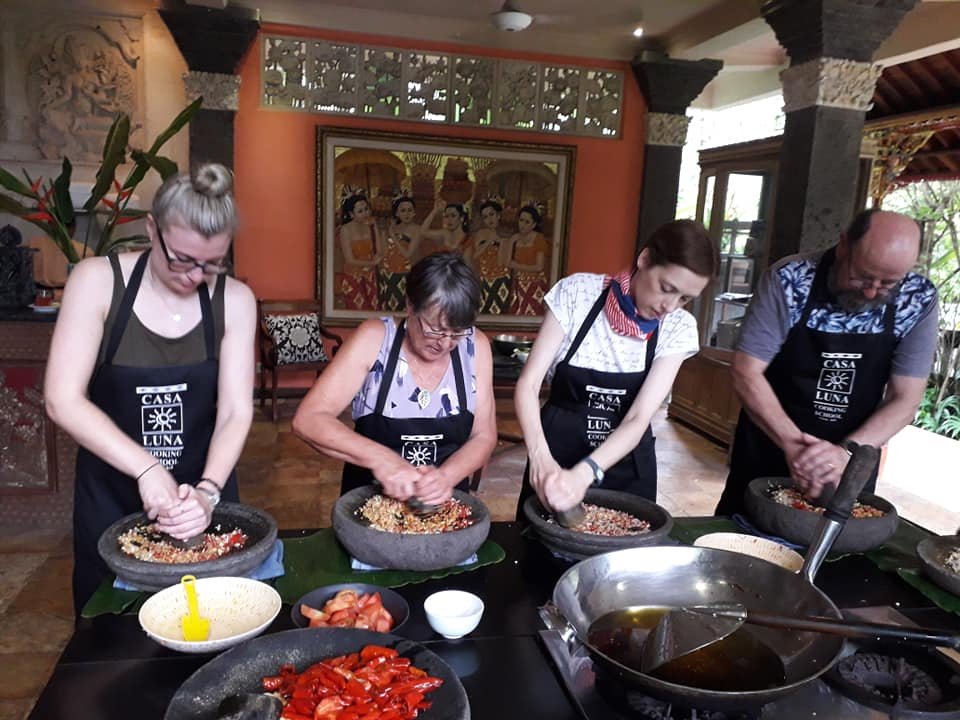 While in Bali, sit down and have some babi guling. Have it around lunchtime when there is enough for everyone. After lunch, most vendors would have cleared away their stalls when their supply had been bought out. Business is good!
My regret is that I never asked around for sate babi. I could have kicked myself for forgetting!!!! However, my consolation is that I can make a mean one myself with a recipe that I keep under lock and key.