My first visit to Balay Bato had a rocky start. No sooner had I put a foot on a rock and told Rusty Binas, the owner, that one needs to be a mountaineer (to climb up and down his stairs) when I slipped and would have had a nasty fall had I not held onto bamboo stems growing nearby.  "I forgot to tell you to wear hiking shoes," Arlene Infante told me.  Well, thanks very much, Friend.  We had a good laugh over my unfortunate tumble, nevertheless.  "Koboy" is the way to go in this unusual residence set on the 2,000 square meter sloping edge by the cul-de-sac of Marapara Heights. Fashionistas will have to forego their kitty heels for flats as they will discover that all entrances to the house are via winding staircases lined with stones and grass, or smooth rocks.
What was once an area where cogon grass grew began to take on a more interesting form when it was finally finished in 2010.  When ground-breaking rites were done in 2009, Rusty had ground-breaking ideas.  First of all, the party was 12 hours long!  Second, he had a babaylan plant a pine tree around which the house was built.  Then, for one-and-a-half years, the design evolved around the initial structure built.
The cold, craggy face of Balay Bato hides a warm heart for the environment.  This is the headquarters of Green Alert Negros, a 26-year-old environmentally-concerned organization of which Rusty was a founding member.  Active earth-loving volunteers in Negros number about 200.  For Rusty, the five-bedroom house is his gift to humanity.  His door-less and wall-less abode is a symbol of his warm welcome to "people and all creations in a temporary biosphere."  Balay Bato brings nature inside.  We see river-stone strewn floors, ginseng vines entwined wrought iron balustrades, a rock bridge, the liberal use of wood, and a spacious living room "furnished" with grass, palm trees, and indigenous trees.  Doorknobs are stones bored to put screws through.
Balay Bato was one of the early houses in the city to employ solar power for the lights.  It was very expensive then.  Some parts of the house still are wired to Ceneco, but water is provided by nature. Rusty's water source is a deep well, and rainwater collected by a reservoir on the house's third level.  He had a specially-designed banga ordered to filter water for drinking.  "May I buy one?" I asked.  Rusty thought deeply before answering.  Sigh. It cost a pretty penny.  But, yes, please, let's buy to also support our local craftsmen who persevere in producing by hand an age-old art of making drinking-water jars.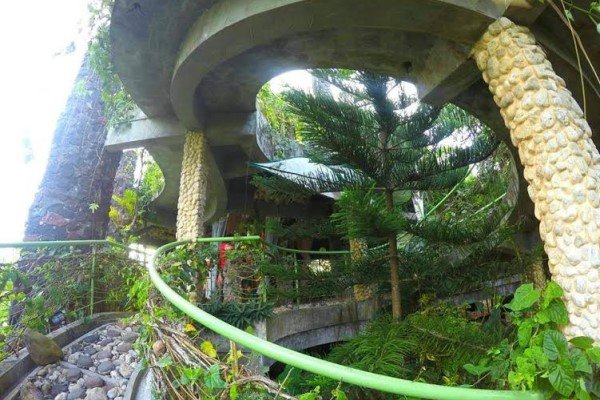 My host takes me to a small bedroom above.  It has a lovely view of treetops and the house-flecked horizon.  Walled off, and out, is the outdoor toilet and bath that will have one cringe at first at the thought of showering and answering nature's call in that wall-less and roofless sanctuary.  It turns out that this is just one of the rooms that exhibit the designer's close-to-nature quirkiness.  Rusty's office ensconced in the upper level of the residence extension a few meters away happens to have a fireman's pole where he can leap onto for a quick exit to the grounds.  Somewhere at another second-level area is a platform ready for the future zip-line that will connect the separate structure to the main house.  Acrophobes need not worry – the trip would probably be just one scream away.
At an idle land across the street, Rusty and his Green Alert volunteers apply the theory of bio-intensive gardening ("whatever survives, survives") referring to letting nature take its course after planting seeds or seedlings.  Here, there is no conscious effort to weed, or water, or even plant, in some cases. Rusty told me, "We do not control life forms; we are part of the life forms."
A man's home is his castle.  In Rusty's case, his castle is his offering to the earth that he loves.  Nobody can explain his home better than Rusty himself.  "The bridge towards entering the house comforts us to a journey of discovering ourselves. The vast space of the living room of grasses, palm trees and indigenous trees bring us home closer that we are sharing it with all life forms.   The rocky and grassy stairway reminds us the cycle of life that there is up and down.
No walls for wellness and greatness. No barriers to open dynamic possibilities between all people and all creations in achieving harmony.  The strength of our family and civilization is how we relate to each other towards attaining understanding and caring especially to those who have no voice and could not hear."