I got lost on the way to the grocers.  I set off on a Sunday morning at past 9 while Min was still asleep after a late night watching the Olympics live at London time. I thought I'd surprise her by buying her favorite yogurt drink.  (Boy, can she down up to 5 a day.)
Losing one's way in a foreign land can either be a terrifying experience or a rewarding one.  The most memorable time I went off the beaten path was when I strayed into the narrow maze-like alleys of the Cite Medievale, the 13th century Old Town in Hyeres, France, and found myself in the exotic Muslim quarters.  Going around Korea can yield a more consistent adventure because Korea seems more pure except for Itaewon which is a melting pot of all nationalities.  This undiluted factor can prove to be confusing when finding one's way around.  The neighborhood around Jangam-dong look similar and there are no street signs. Not many speak English; signs are in Korean. This same-ness is echoed in neighborhood after neighborhood. Constructed just next to each other are apartment buildings that look uniformly 20-storeys high and sport shades from the same color group.  This must be their "edifice" complex.
Korea has a mountainous terrain and at Jangam-dong, without exception, hilly places provide charming grounds  for small brick houses and shops that lie on the fringes of the apartment complexes.  The brick- and-concrete look is softened by pocket gardens dotting the whole district.  The environment is clean and safe for the elderly, young children on their bikes, and foreigners like me.  How clean is the environment?  The creek nearby is solid proof of the discipline and efficacy of the strict clean-up drive in most of the metropolis.  There was not a single piece of trash, the water was clean enough for fish to swim through, and, to enable the residents to cross the creek to get to the other side, boulders were arranged to step on.   Two paths were laid alongside the creek for the residents – one gravel path for bikers, another rubberized one for joggers.  These allow people to exercise at their convenience anytime of the day.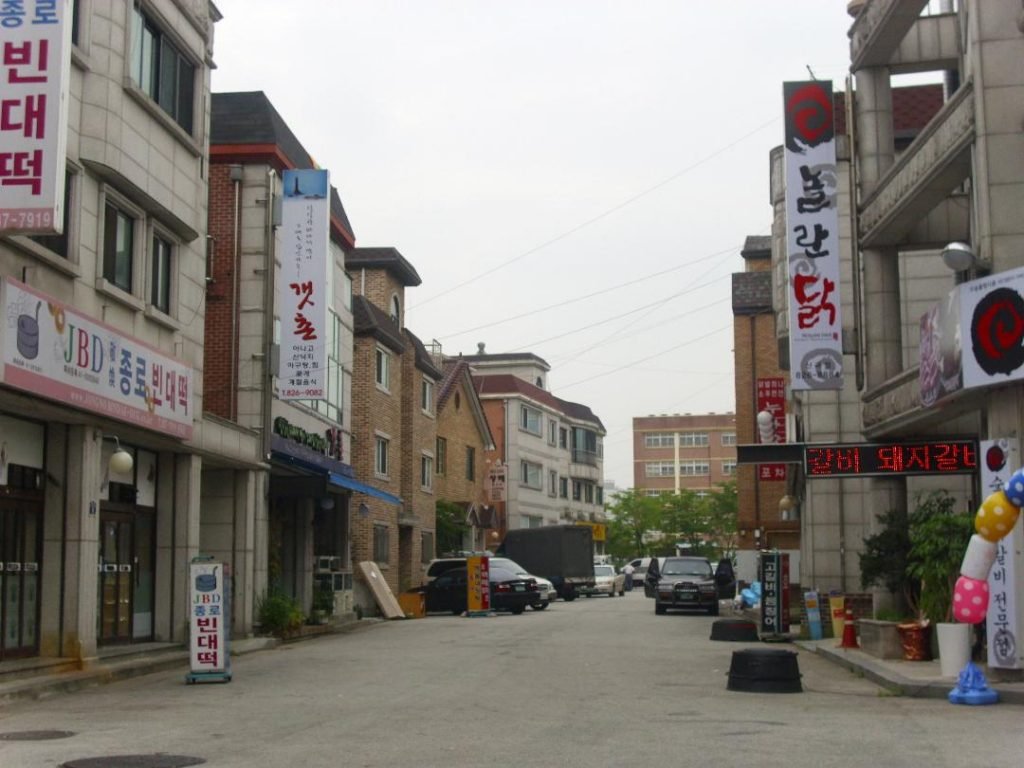 After walking around a little bit more, I finally sighted the grocery store which I passed by earlier this morning.  Homeplus, a Korean store chain just like 7-Eleven, has courteous girls who greet me with their thin sing-song "annyeong haseyo"  and bid you goodbye with an equally musical "kamsa hamnida".  The one in Min's neighborhood is not very large but has a good selection of grocery items.  Now, if I could only read the labels.
"But things look so different in daylight,"  I complained to Min when I reached her apartment and after putting away the packs of yogurt, a tall bottle of orange juice, some vanity items, and a bag of nectarines I bought at Homeplus.  We would often do our shopping at night on the way back from dinner.  Then, I asked her about the piles of cartons and plastic at the parking lot that I saw when I was coming back.  "When does this take place?"  I asked about the collection.  Min said a gentleman comes every Sunday to collect recyclable items such as PET bottles, plastic foam, plastic bags, cartons, newspapers, and even old toys.  I indicate her own stock in the verandah and she sheepishly replied that she simply didn't have the time to bring everything down.  "No problem; let's do it now,"  I said.  So the three of us (Min, Marivic and I) carried whatever stuff we could lay our hands on that were right for the recycling plant.  What do the residents get from this in return?  The gentleman gives them tokens instead of cash.  Cash or no cash, the citizens do their duty in keeping the environment clean by recycling.
Discipline and respect for nature reaps huge benefits for us all.  May our seas, rivers, lakes, creeks and streams reflect our respect for nature and for ourselves.