We all know very well that Negros Occidental is home to the Gaston clan, descendants of Yves Leopold Germain Gaston from Normandy, France.  So, when I had to take a French couple around our province,  lunch at Hda. Sta. Rosalia in Manapla was a natural choice and so was a visit to Balay Negrense in Silay which was the home of Yves' son Victor.  The Hda. Sta. Rosalia trip elicited ooh-la-la's from my guests from Nantes when the ever gracious host Msgr. GG Gaston prepared his famous Filipino menu and welcomed Jean Patrick and Marie Lorette into his pre-war mansion set in the middle of the hacienda.  I had also invited Virlanie Foundation's founder and president Dominique Lemay and the foundation director Sara Vial to this delightful repas, and, voila!, we were parlez-vous-ing the noontime away.
It is not often that my French language proficiency undergoes a rigorous practical exam.  Nevertheless, I was up to the challenge for I am a die-hard fan of my province in any language.  The couple proved to be very pleasant company for me despite the limitations of our communication.  With a dictionnaire on one hand, and a petit whiteboard on the other, we hurdled the gap as we cruised around Bacolod, Silay, Talisay, Victorias, Manapla and Bago. My guests were very impressed with what they saw.  "Incroyable!" "Super!" They were tres, tres heureux.  For one thing, they were tres, tres sympathique aussi.
The tour was not limited to Negros at all.  My friend Liz Ascalon arranged for a trip for us to Cebu.  And there Jean Patrick and Marie Lorette ooh-la-la-ed to their hearts' content because, first, we were billeted at Crimson Resort and Spa which is on Mactan's beach, and, second, the couple was able to see more of the French connection in the Visayas.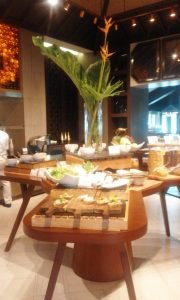 Korlanda was a favorite destination for us four.  It is a French company that set up shop at the Mactan Export Processing Zone.  It creates jewelry with all sorts of materials for the mainly French market.  Recently, it had expanded its market to a few other countries in Asia.  Filipino workmanship married  French fashion flair to give birth to brilliant jewelry designs that make use of semi-precious stones, wood, shell, feathers, snakeskin, metal, enamel, and even termites' nests.  Quality control is excellent so that each product guarantees customer satisfaction.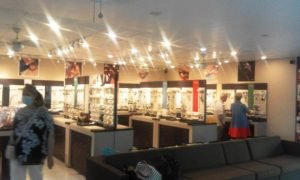 A trip to Cebu would not be complete without lunch at La Maison Rose which shares the same house as the Alliance Francaise.  A very charming pink 1930's former residence has become the visually delightful quarters of the aforementioned.  La Maison Rose, although French in menu, incorporated chinoiserie in every room which makes one think of the Shanghai of old.  Jean Patrick and Marie Lorette took this time to chat with Sara and Noemi,  both young French ladies working in Alliance. Sara is a daughter of the couple's friend.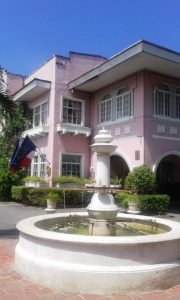 Just beside the house is La Vie Parisienne, a more contemporary restaurant with amazing design details, if one pardons the fake grass that makes for easy maintenance.  'Tis a good place for an after-meal coffee or wine or dessert.  Dessert choices are limited, but I was happy with the madeleine and cannelle. The glace (ice cream) comes in several flavors including balut (ay, unsa man, dang?) which was not to my liking so I settled for blackberry and coconut.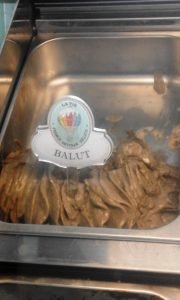 There is more to write about but there simply is no space.  What is important is that Liz and I are sure that Jean Patrick and Marie Lorette have very good memories of Negros and Cebu.  I discovered that if I can't francais, I can palagpatey!  The heart knows no language but love and a strong desire to be of genuine service to guests.  However, after that tour, I know that the best language is the sign language.