For an island small enough to fit into Negros several times, Guimaras is large on several counts.  Obviously, its mangoes are its biggest moneymakers and this edible gold shines brightly for the island-province.
Guimaras gold beckoned to mango lovers to its silver Manggahan Festival at the Capitol grounds in San Miguel, Jordan, where its biggest attraction is the Mango Eat-All-You-Can.  In this promotion for P120 and 30 minutes, one starts off with a tray or nigo of three pieces of mangoes.  Add more as you wish but you cannot take out any fruit.  The mangoes were at their juiciest and most succulent.  Half of my face was smeared with the yellow juice but I didn't stop until I had gobbled up all three and that was it for me.  For the rest of the mango-crazy visitors, ten pieces or more in one sitting was the cat's meow.  This year, the Manggahan Festival took place from May 11 to 22.
Mangoes are processed into other goods.  One intrepid entrepreneur is Rebecca C. Tubongbanua who put up McNester in Brgy. San Isidro.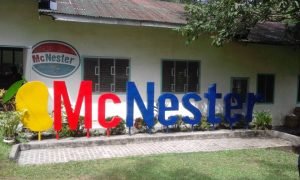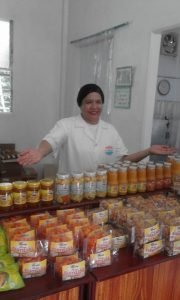 McNester sells mango-based products such as mango ketchup, mango butterscotch, mango sauce (we had this on pasta), mango banana chips, and even mango piaya. Mrs. Tubongbanua was a Barangay Nutritional scholar and is a Magsasaka Siyentista.  McNester is truly a business that mango built.
Aside from the countless mango and cashew trees in Guimaras, other tree species crowd the island's open spaces.  It is lush and also blessed with a road network so that everyone has access to many destinations.  Tourism is one major source of Guimaras' wealth.  Bikers will find many trails friendly one of them leading to the Trappist Monastery where the monks are cool and modern.  The small shop carried goodies made from mangoes (including the famous jam), and religious items that aid Catholics in increasing their spiritual wealth.  For spiritual healing, try to book a stay-in retreat a year ahead to assure one of a slot.  Don't forget that God is the ultimate mangga-gamot.
Nothing spells "manggaranon" (rich) in Navalas, Guimaras than the Lopez family's summer retreat built in honor of Dona Presentacion Hofilena Lopez.  The 1910 multi-level mansion constructed on a rocky cliff jutting out into the sea has a breathtaking view of the Guimaras Strait dotted by island formations called the Siete Pecados and the famous Roca Encantada or Enchanted Rock.  The Lopez mansion had been renovated to make it more contemporary.  Entrance fee is P50 per person where one can climb up to the verandah and take really nice selfies.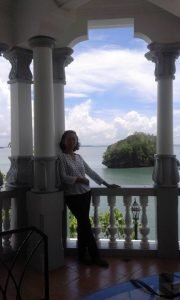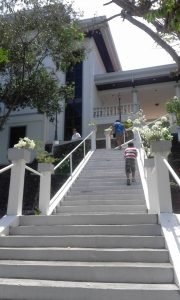 If the Lopez mansion is a heritage house, the Navalas Church or the San Isidro Labrador Church is a Spanish-era edifice built from 1880-1885,making it the oldest church in the province.  Coralstones (naturally) were used to construct the church and its separate belfry.  Only the façade remains and the belfry that sits before it – the rest of the church had been renovated.
If there's a church, there also has to be a plaza, and Guimaras has the smallest in the country.  Only 677 sq. m. big, the square manages to be equipped with a bandstand and a monument to honor Dr. Jose Rizal.  This humble attraction is a stark contrast to the Wind Farm that operates 27 wind turbine generators that are as tall as 22-storey buildings.  The generators look like windmills but are too modern and sleek to be mistaken for the giants that Don Quixote engaged with in battle.  The wind farm is set in rolling terrain and is becoming a favorite venue for pre-nuptial photoshoots.
For an island small enough to fit into Negros several times, Guimaras has many attractions to offer.  In 1903, Douglas McArthur visited Buenavista (est. 1775).  He may have uttered his famous line decades later, but I believe that the same line was uttered when he visited Guimaras.  Guimaras, I shall return.
N.B.
To get to Guimaras, the more popular jump-off point is the pier at Ortiz.  Boat trips from the Iloilo mainland to Guimaras take 20 minutes and one pays a fee of P14.00.  Ang mahal! Parang February 14 lang.