It's hot!  It's filling!  It's delicious! It's a meal in a bowl.  That's it, pancit!  And when you're in the Visayas, this kind of pancit is pancit molo.
They say it was excess eggs, especially the yolks, from the construction of Molo church that caused the invention of pancit molo.  In olden times, egg whites were used as binders for the mortar, and pastries were created so as not to let egg yolks go to waste.  Panaderia de Molo's molo wrapper has a chewy texture and can hold its own when set in a sea of steaming hot chicken broth.  The secret is in the eggs.  Side by side pancit molo using ordinary wrapper, the yellowish tinge and the firmness of the Panaderia wrapper speaks volumes about its quality.  The same wrapper, when cut into wider sizes, can pass off for lasagna noodles.  The molo wrapper and lasagna noodles can be bought made-to-order.
Rollers are still kept busy by Panaderia de Molo's brisk sales
It was then that I got drawn to the huuuuge century-old wooden lavadores where batter is mixed in.  These gals never retire and still are indispensable kitchen implements just like the original mixers, and the wooden table exclusively for making hojaldres.  This kitchen has quite a history.
The Panaderia de Molo was started by Luisa Jason Sanson in 1872 and the famous pancit molo was created by three Jason (pronounced as "hason") sisters and the rest is culinary history.  On a recent trip to Iloilo, I had the most unexpected opportunity to see where my Panaderia de Molo goodies came from. Thank you, Christianne Sanson, for taking me, my mother, and Iloilo tour guide Virna Ascalon Tan into the womb of this heritage food business.
The "womb" is the spacious, airy kitchen that churns out traditional Ilonggo merienda classics such as galletas, hojaldres, broas, banadas, biscocho prinsipe, kinamunsil, rosquettas, and biscocho de cana, and later additions that became equally popular.  The hens of Iloilo are kept busy by Panaderia's huge market of buyers who support traditional artisanal products; the bakery requires 500 eggs a day!
4th generation descendant Christianne showed off the ovens that give the famous pastries and cookies their fiery finale before getting packed and readied for the store. The ovens are so capacious that I had thoughts of hiding in one of them just to give the baker a fright when he shovels in the next batches of herbed toasts.  The high temperature inside, though, guarantees that all pests that have strayed into their cavernous bellies will never see the light of day again.  Gulp.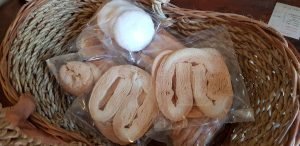 Molo, including the Panaderia, have shaped the tastebuds of the Negrenses ever since Ilonggo migrants started a new life in Negros at the middle of the 1800's.  They brought with them their cuisine and refined our tastebuds with the gentility that the Ilonggos are known for.