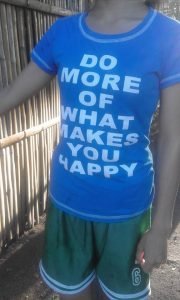 On Labor Day, May 1, 2018, advocates for the environment donned on their masks and gloves, and armed themselves with tongs.  They were there to SWEEP (Sea Waste Education to Eradicate Plastic) 2,895 square meters of the shore of Purok Nami Nami in Brgy. Banago.  66 SWEEPers tackled the flotsam and jetsam that were washed ashore.  Only plastic trash were collected by the SWEEPers for auditing by the 10 Waste Auditors of whom I was one (partnered by dear friend biologist Mary Aidine Galvan.)   The Coastal Cleanup and Waste Audit was for the purpose of collecting data on the lifestyle habits of the locals (although we know that plastic trash can travel a very long way by sea.)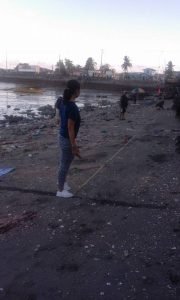 As one of the top three sources of plastic waste in the world, the Philippines must address this issue.  "This SWEEP is part of a 2-year research and education project on marine plastic pollution in selected sites in Negros Island.  The waste collected from this coastal cleanup will be audited and recorded as important date for developing innovations in community education, governance, and enterprise development to reduce the flow of plastic from land-based sources into the ocean."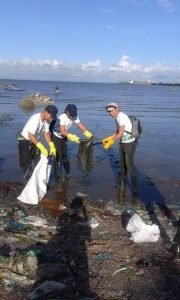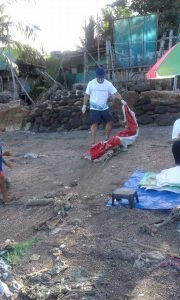 From 6 a.m. up to a little over 8 a.m., a total of 72 sacks of plastic trash were collected and audted.  The biggest pile we got was composed of sando bags; the second biggest was from disposable diapers and sanitary napkins.  There were sachets (food, shampoo, grooming products),  plastic wrappers from detergent bars, footwear, articles of clothing, clear plastic, and sacks.  The May 1 Coastal Cleanup and Waste Audit was a real eye-opener and shocker to see how much trash goes into our seas.  Even trash that are dumped in the mountains find their way into our waterways!
The smallest objects can be a threat to marine animals that may mistake these as food and end up dying from intestinal blockage.  These items may be cotton buds with plastic sticks, plastic straws, the torn-off pieces of sachets called "ears", and the broken-down parts of shopping bags that are photobiodegradable but actually still retain their plastic properties, hence, still pose as threats to our wildlife.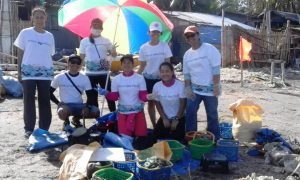 Let's rethink of the way we live.  Again and again, we cannot over-stress the need to take your own shopping bag with you, saying "no" to plastic straws, segregating garbage, and recycle stuff that can be recycled.  Our fast-paced lifestyles may not allow us the patience to deal with cloth diapers and "pasadors", but we can take baby steps to contribute to a healthier Earth and cleaner oceans.
SWEEP is a project funded by the USAID and locally initiated by Philippine Reef and Rainforest Conservation Foundation, Inc. (PRRCFI) also the team behind Danjugan Island Tourism Program.
To show your support follow them on Facebook and Instagram with their handle @sweep.ph .