At Seda, no two staycations are alike. The first time I stayed here was with Mother who had the time of her life feeling spoiled by me and by the staff. She had a pampered day rolling in bed for most of the afternoon. And why not? She loved the firm and comfortable bed so much that it was unlike her to be under the covers most of the time. If ever she was up and about, she would be peeking through the window curtain and looking down to admire the blue waters of the swimming pool on the second floor.
Seda Capitol Central's location makes it an ideal destination for the elderly on vacation. My mother, no longer spritely at 86, could view the soothing greenery of the Capitol Lagoon Park across Misto where we have breakfast. At night, one can have his choice of good restaurants along Lacson Street for a variety of dining experiences. The problem would be which one to choose from the many at this restaurant row.
On my second staycation this time with a very good friend who happens to be on the other side of sixty, we were faced with the same question: Which restaurant to have dinner at? Which restaurant would be near enough and good enough? Do we go a few blocks along Lacson Street? Or do we go to Ayala Malls which is only three blocks away and even has a chapel where the two of us can have some spiritual recharging? You know what? We ended up having late merienda at Misto, its buffet spread inviting us to stay put and catch up on each other's lives with the time we saved. And catching up was the essence of our staycation.
Love means never having to say "I do not have time." For a relationship to grow, one should find time and make time for it. My friend Babes is based in the U.S. and as most Balikbayan vacations to the Philippines go, the whole village turns up to meet and treat the special guest. My friend happens to be popular and well-loved among her relatives and peers and with just three weeks to make the rounds, I know that I would be lucky to be able to worm my way into her social calendar. So, what's a BFF to do?
Thank goodness for staycations and with Seda Capitol Central's weekend promo, staycations are friendlier on the pocket. I got to impress my friend, enjoy her company in comfort, and not have to worry about busting my budget. I had a worry-free weekend focused only on being present. Now that I had held my busy friend captive for one day and one night, it was time to make the most of her free day.
And, boy, did we chat the late afternoon away at Misto over merienda. Their version of the La Paz batchoy was very good, as usual – piping hot and tastes just like what an Ilonggo kitchen would come up with. The dinuguan is also rich-flavored, so, if you prefer something heavier on the stomach, this is for you, O meat lovers!. There are platters of finger food to make for a colorful plate – sandwiches, brownies, bruschetta, Negrense delicacies, mini-burgers. Needless to say, we had to skip dinner.
Salmon croquettes

Miniburger sliders

Candied sab-a in a glass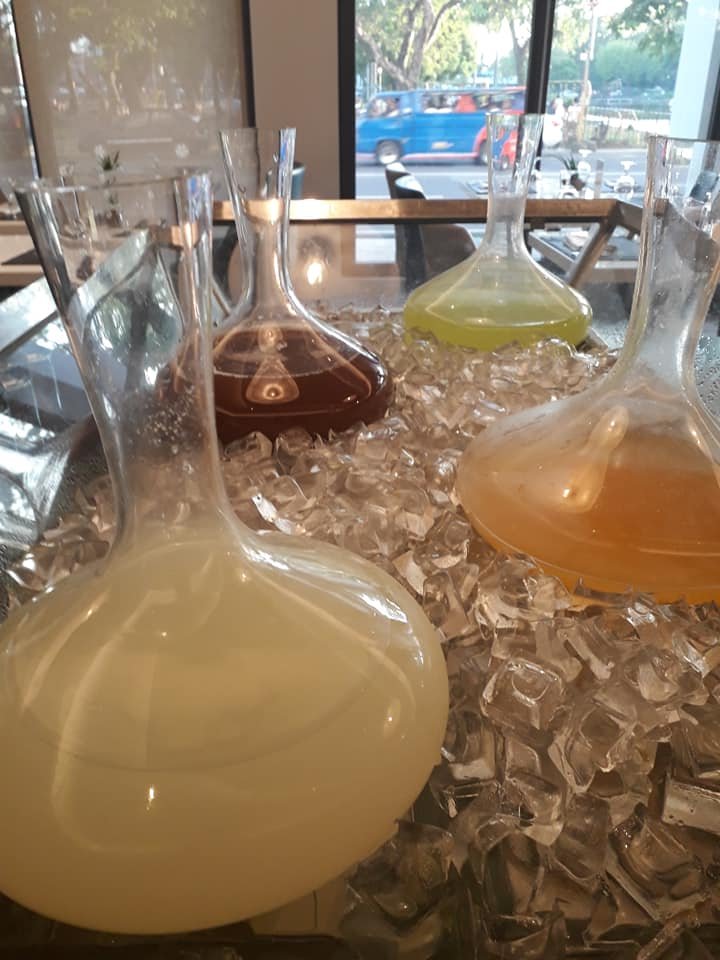 As for breakfast, that is a different matter. We never skip breakfast at Seda Capitol Central. I wouldn't want Babes the Balikbayan to miss a steaming bowl of laswa, the Ilonggo vegetable stew, the greens still green and not overcooked, the blend of condiments not overly salty, and the ratio of vegetable and liquid just perfect. I would not want her to miss a serving of congee which, topped with fried garlic, fried dried lobo lobo, and a sprinkling of green onions, becomes a meal by itself. Then, there's our Filipino classic the adobo its rich sauce salty, peppery, vinegary, garlicky guaranteed to make you go back for seconds (with steamed rice!)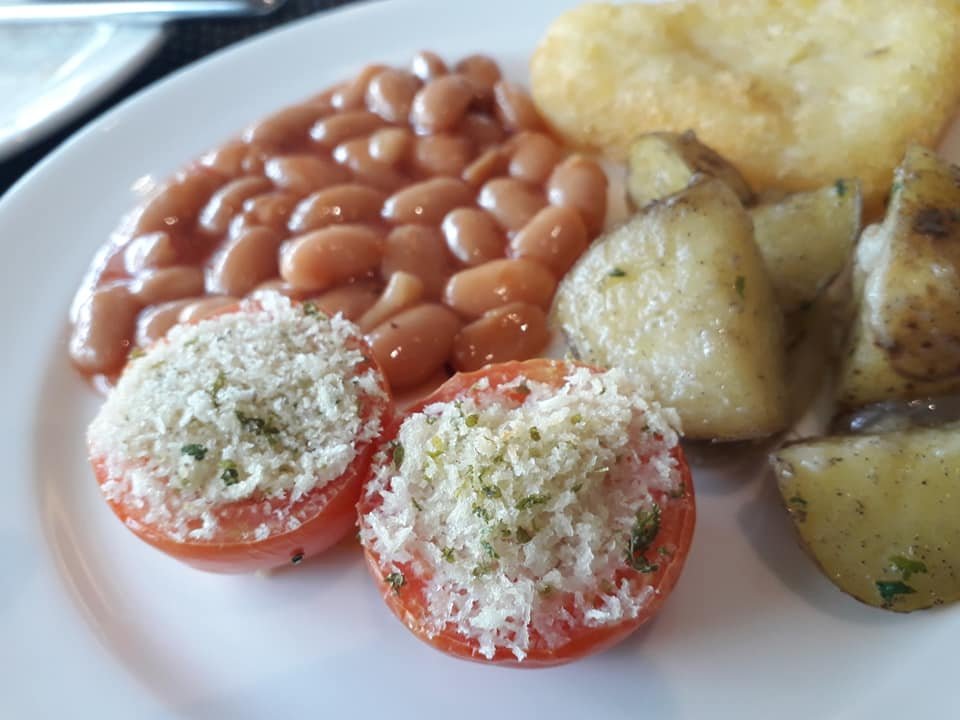 On hand are fresh fruits to lessen the guilt of indulging. And thick muesli with shredded green apples and raisins sweetening the oats. And fruit juices. We had seconds; we had thirds. We people-watched. We laughed. We had deep conversations!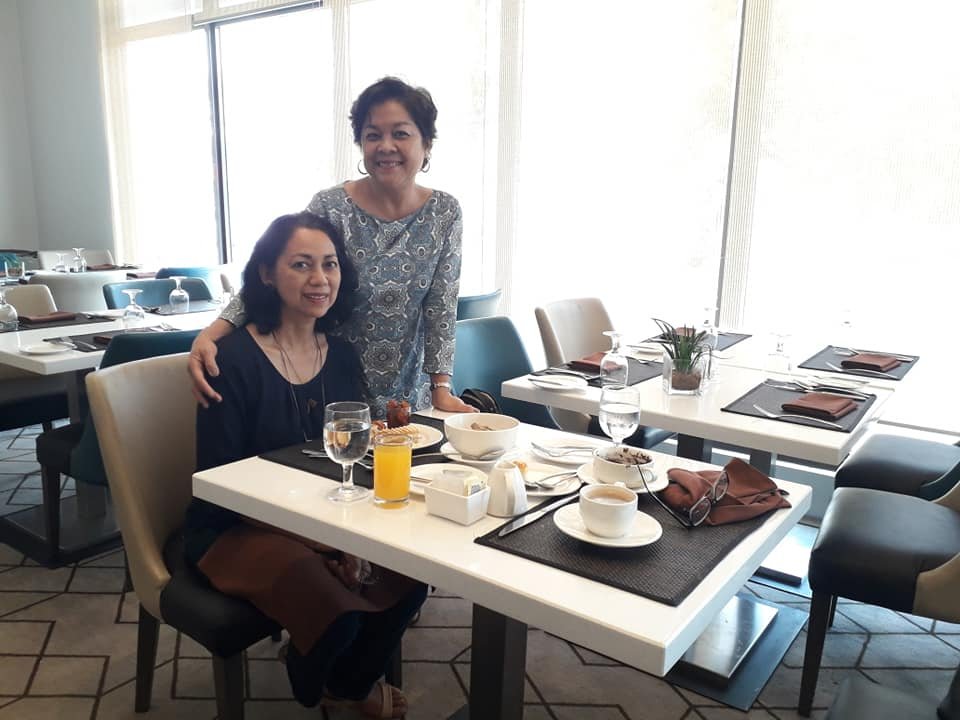 While I was relaxing …

…Babes made her bed. She has OCD.
If that's what happened at Misto, imagine what our interactions were in the selfish cocoon that was our 6th floor accommodation. So many secrets shared, so many heartaches unburdened, so many emotional reconnections with my BFF Babes. This is, so far, our most memorable time together for this was our only time together and Seda Capitol Central made it happen.