It's that time of year when I expect my only female furbaby Guapita to give off romantic signals to her male siblings. I have four male dogs and one is a big bully (Wookie), another the oldest (Canlaon) is the underdog, one virile 5-year-old (Biscuit), and the youngest, Quezon (Guapita's son) who, at almost two, is beginning to discover his sexuality. Except for Quezon, the three males have had many a bloody battle over their sister. So, for about a week twice a year, I am assaulted by an annoying cacophony of raucous growls, high-pitched whimpers, sharp yelps, and the unmistakable ramble of males fighting to the death over a bitch in heat. Afterwards, when the deed is done and someone gets her pregnant, Guapita develops a voracious appetite that I change her name to "Bab", a diminutive of "Baboy". She becomes "Bab" for two months until she gives birth and here starts my other road to Calvary.
When the pups are breast fed, my nights are blissful, but when they begin to wean off milk, then, my world turns upside-down because I need to feed them multiple times a day. This goes on until the pups are ready for their new homes. The dogs are sending me to the poorhouse. Life is a bitch.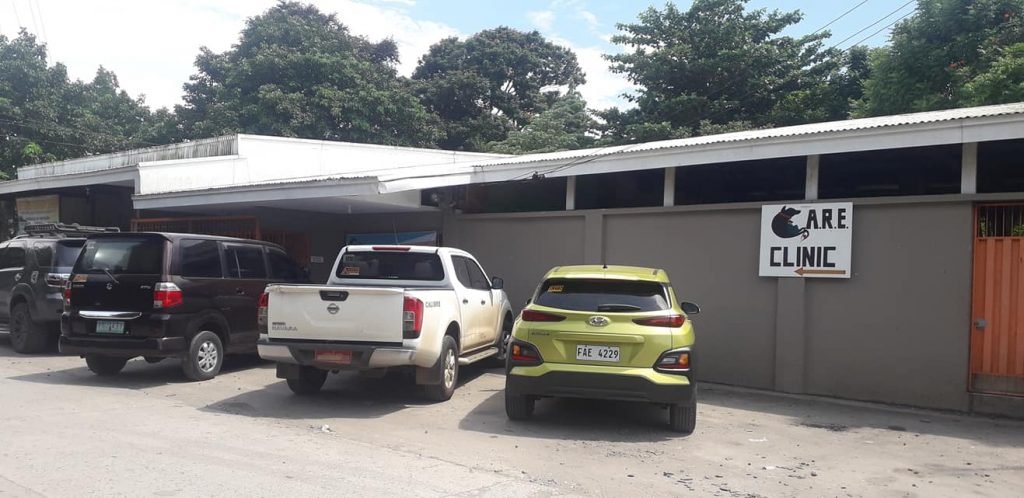 I finally put my foot down this year. Guapita HAS to be neutered at all cost. She had given birth four times and I felt that it was time for my daughter's ovaries to take a rest.
The Community Animal Rescue Efforts, Inc. offered a great opportunity I could not pass up. At a time when belts need to be tightened because of COVID-19, CARE's Low-Cost Kapon saved me thousands of pesos, and gave me precious peace of mind.
It helped that I know the schedule for neutering by checking out CARE's Facebook page. So, I set an appointment for October 3, at 10:45 a.m. Now, let me take you to reality – do not expect the schedule of the day to go on like clockwork. Each case is unique and, just like surgery on humans, there is no time limit. Guapita was able to be "prepped" an hour past her slot. Oh, the poor girl – it was her first trip outside the house, and she was trembling during the ride from home to CARE clinic. She was all stressed out and panting heavily, so, it was a relief when she was given her first shot of relaxant preceding her anesthesia. A note to fur parents who plan to take fur babies to the CARE clinic: please make sure your pet is on a leash. There are other babies at the spacious waiting area and they could also be stressed out, intimated by the new atmosphere, hungry or thirsty (no drink or food 8 hours before the operation) or just plain impatient.
NOTE: Upon arrival, I was told to let Guapita take a stroll outside to give her a chance to heed the call of nature before surgery.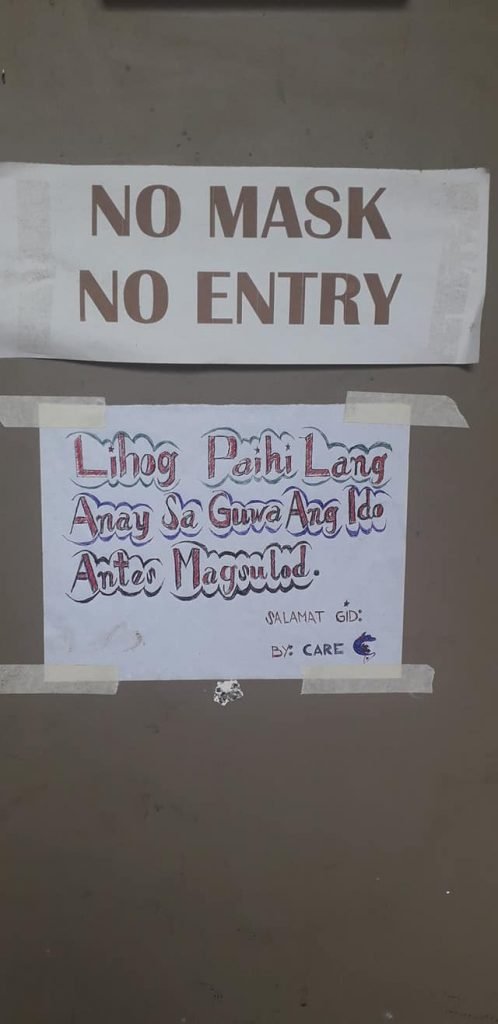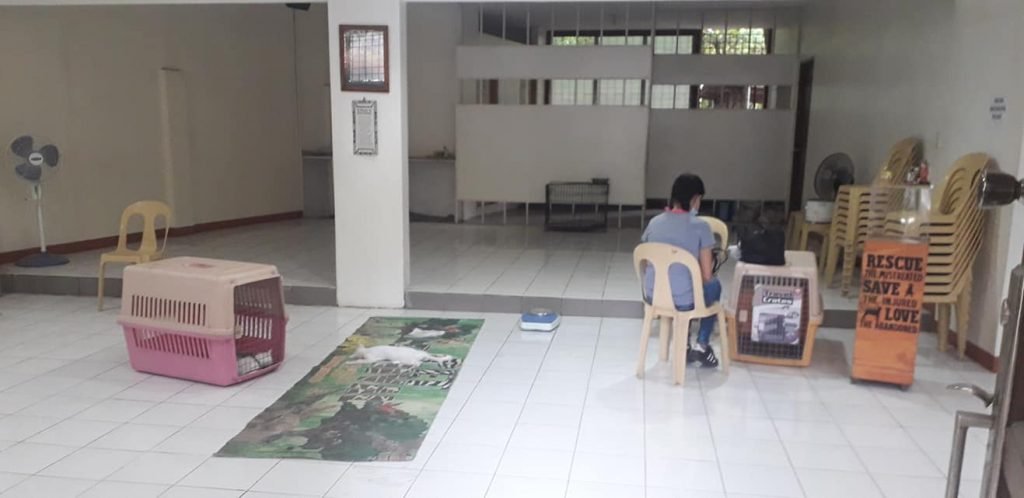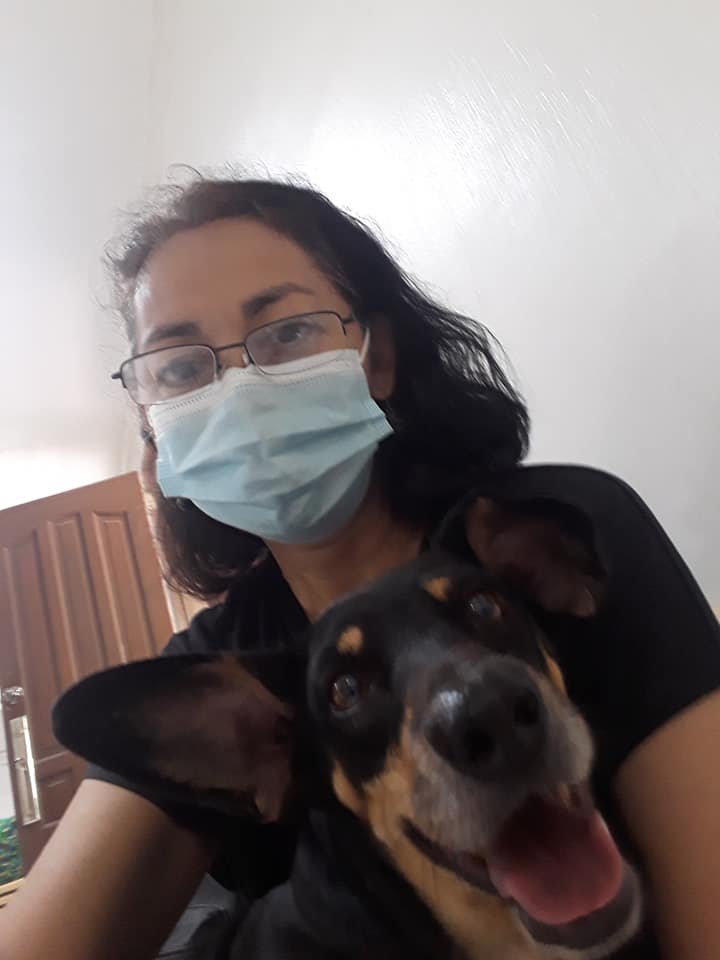 The second injection was the anesthesia and, in a couple of minutes, Guapita was out like a light. John, a volunteer, laid her on her back on a wooden stand to shave her tummy. My baby looked comical with her eyes open and her tongue lolling out of her mouth just like those cartoon characters passing out after being clubbed on the head.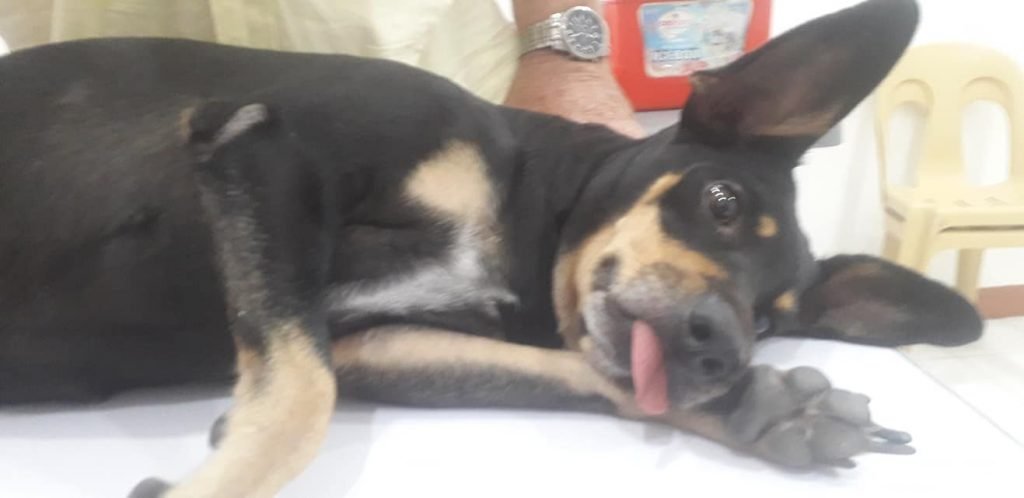 I was quite excited when she was finally brought into the operating room. At last! My goal to have her neutered will soon be achieved.
NOTE: Furparents are not allowed inside the operating room. The waiting room is where you…wait.
After the surgery, the animal is transferred tot he waiting room and lain on its stomach on a broad strip of tarpaulin until the animal recovers. It usually is still unconscious and will take a while to wake up – from 30 minutes to an hour, or even longer. Guapita was under the "longer" category. It took her two hours! Signs to watch out for are flickering of the eyelids and small twitching of the ears. Then, raising of the head, and small movements of the limbs. Even when Guapita was able to raise her head, thus, given the go-signal to take her home, her full recovery was a total of 4 hours.
A little food and water may given to the pet. A cone should be ready for her waking hours. Patients have the tendency to lick their wounds which could cause the wound to swell and become infected. To save money, I fashioned Guapita's from an old cardboard file folder which I taped at the edges that will encircle her neck. This is to avoid the paper edge from digging into her skin. Luckily for me, my baby did not lick nor nibble at her stitches at all. She was hale and hearty the very next day and insisted on sleeping on our bed like she used to, and shunned the temporary bed I laid out for her on the floor.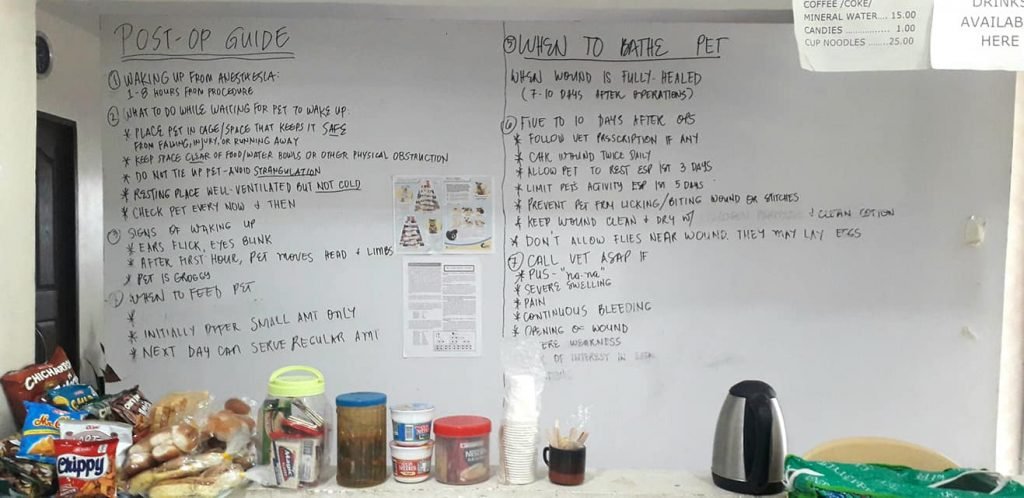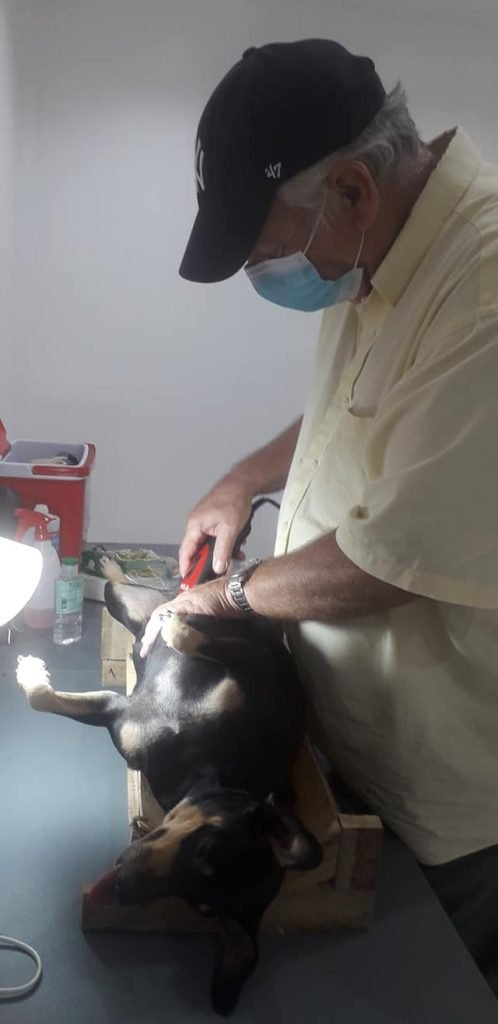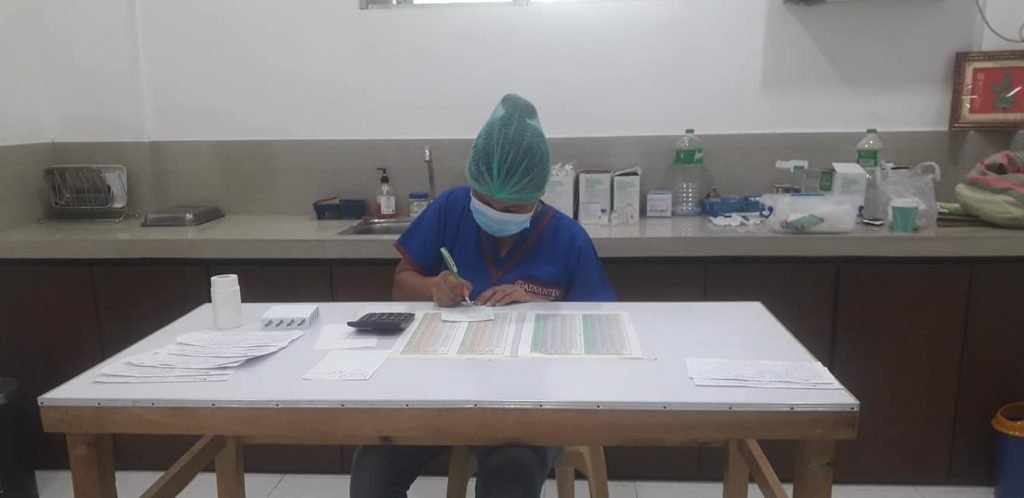 How much does a kapon cost at CARE?
CATS Male: P1000 Female: P1500
DOGS Male dog: P1500 for a maximum weight of 15 kgs. Additional charge of P100 per extra kilo (eg. If dog weighs 20 kgs. P1500 plus P500) Female dog: P1800 for a maximum weight of 10kgs. Additional charge of P100 per excess kilo (eg. If dog weighs 20 kgs. P1800 plus P1000) If in heat: additional charge of P1000 With pyometra: additional charge of P1000
Dog Vaccine Rates: 5-in-1 = P300 Rabies = P100 Deworming = P100
Cat Vaccination Rates: Rabies = P100 Deworming = P100
I had difficulty timing Guapita's spaying what with the pandemic and quarantine periods. I knew she was hefty, but I did not realize how heavy she was for her size. The basic cost of spaying is P1,800 for the first 10 kilograms, and in excess of that one pays an additional P100 per kilogram. Guapita is 14 kilos, hence, P1800 + 400 = P2,200. During the surgery, the janitor was called in to clean up the bloodied floor. The vet later reported that it was discovered that Guapita was in heat. It meant that the procedure arrested a possible pregnancy. It also meant that I had to pay the additional 1 grand for that. Ouch!
Guapita's medicines amounted to P600. P1800 + 400 + 1000 + 600. My total expense was P3,800 ONLY! That's not bad, is it? I paid for my peace of mind. I paid for more quiet nights, I paid for Guapita's stress-free days. I paid for better health for her. Now, Guapita is her old self. I was warned, though, that she will gaining more weight now. That's all right; there will be more of her to love.
To register: Send owner's name, pet's name, age, gender and preferred time to 0922-8264499
P.S. Someday, if my fur babies grow old and cross the rainbow bridge, I can adopt rescues from CARE.
CARE CLINIC ADDRESS: CARE Clinic is by Kametal Mandalagan. Bacolod City. After Sta. Clara Executive turn right at the Kametal sign (across Country Mart/Landbank on the left side) Go straight and follow the Natural Garden Cafe direction. Clinic is across the cafe.