It's amazing how Azatri souvenir shirts are always timeless. The vibrant, colorful, and outrageously exciting designs are unmistakably made in Bacolod, and joining the Masskara Festival is never complete without donning an Azatri Shirt emblazoned with a grinning mask. Adding to Azatri's timelessness is Vijaya Merchant Solutions, Inc. (VMSI) now making the shirts available online through Lazada and Shopee. Azatri shirts can be yours anytime with a tap of your finger.
Azatri Has Gone a Long Way
When Arlene Zamora Agusila (AZA) and Teodulfo Ricardo Intante (TRI) became partners in business over two decades ago in 1992, their P100 initial capital started them on the road to popularity, big sales, and a partnership for life. Azatri Souvenirs grew into a much sought-after and multi-awarded venture for the couple as it became the number one producer of the Association of Negros Producers selling, eventually, not only T-shirts but also other souvenir items such as keychains, refrigerator magnets, pens, and fashion accessories. The products are mostly geared towards the huge tourist market. Nevertheless, the creativity and clever designs of Azatri are just too good to keep to one sector.
The Market is Open
Vijaya is a Bacolod-based e-commerce enabler that Azatri owner Arlene Infante selected to make that significant, game-changing leap from regular to online marketing without the need for an in-house technical team. Azatri needs the expertise and commitment for a smooth transition into the digital world. So, Lazada and Shopee, here we come!
Pandemic? What pandemic?
With purchasing options now available, fans of Bacolod, or the Masskara Festival, or Negros Occidental as a whole can continue to enjoy the unique designs of high quality Azatri products without the risk of physically going to a store. "Add to Cart" any Azatri souvenir shirts through: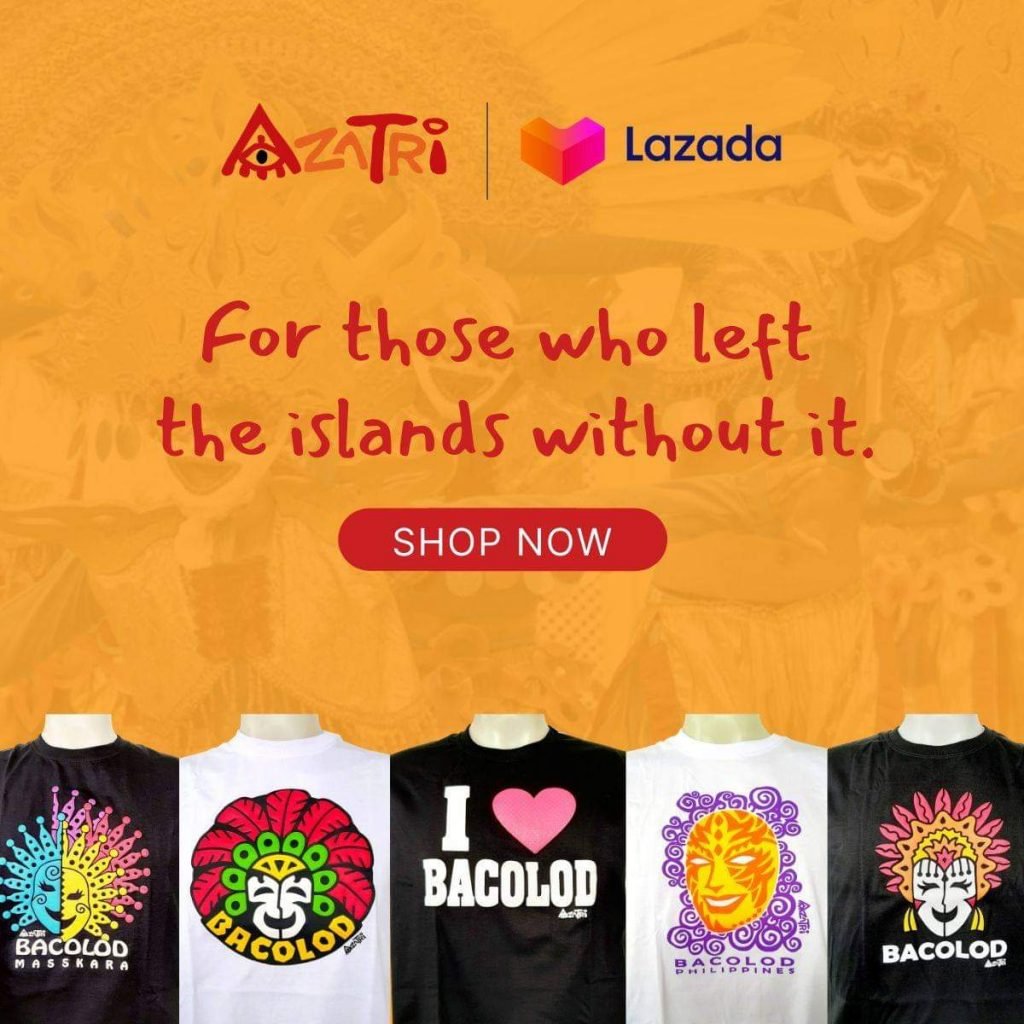 Lazada: https://bit.ly/VijayaAzatriLazada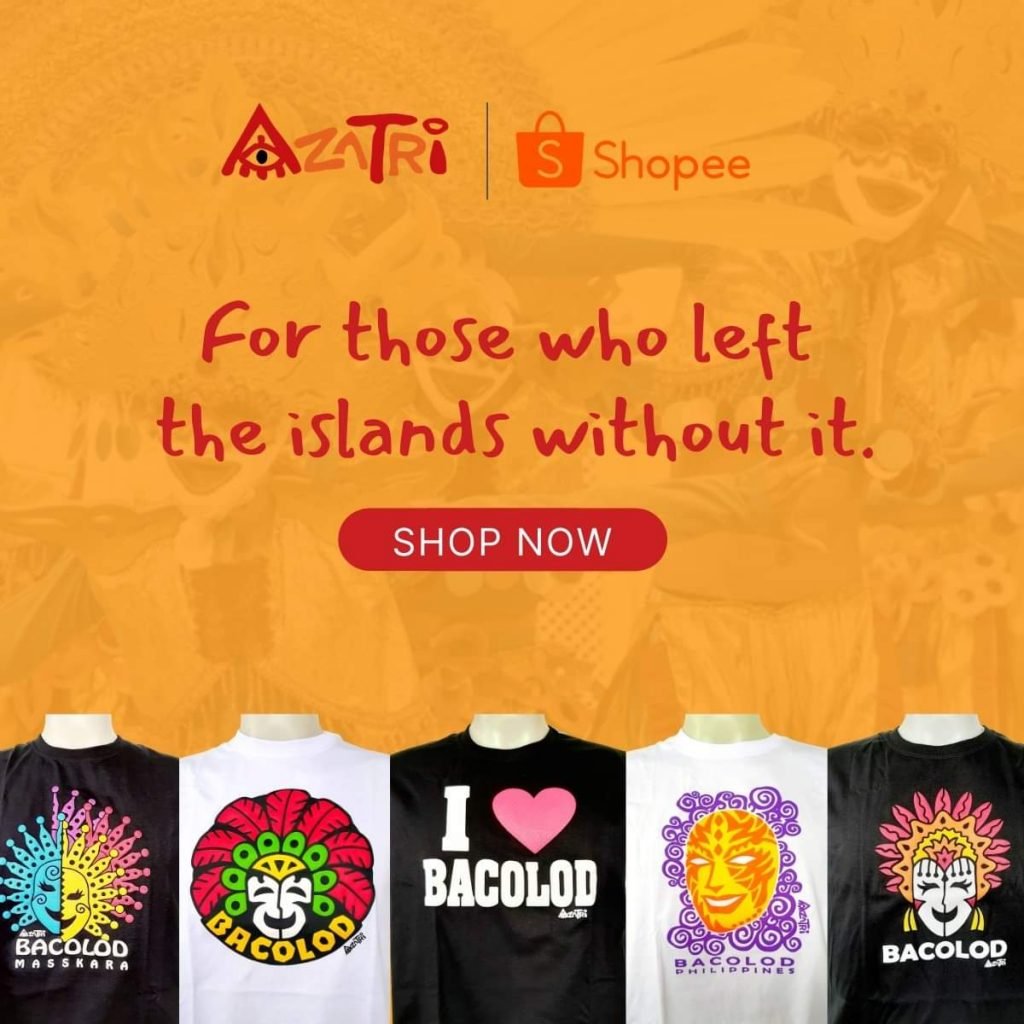 Shopee: https://bit.ly/VijayaAzatriShopee
Highly recommended are humorous shirts to brighten up your day. Enrol at Covid Univeristy and graduate with a B.S. in Masscom ("Major in KDrama Marathon"), or a B.S. in Entrepreneurship ["Major in FB Online Selling, Minor in PITK (PM is the Key)], or a B.A. in Political Science ("Major in Online Trolling"), or, my favorite, B.S. Agribusiness ("Major in Online Resell and Delivery of Bangus, Pasayan, patola, Lettuce, Manumbok, Sapsap, Brocolli, at saka Mayroon Pa, Labanos at Mustasa")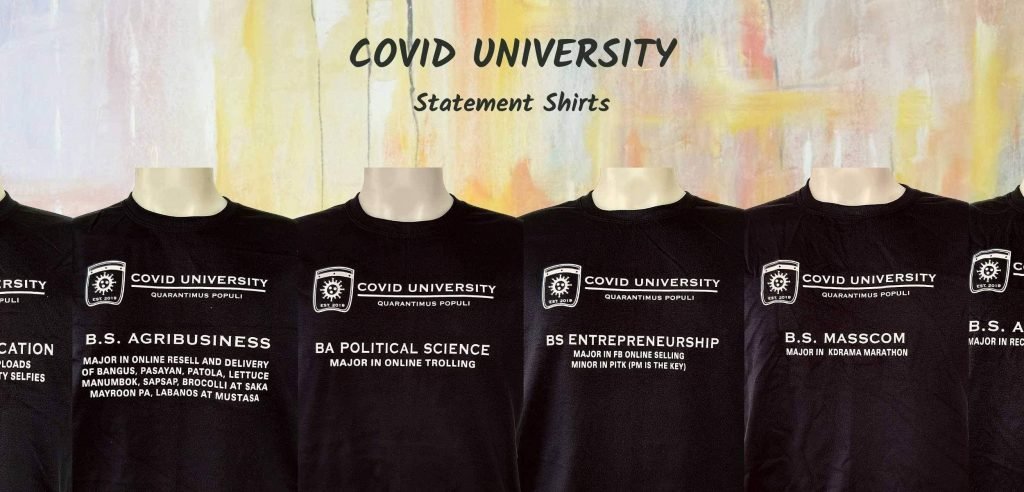 Lazada: https://bit.ly/VijayaAzatriLazada and
Shopee: https://bit.ly/VijayaAzatriShopee
Follow Azatri on Facebook and spread the word by sharing the good news that padayon gihapon ang sinadya!!