The City of Georgetown (Penang), never had it so good since it was awarded a World Heritage Site title by the UNESCO World Heritage Committee in 2008.  Its over 500-year-old history as a trading center and settlement polished this little Malaysian gem to perfection.  Named after George IV, Prince of Wales who was heir to the throne, Georgetown joins over 50 other cities all over the world so named and there is nothing else like it on the planet.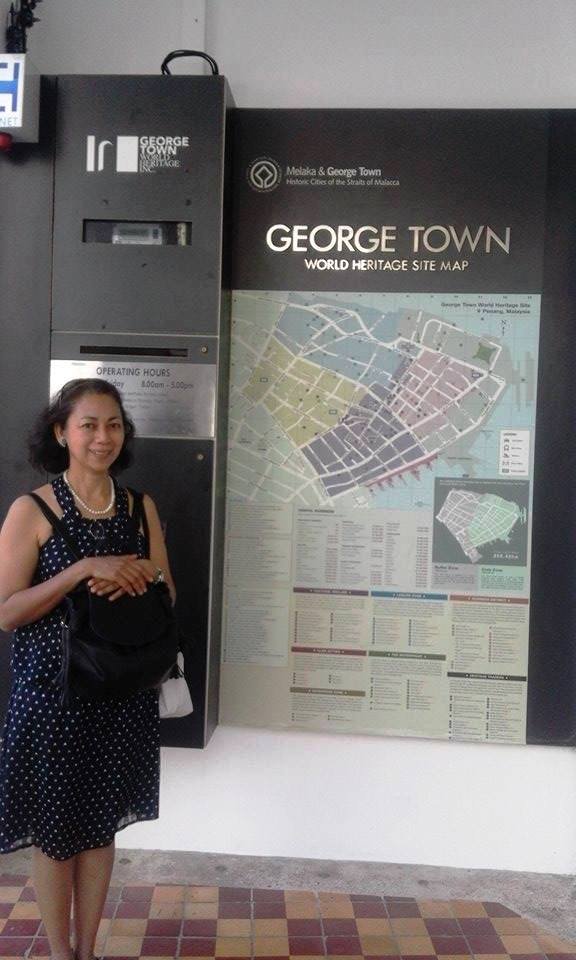 Georgetown is tops in Tourism
Very Malay, very Chinese, very Indian, Georgetown is, of course, very British.  At a concert in the imposing 1818 St. George's Church, as Aidine and I wait for the appearance of the Choir of Gonville & Caius College Cambridge, we soaked in the formal, stiff-upper-lip atmosphere.  The rising babble of voices in their refined British accent was soon lowered with this announcement: The program will be starting shortly. The choir, then, performed choral masterpieces of European composers accompanied by the church's newly-installed pipe organ.  There were "thank you" speeches, introduction speeches, and updates of church news now and then.  After the concert, I made small talk with some attendees and I was absolutely delighted when I emerged from St. George's with a British accent.  How bloody chah-ming!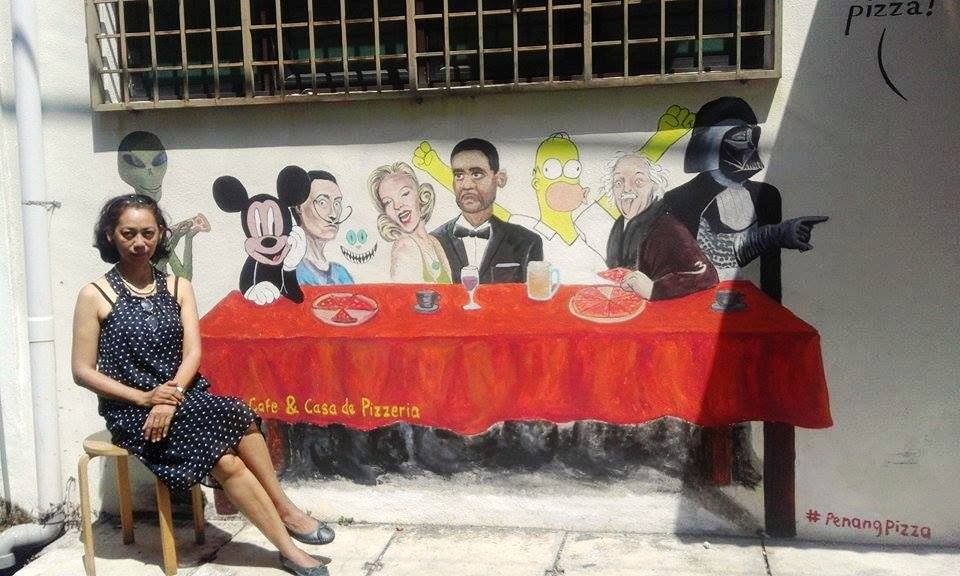 Look who came for lunch!
Everything is bloody chahming and bloody thoughtful in Georgetown.  The famous street art and street food; the trishaw (like our pedicab) flower-bedecked until kitschy; Little India shining, shimmering, splendid; and the gorgeous colonial buildings and traditional shophouses that make Georgetown a major, major tourism boomtown.  The 109-hectare core area (plus a buffer zone of 150.05 hectares) that make up the UNESCO World Heritage Site of over 10,000 buildings is teeming with tourists.   Old Georgetown had about 14,000 buildings, but more than 400 were destroyed to cater to some politicians' vision in the 1980's to turn the city into another Hong Kong.  There are high-rises now juxtaposed with shophouses and, if something positive had come out of that bad political decision, it is that traditional buildings are better valued and appreciated when seen beside modern structures.
The first building to be restored and put to adaptive reuse was the 19th century The Blue Mansion or the Cheong Fatt Tze.  La Maison Bleu has 38 rooms, 5 courtyards, 7 staircases – a showcase of Cheong Fatt Tze's fabulous wealth.  Badly overused and neglected when homeless families occupied the rooms during the way, the new owner (an architect) had the home of "the Rockefeller of the East" restored to its former glory in six month's time.  It now is a hotel and is often fully-booked.
Also now a hotel is the 1906 The Edison.  Stately and with more British lines, it is outfitted with a lapping pool and a modern tearoom.  Modernizing buildings has its limits and this is exemplified by the shophouses from various eras (1790's to 1970's) where, if the original designs are tampered with, regrets ensue over the permanent destruction of architectural details, and their practicality, considering local climate and cultural habits.  The demolition projects of the past had long stopped, and restraint was rewarded with a UNESCO stamp and a brisk economy.  Rozana, 27 years as a batik artist, moved to Georgetown 7 years ago.  She said that it was quieter then.  She felt that Georgetown became a bustling tourist magnet only 4 years ago and she is not complaining.  She and her art were featured in the coffee table book Traditional Trades of Penang together with other traditional tradesmen that kept old artisanal industries alive until these modern times.  Visit her and take a batik-making class.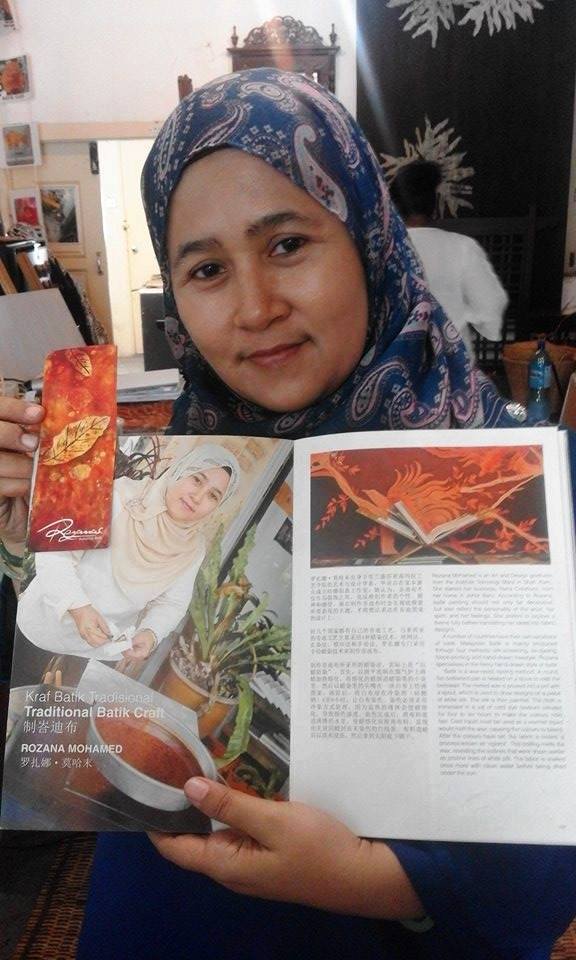 Batik artist Rozana shows me the page of a book where she is featured
Despite the boom in business, Georgetown is authentic and unspoiled.  Shysters are few, and there is respect for others' properties.  The meleti, a tree with small, white, fragrant flowers, continues to grow by the pavement because people leave it alone and do not pick its flowers.  Shopkeepers do not tail you around the store, nor suspiciously glance at your hands and bag to check of any pilfering.  The locals' work ethics is enviable.  I have never seen any blank-faced salesclerk while time away on their cellphones.  Tolerance of the diversity of cultures made me think that I should have worn my patadyong for I know I wouldn't be out of place there.
The warmth and acceptance that is prevalent all around Georgetown extends to acceptance of one's spiritual beliefs. The same sense of community and being made me right at home in St. Francis Xavier Church.  The mahogany-skinned parish priest Fr. Michael Sinappan had a jolliness that matched his rotund figure.   When I asked him what saint this and that statue represented he pointed and explained, "That's St. Francis.  That's St. Anthony. And I am St. Michael."  He would remember what country I came from, and I'd be beaming if he looked at me and exclaimed, "Philippines!"
Aidine and I went to hear mass at St. Francis as often as we could and the masses here are some of the most solemn I have witnessed.  Anyone who goes up the altar had to remove his or her footwear to honor the sacred ground that the altar is.  At communion on the very first mass I attended there, I inched my way towards Fr. Michael and I, unsure of how much space I was supposed to maintain between him and me, stayed almost at arm's length.  Fr. Michael impatiently commands to me, "Come!" It was like a lightning moment of realization for me.  In my spiritual journey, God exasperatingly tells me not to fear to go closer to Him.  It took a predominantly-Muslim country to make me more Catholic.