Mention "Penang" and what you'll get is a delighted look on a foodie's face.  One of the world's best street food  guarantees gustatory glee regardless of creed, race, and wallet size.  There's the Rs2.50 ais kepal or rainbow iceball for a midday refreshment, a really sublime medallion of durian mooncake (Rs2.00). the satisfying Rs 42.00 Chinese dinner for two, Indian lunches, the best chendul, a plate of char kuay cheow al fresco, nasi lemak, ais kacang, the cheese sticks from St. Francis Church's bakery, and nyonya cooking.
Nyoya Cooking
I met nyonya cooking up close and personal at the marvelous Tropical Spice Garden in Teluk Bahang.  Nyonya cuisine is a fusion of Malay and Chinese cuisines as a result of the settling of early Chinese migrants in Malacca, Penang, Singapore and Indonesia.  My partner in crime Aidine Galvan (more on her later) enrolled us both online in a cooking class at Spice Garden.  The fee of about US$55 includes a tour of the whole garden which is four acres big set on a slight slope filled with over 500 species of flora and fauna.
This is a secondary jungle that, according to our guide Joseph, took the investors two years to have it landscaped.  The gate opens at 9:00 a.m., so, don't come too early unless you want to enjoy some peace and quiet at the Spice Garden Beach just across.  The beach is really clean and looked like a giant hand swept it before dawn.  That giant hand belonged to one fastidious beach caretaker I saw raking in debris.  It is the same fastidiousness that makes Spice Garden a well-planned paradise that has become a showcase for forest rehabilitation.  Our calamansi proudly represents the Philippines in this international collection of trees and herbs.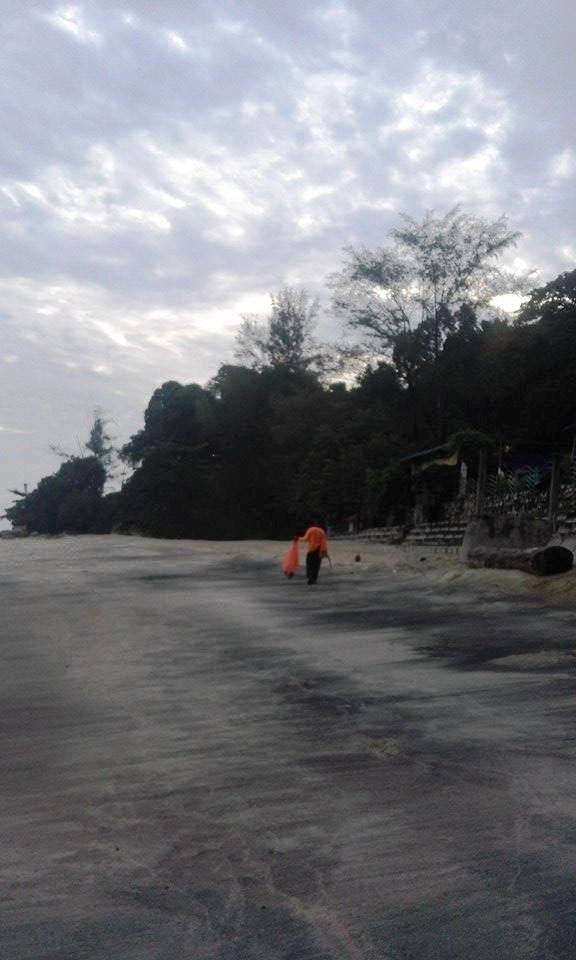 At the cooking school, as I slice a wild ginger flower bud, I tell Teacher that "in my country, we use this only as an ornamental."  She gives me a horrified look.  I ignore that and proceed to slice a kaffir lime leaf for Kerabu Ong Lai (Nyonya Pineapple Salad).  All ten of us multi-racial students prepared our own Hong Kay (Braised Chicken with Aromatic Spices) and Bee Koh Moy (Black Glutinous Rice Pudding).  These were what we had for lunch.  And we got to keep the recipes!  This shows that one can have his nyonya and eat it, too.
This lunch was a bit heavy on the stomach and I almost had an indigestion when, on the way to the giftshop, four wild monkeys from out of nowhere perched by the gate and watched my every move.  Back in the kitchen, I breathlessly told Teacher, "There are monkeys here!"  She answered nonchalantly, "Oh, there are many of them around the forest.  Are they the gray ones, or the brown ones?"  "How would I know?  What's the difference?"  "The grays are kind; the browns are naughty."  She hurries out with me to take a look.  "Oh, the browns!"  My face fell because the only way to the toilet was through that gate.  I did get in eventually.  Perhaps the apes felt I belonged to the jungle and left me alone.
CHEAP. CHEAP. CHEAP.
One of the lightest lunches I had, and the most satisfying, was at one of the less crowded streets of Georgetown.  It's a small, clean, narrow joint advertising nasi lemak and ais kacang, and manned by two Indian males.  The nasi lemak (the Malaysian national dish of coconut milk-and-spice-infused rice served with fish or chicken) were small portions ready-packed in neat "brown paper packaging" and distributed among the tables.  Then, I ordered an ais kacang (kah-chang), the equivalent of halo-halo.  I asked the man what their version is.  He said theirs have peanuts, red beans, coconut strips, black sugar syrup (gula melaka! Swoon.)and "cone".  "What's cone?" I asked.  He answered, "Cohn!" getting annoyed that I wouldn't know what "cohn" is.  Okay, cohn.  "But what's cohn?"  He was going to burst a vein and exasperatedly pointed at the "cone" or "cohn".  Oh, my gula melaka!  Corn.  Anyway, it was very good ais kacang and very good nasi lemak for only 5.50 ringgits (P66). Now, I can buy myself very good hearing aid.
A PINAY IN PENANG
You may not know the Desyham brand because it is not sold in the Philippines.  What started in 1996 as a small factory producing only four kinds of hair oil became an established company in 2009 now located at the Adorna Complex.  Its four kinds of oils became 10 hair-beautifying products distributed in Singapore, India, Madagascar, the Netherlands, and London.  Desyham has hair darkening shampoo, non-ammonia hair dyes, 100% organic hair oils, and hair smoothing a.k.a. complex produced with the helpful contribution of Bacolodnon Mary Aidine Galvan, a biologist.  Aidine is Desyham's consultant for Good Manufacturing Practices, and Quality Control.  In case you come across these products abroad, don't forget that a Pinay helped in their development and success.