As soon as the plane descended to make a landing at the KLIA, I could see rows of green stretched over miles and more miles of land in Kuala Lumpur.  I have just arrived in Malaysia, the world's second biggest producer of palm oil, and palm trees I saw were proof that going green has a different motive in this country.  This crop has added to the nation's already robust coffers but environmentalists decry the damage done on Malaysia's forests and jungles, and, needless to say, wildlife.  While riding to the city center, I see more palm trees that it boggles my mind how extensively the tree is planted even over hills and slopes.  Then, I begin to see my province (Negros Occidental, Philippines) in a different light; our once lush forests have been stripped of its timberlands to give way to hectares and hectares of sugarcane.  Touche.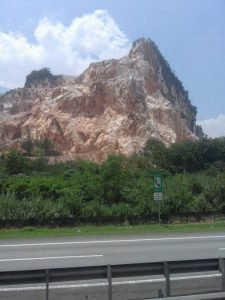 I may have forgiven Malaysia's environmental sins by now but I can never forgive myself had I bypassed a visit to this ASEAN neighbor.  This land of paradoxes is modern, yet traditional; traditional, yet culturally diverse; culturally diverse, yet unified in spirit.  Malaysia is what it said it is: Truly Asia!
At the famous Central Market in the capital city, a variety of shops sit cheek by cheek in the 1888 establishment.  The market is filled with visitors and becomes a tapestry of nationalities – bearded men in turbans, tall and dignified Kashmiris in their crisp tailored shirts, Muslim women all wrapped up in veils and abayas, Europeans in their scantily-clad glory, the Mainland Chinese in their up-to-date fashion, the locals of Chinese descent blending into the background like…locals. And the Pinoys?  We blend very well everywhere.  I would always be asked my nationality and I felt like a beauty contestant answering, "from the Philippines!"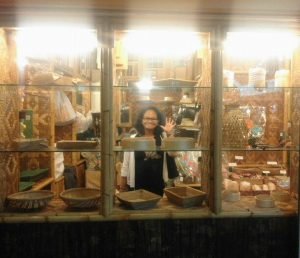 I would ask the same question from a pale, delicate-faced petite shop clerk at a souvenir store.  To my surprise, she was from Isabela Province.  Let's call her Virgie (how Pinoy!).  She came to Malaysia in 1990 and came to stay, get married, have children, and stayed some more.  Starting out as a domestic helper, her first employer gave her the sob story of her life when, for three months, with not enough food, Virgie suffered malnutrition so badly that she thought she was going to die from it.  She seems happily settled with life in her adopted country now.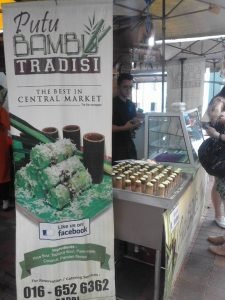 The short strip called Little India needs no question.  A male salesclerk calls out like a beguiling suitor in his musical accent, "Yes, guys, Miss, have a look.  Have a look, my friend!"  I did have a look at the Machuca-styled tile floor, the beaded bags, the gaudy trinkets, the mirrored pillows, and the floral incense sticks in their carton tubes.  The longest look I took was at the Kashmiri store selling jewelry in semi-precious stones, bejeweled ornamental balls and home décor, Kashmir fashion meant to hide and glide over feminine curves, and exotic straight-out-of-Alladin's-Cave carpets.  "Do they fly?" my friend Aidine asked the tall good-looking salesman.  He suavely answered, "Sometimes."  I asked him how the peace-and-order situation is in his homeland.  The answer wasn't very encouraging.  What a pity, I told him, that a country as beautiful as his would be caught in a political imbroglio.  The chat was brief, yet a thrilling one for me.  Mr. Cool was oblivious to the fact that I was melting inside.  Too shy to ask him to pose for a photograph with me, I let this chance pass and, now, I want to kick myself.  Disappointments like this do not last very long though; the Central Market has other thrills to soothe a broken heart and the biggest thrill of all is shopping.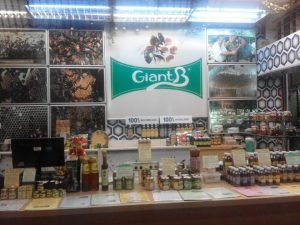 Oh the wide range of goods here.  Shop 'til you drop and not even break into a sweat.  The building is air-conditioned, clean and safe.  It is also the perfect location for many walkable sites in KL.  It is best to get a hold of the Klang Valley Integrated Transit Map (Peta Transit Berintegrasi Lembah Klang) for train rides partnered with the City Map for details.
Get off at Masjid Jamek and from there one can stroll around.  The masjid or mosque greets you at the station.  Please check out visiting time.  Get your cameras ready for you will fall in love with the heritage buildings nearby.  There's  Panggung Bandaraya, a theater fully constructed by 1904.  The late 1800's Sultan Abdul Samad building with the clocktower has three copper-clad onion domes.  Just beside it is Merdeka Square (Independence Square) which was not crowded.  We were lucky to have the ASEAN Games going on that time, so, the street was off limits to cars and we took our sweet time crossing here and there.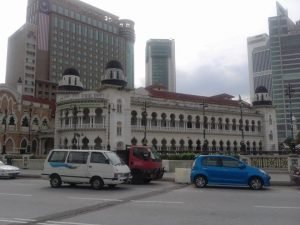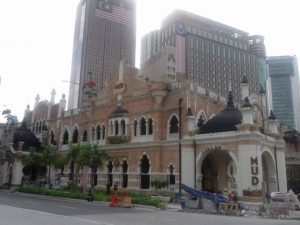 Crossing to "there" was the highlight of the day which was a visit to the National Textile Museum or the Muzium Tekstil Negara which is housed in the A.B. Hubback-designed 1905 historical building.  The edifice itself is a work of art while the artifacts are exquisite collections of textiles, accessories (real gold!) and costumes.  Four galleries are well-curated and well-maintained, and the museum shop, though small, contains goods that can tempt your ringgits out of your pockets.
There's more to KL than the Petronas Towers.  Certainly more and more in Malaysia.  I love Kuala Lumpur! (Wala malisya.)