From the Ilonggo roots that gave Iloilo City Al Dente, Brewery Gastropub Iloilo, Freska Hometown Buffet, and Farm to Table comes Brewery Gastropub Bacolod.  This restaurant at Paseo Verde grew Negrense roots last April and brought with it the house specialties that have delighted Ilonggos.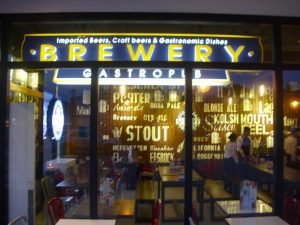 The Negrenses seem to be taken by the place for it was bustling and it was only a Monday evening!Brewery opens from 4:30 p.m. to 12:30 a.m. (Sunday to Tuesday), 4:30 p.m. to 1:30 a.m. (Wednesday and Thursday), and 4:30p.m. to 2:30 a.m. (Friday and Saturday).  Lunch is from 11:00 a.m. to 3:00 p.m.  As a hub for a wide selection of imported and craft beers, Brewery is surprisingly a haven for teetotalers and family.No rowdy, leering characters here, only very decent patrons who just want to chew the fat over food and drinks.  The clean, streamlined interior belies Brewery's ability to shed off stiffness.  Anyone who steps in would want to loosen his cravat and settle down on the wooden bench for a night of unpretentious camaraderie.  The brisk, efficient service is a plus.
Brewery's menu has some outstanding entries.  Vegetarians will have very few prospects here, though, for beer and wine simply call for a partnership with meats.  For example, the Rack of Skewers presents a mix of Thai Pork, Lemongrass Chicken, Veal Sausage, and Hungarian Sausage.  This was a group favorite.  So were the Beef Brisket with garlic rice, Chicharon Bulaklak, Slow-Roasted Beef Belly with mashed potato (and very good mashed potato it was), and Pink Salmon with garlic rice where the gourmets of the group remarked that it did not have the fishy taste experienced in most restaurants and had only the clean taste of salmon unconcealed by condiment or sauce.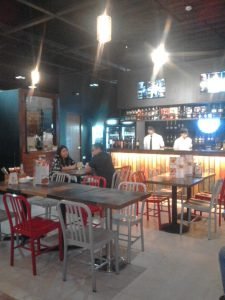 Wait!  There's more! Definitely more!  The beautiful crisp, fresh Sea Bounty Salad of pan-seared pink salmon, greens, nuts, fresh mangoes in a calamansi vinaigrette could be a meal by itself.  Perhaps you can precede it with an appetizer of Salted Egg Hand-cut Potato Fries purposely cooked low salt.  If you have room for more, Prosciutto Ham Pizza meant to be drizzled with a red wine vinegar reduction and rolled up with alfalfa sprouts will make a guilt-free dinner.  However, the one dish that brought sighs of delight to the table was the Soft Shell Crab Tempura. True to the restaurant's theme the crab is coated with a beer batter.  Lovely!  This is a seasonal dish, though, considering the cycle of crustaceans, so, have them while Brewery has them.
I tried some other meat dishes and I complained that I found them on the salty side.  I was told that these were meant to be paired with beer. There!  And beer is a-plenty in Brewery.  Over a hundred brands of imported beers, nine kinds of hand-crafted fresh beers in draft, and almost forty kinds of single malts and popular liquors from around the world!  Try the flavored Belgian beer (Floris) that comes in cherry, strawberry, and apple.The seventy-seater Brewery Gastropub now can serve straight from the kegorator brands such as Stella Artois, Hoegarden Rosee, Hoegarden White, Imperial Stout, Mt. King IPA or India Pale Ale, Mt. Macedon from Holgate Brewery, and two local brews that may differ from time to time.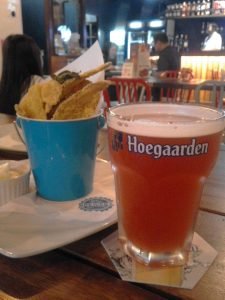 For oenophiles, Brewery has draft wine served by the glass.  The owner New York-trained chef Pauline Banusing says that Brewery Gastropub is the first in Bacolod to serve draft wine.  Wine-from-the-tap concept evolved from wine served from amphorae in Ancient Greece.  Draft wine not only keeps its flavor and quality but is environmentally-friendly, too.  The producer dispenses with labeling, corking, and bottling, ergo, wine is stored in capacious compartments.
On my next visit, my dream vegetarian meal will be an appetizer of Caramelized Camembert with strawberry sauce and honey biscuits; Hacienda Salad; and Hand-cut French Fries with Himalayan sea salt and truffle dip.  Then, a glass of draft Italian merlot to soothe the aches of a long day and clink glasses with a friend.  And chat the night away.  And when we call it a night, there will be no crawling out on all fours.  We will leave with a warm flush knowing that we spent the day and night well. That life is good.  That we can do it all over again.