What is in our pancit canton that makes Koreans crave for them?  When I asked my friend Min what she would want me to take to Korea, she only asked for pancit canton.  I told her to ask her friend Jee what Jee would want me to bring her and Jee only wanted pancit canton.  My companion and I brought a total of 5 dozens that went through customs (thank heavens!) without a hitch.  I was so afraid that customs might think I'm selling the noodles in Korea.
What Min's family were ecstatic over were the tarts (caramel and macapuno), dried mangoes, and dried fish.  The non-food items were Human Nature products, bamboo pamaypay from Talisay, items made by our Aeta tribes, a Bacolod tee-shirt, and even Coke products made in the Philippines for Min's Coca Cola collection.   If only I didn't travel light, I would have brought more but hand-carrying all that stuff plus 6 days worth of clothes were too much for my shoulders.  (Was that my clavicle snapping?)  Since shopping wasn't a major goal for the trip, and, besides, goods can be pricey in Korea, I just ate my way through the five full days that I stayed in Seoul and Jangam-dong.
Anyone who frequents Korean restaurants here in Bacolod will want to try eating as much authentic fare as possible.  So no Italian food, French food , or even a tuna sandwich for me.  The only time I ate un-Korean food was in Itaewon were I had Turkish kebab at  the Turkish joint Pasha that also had a Turkish guy selling Turkish ice cream at the door.  He'd shout "Ice cream-nida!"  and demonstrate how sticky the ice cream is by flipping the cone upside-down.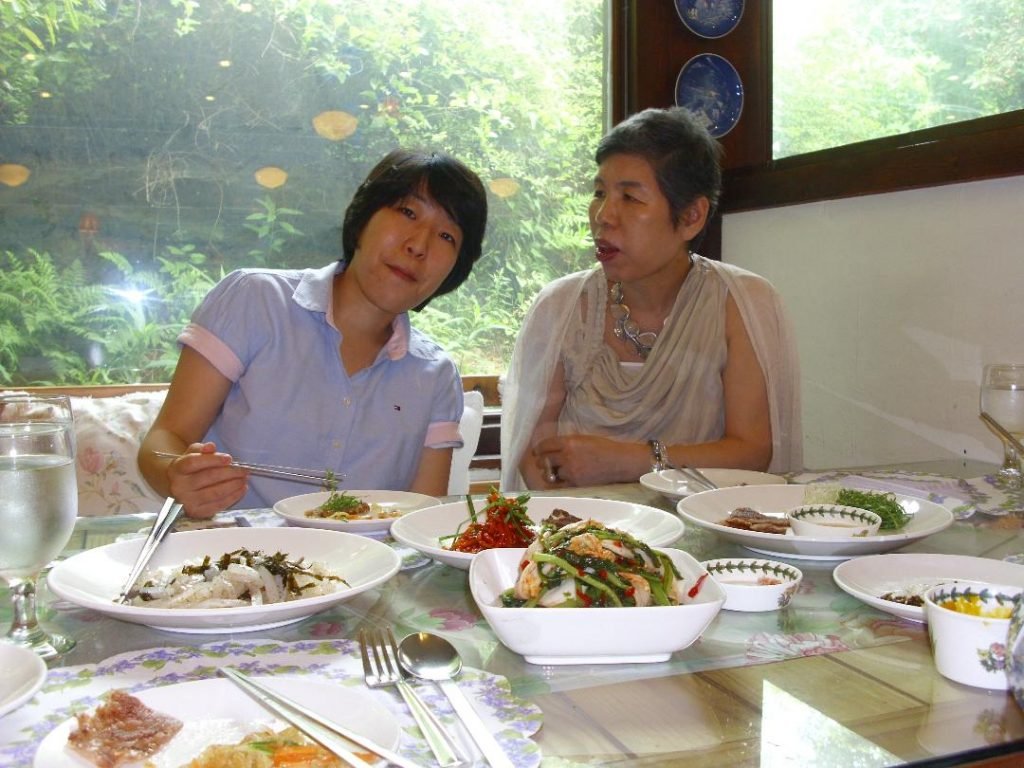 In the Land of the Morning Calm, you better get used to the spicy-ness of the food and I mean "spicy hot" fare some of which might have you dialing for the fireman.  The long red pepper is an important ingredient in Korean cuisine.  At the Minseok Cheon Folk Village, ancient Korean way of life shows that the pepper took centerstage in the kitchen and on the table.  Real red peppers are displayed drying in the sun and kojudang paste fermenting in giant jars also under the sun.  Traditionally, kimchi is buried in the ground during Winter; now, kimchi refrigerators have been invented for the fermenting process.
Good health is always the primary consideration when eating in Korea.  Vegetables are usually the main ingredients in every dish.  Min would always say, "This is good for the health" whenever I would point out a strange plant on a platter.  A samgeupsal dinner on my first night was tempered by a starter of cold seaweed soup (miyuk naeng guk), lettuce, radish strips (moo chae), and onion rings.  That took away the guilt I felt eating pork.  Samgeupsal is bacon (sam means three referring to the three layers of fat) or pork ribs that usually wrapped in lettuce leaves.  Our version was grilled meat that we downed with the local beer Cass.
Even a huge meal at Chung Mok Korean Traditional Restaurant didn't pile on the pounds.  A waitress rolls in a wide tray of dishes and adjusts the tray to fit on and transfer to our table.  She pushes the tray and, voila!, our meal is served.  Twenty-two small plates and bowls held small sized dishes and sauces not including the rice and barley tea.  Chap chae, po sam, blue crab, smoked mackerel, pancake, twaenjang chige, piji and samjang among so many preparations.  The most memorable though was the seaweed in a wasabi sauce that was guaranteed to blow your mind.  What was initially a pleasant morsel I chopsticked into my eager mouth escalated into a 3-alarm flavor that I had to shake my head frequently and exhale through my mouth to relieve the sensation akin to brain freeze.
At the Sandeulae Restaurant near the DMZ, a variety of small square serving dishes held pickled lotus root, kimchi (the common denominator in all Korean meals), green onions, sesame leaves, a green-and-white medley of herbs, purple rice, and anchovies.  We also had very thick pumpkin soup; a chive omelet; a mushroom and octopus omelet; a sesame oil-flavored mix of buckwheat jelly, fried seaweed strips, and bits of beef;  cucumber, carrot, jellyfish, and wasabi salad; a huge salad of lettuce and  shredded red cabbage drenched with apple cider and pureed pineapple dressing; and steamed pork with radish kimchi and a dab of shrimp paste.  If you think this is a lot, let me tell you: I can't remember the rest.
Desserts are not totally sinful.  The patpingsoo is like our halo-halo and is made up of sweet bean paste, almonds, milk, ice cream and crushed ice.  Sweet beans are used again for the walnut and sweet bean cake that  is sold anywhere.  The King's Dessert  demonstrated at the Folk Village was a mixture of healthy ingredients.  Ta raegua a.k.a dragon's beard is made by starting with a solid round of honey dunked in cornstarch and stretched and folded until thin strips are rendered similar to the process in making bihon.  After 16,384 folds (the young woman called this a magic show) the result is coated with crushed peanuts and almonds.
Food may or may not be expensive if you know where to look.  Usually good old gimbap makes  a budget friendly lunch.  At KW2,000 (P80), this not bad considering that this comes with side dishes of kimchi, soup, and yellow pickled radish rounds.  A samgeupsal dinner on our last evening cost KW11,000 per person (P440) plus threats of bodily harm when Min and I grappled with her credit card to the consternation of the cashier. (I simply refused to let her pay and the intention was mutual.)
At Seoul after a concert, I dined alone in a Chinese restaurant.  It was raining hard so I settled on this reluctantly.  I asked for the vegetable dish(KW7,000 or P280) of Braised Mushrooms and Rice, and the waitress brought me an impostor.  It looked Korean and tasted Korean complete with kimchi, the yellow pickled radish and onion rings.  So, what was the ingredient that qualified it to be Chinese? Bamboo shoots.