I would like to think that our history books do not highlight enough the exciting event that is The Cry of Sta. Barbara, that 1898 revolt that gave the municipality its independence from Spain after the Philippine flag was raised for the first time outside Luzon.
This municipality 30 minutes from Iloilo City is perfect for a day trip.  Here, one will discover uniqueness that will surprise a traveler even if he or she did not exactly roll out from under a rock.  It pays, too, to get the municipality's best guide, the dynamic and enthusiastic Tourism Officer Irene Magallon.
Suggested Itinerary
Asia's First Golf Course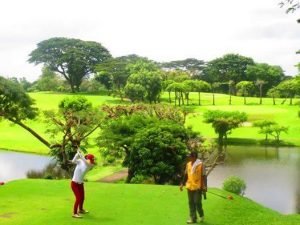 A nice and easy tour can start with breakfast at the Sta. Barbara Golf Course that was built by Scottish engineers in 1907.  The golf course is the first in Asia.  The engineers were hired to work on Panay Railways and brought the game that originated in St. Andrews, Scotland.  Rolling greens fields, and ducks swimming in the pond make very charming scenes. The clubhouse front desk have counters made of acacia wood from the fallen acacia trees of the grounds.  There is a small golf museum where enthusiasts can learn about the club's history.
Bobbin Lace
The next destination was, for me, the highlight of the day although it was the least flamboyant.  Ms. Irene brought me to WUTHLE, or Women United Through Handcrafted Lace and Embroidery.  Founded by a Belgian sister and housed at the Western  Visayas Sanitarium (formerly the Leprosarium), WUTHLE is the only bobbin lace producer in the country.  Beautiful, delicate, and fascinating to watch, bobbin lace making is also a declining industry.  At its peak, it had 60 tatters; now, only 7 ladies the youngest of which is in her 40's make lace.  They produce elegant pieces of lace that are used as doilies, lace inserts and edging, and ornamental pieces.  Some of them also make embroidered items with similar stunning craftsmanship. 60-year-old Manang Delia laments that the young ones are not interested in the craft anymore and prefer to tinker with their cellphones.  Oh, dear.  If only the young ones know how rewarding it is to continue this unique handicraft.  I pray that bobbin lace-making will find interesting young minds and heart to keep it alive for a very long time.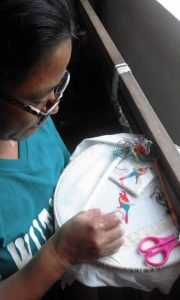 New is Still Old
Perhaps my prayers will be answered in the  brick and coralstone Sta. Barbara Church.  Declared by the National Historical Commission of the Philippines as a National Historical Landmark in 1990, and a National Cultural Treasure in 2013, this cruciform church underwent restoration for a year and four months with financial support from the NHCP and the Iloilo Provincial Government from 2013-2015.  Congratulations are in order for this project.  If permission can be asked, have a look at the spruced up wooden Moorish-inspired convento built alongside the church.
Just across the church is the well-curated Sta. Barbara Centennial Museum.  Here, local hero Martin Delgado is honored with  his own section.  There are also a war memorabilia, a dinnerware collection, and artifacts from the Panay Bukidnon with their distinctive hand-embroidered blouses.
Outside, the landscaped park nurtures several catmon treelings that Ms. Irene is hoping would grow tall and sturdy and bear many fruit.  Sta. Barbara's old name is catmon, and with the old springs the new, but the old is never forgotten.
Many, many thanks to Ms. Irene Magallon for facilitating my visit around Sta. Barbara.  Many, many thanks, too, to the Municipality of Sta. Barbara under Mayor Dennis S. Superficial.