When the handle of my binangon flew off, I knew whom to call.  The neighborhood pamandayan to the rescue!
What is a Filipino household without the all-purpose knife that can cut down a tree, open a coconut, and peel an unripe jackfruit for ginat-an nga munggo?  The binangon is a tool so essential for a gardener that working without it is like a writer without her pen.  It is to my advantage that a blacksmith is just a few houses from where I live and, with neighborly chumminess, I can request one to have the handle or pulo replaced tout de suite (P50).
Starting 'em young
Pongpong Apdo, 52, started learning the trade of pamanday from age 10 to produce pieces for the arado or plow such as the lipya, the ilingweta, and the punta, the latter being the pointed part that breaks up the soil.  Together with his cousin Junior Apdo, 53, both smiths wield skills that were handed down from their fathers Diutay and Carlos, and from their fathers' father Dadong Apdo who apprenticed with a Cebuano blacksmith in Cebu.
Accidental businessmen
Pongpong and Junior, who began helping out at his father's shop at 9 years old, had wanted to finish school but were told to quit in order to assist in the trade.  Today, the cousins are partners in the shop near my place.  From their small location furnished with the most basic tools, the men and their assistants arm themselves with the maso (sledgehammer), sinsil, kimpit (tongs) and kahig as they work around their landasan (advil) and dapog (open furnace).  Sheer muscle power is exerted to create arado (plow) parts from flat iron sheets salvaged from the junkshop.  The shop's 4-inch thick anvils are improvised from discarded parts taken from a sugar mill with a base fashioned from short lengths of railroad tracks.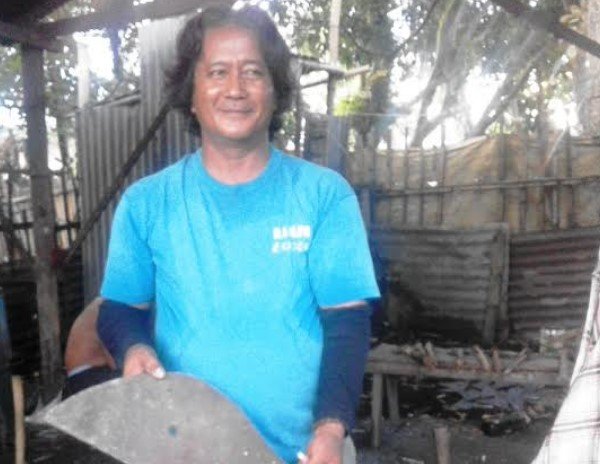 The lipya (P220), and punta (P100) find their way to Kabankalan, Victorias, Hinigaran, Sipalay, Cadiz and even to Dumaguete, Bais, and Iloilo.  The workshop also produces wasay (axe) but these are snapped up so quickly by customers.  Considering that capitalization includes the raw materials, charcoal, and labor ("Hard labor guid ni ya, 'day") prices are very reasonable for hand-made goods.
At Airport Subdivision where we are, the Apdos' shop is one of only two in the area.  However, Pongpong's son and heir apparent Leo, 23,  assures me that Bacolod has more than 30 pamandayans which means that this age-old industry continues to flourish and will flourish as long as there are farms and farmers, and there are brawny men who are willing to supply the needs of the farms.
Our sugarcane fields produce green gold that made our island rich.  Under this industry are small businesses that keep the economy humming and provide honest sources of livelihood to the Negrenses.  Mabuhay ang mga panday!