We Negrenses feel that we are kindred spirits with the Kapampangan. We love the good life, and we love good food, naturally. The richness of our lands enabled us to have access to fresh produce and organic meats, and the palates have been made more refined and sophisticated with travel.
We may not be aware of this, but many established dishes in Philippine cuisine are actually Kapampangan in origin. Pampanga is said to be the culinary capital of the country and has given us many well-loved dishes such as morcon, kare-kare, menudo, estofado, embotido, asado, afritada, tocino, longganisa, and many more.
"Many more" may be enjoyed in Bacolod City at the first provincial branch of Mangan Restaurant, a restaurant that serves amazing Kapampangan dishes with 7 branches in the country. Founded in 2000 as part of the Cabalen Group that also brought us Cabalen Restaurant in 1986 now with 45 branches, Mangan Restaurant continues the tradition of serving iconic Filipino dishes to gourmets. If Cabalen is known for its freshly-cooked dishes served buffet-style, Mangan Restaurant is its a la carte version.
How about ordering now?
Start with the Suam na Tahong at Halaan. This delicious mussel and clam soup has all the flavors of a classic chicken tinola with slices of corn still on its cob thrown in for a richer flavor. It is so good; the vegetables are not overcooked, and the seafood fresh and sweet.
Pork lovers will always find something in this Filipino cuisine mainstay – the sisig. The sisig is as Kapampangan as it gets starting from the accidental culinary invention by Aling Lucing who boiled, grilled and fried pig's ears, snout and face. The meat is minced and added with chopped onions and vinegar. Mangan's version is presented in a banana leaf envelope secured by a toothpick with a piece of calamansi fruit and hot pepper on both ends. What a pretty, no-frills and practical way of serving food!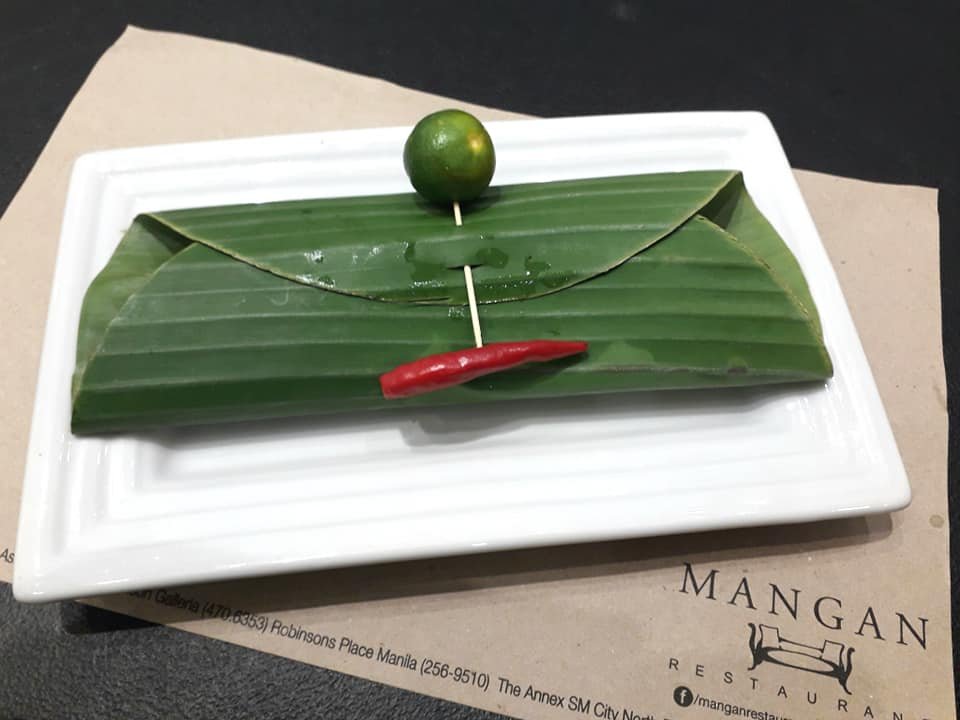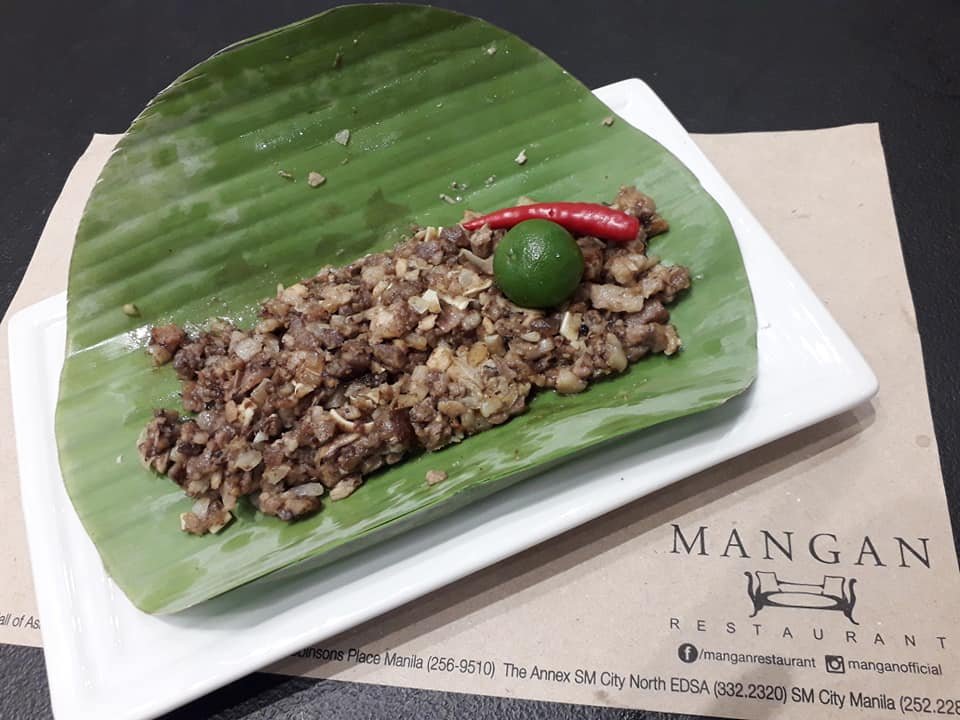 While laing has Bicolano roots, Mangan Restaurant comes up with a great combination of the typical taro root, coconut milk, chili and shrimp paste PLUS a just-right sprinkling of dried small fish, the dulong. This is the reason why you need to order rice.
And crispy pata? And crispy pata!!!! Tender pork leg that had been marinated in spices and condiments and deep-fried. This comes with a soy-based dipping sauce (not pictured).
How did the bangus become bistig? Darwin wouldn't know either, but the Pinoy kitchen can come up with an evolution of words and dishes. "Bistig" is from "beef steak" and "bistek", and the main ingredients of soy sauce, calamansi juice, garlic and onions are used by the Kampangans to flavor the milkfish. Why not? If you prefer fish over meat, but still reminisce over your lola's beefsteak, you can get the best of both worlds.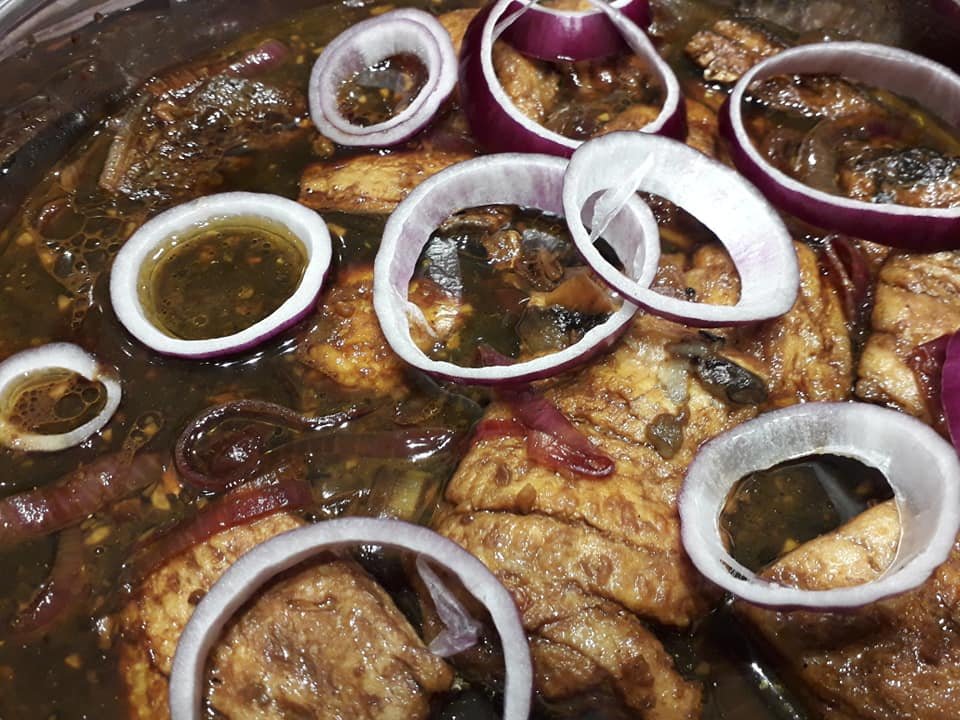 Another bangus belly dish is the Bangus in Tausi Sauce. This Mangan offering is also a fusion of the oriental and western with its use of a tomato base and a generous touch of tausi or fermented black beans.
Get ready for this sublime item on Mangan's menu. The Lengua Caldereta will render you speechless with its richness and tenderness and superb blend of tomato sauce, carrots, potatoes, red bell peppers, and cubed beef tongue. Now, there's the difference!!! When caldereta originally uses goat meat, the recipe was tweaked to use tongue. When the classic tongue dish Lengua Estofada serves the tongue sliced horizontally, Mangan's serves theirs cubed. "Lengua Caldereta" will be everyone's favorite dish at Mangan. Even the words just roll off your tongue.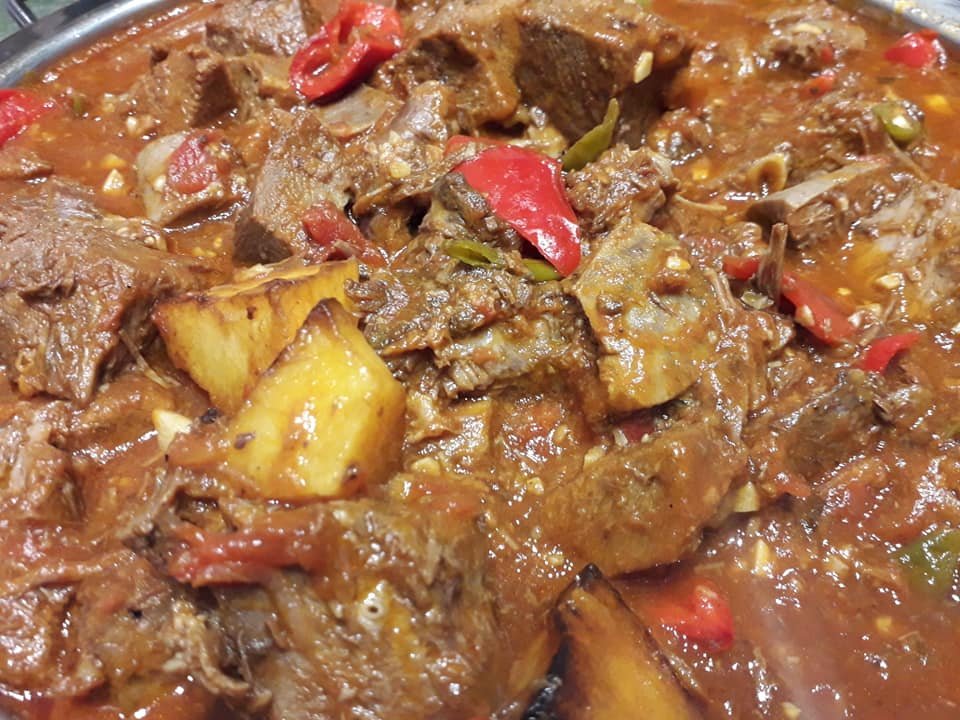 Get ready for dessert!
Have the Pinoy desserts that will guarantee you ending your meal with a sigh. Suggestions are the leche flan and the buko pandan.
The Leche Flan at Mangan Restaurant is to die for. Its creamy richness is tempered by a topping of sago or tapioca that visually enhances this Pinoy meal-ender.
On a summer day, the Buko Pandan at Mangan Restaurant can cool a tropical temper. Presented in a tall sherbet glass, it is a frozen mix of pandan-flavored gulaman cubes and chewy buko squares. Unlike the usual buko pandan salad swimming in condensed milk and cream, this version makes you think of buko pandan ice cream with less cream so you can have more buko and pandan gelatin to chew on.
From beginning to end, from start to finish, a meal at Mangan is meant to be enjoyed without haste. Sit down, relax with friends and family, and relish each bite knowing that Mangan's offerings are made from fresh ingredients sourced from local suppliers while specialty ingredients such as cheeses and the Kapampangan staple, the burong hipon, are from the central commissary to ensure a uniform standard. Choose from 133 items on the menu.
In Bacolod City, Mangan Restaurant is at Level 1 of Ayala Mall Capitol Central. Ayala Mall Capitol Central is behind the Old Provincial Capitol Building.