It's still the same Nezu serving hip Japanese cuisine, only they serve their specialties with more care. Now, this should not stop you from dining in, or taking out food or opting for delivery (GrabFood and Food Panda to the rescue!)
Nezu is on the ground floor of Sunlife Building, 20th Lacson Street in Bacolod City. It is beside the elevator in the building's alley, its square minimalist lighted sign transporting you to a quiet Japanese neighborhood.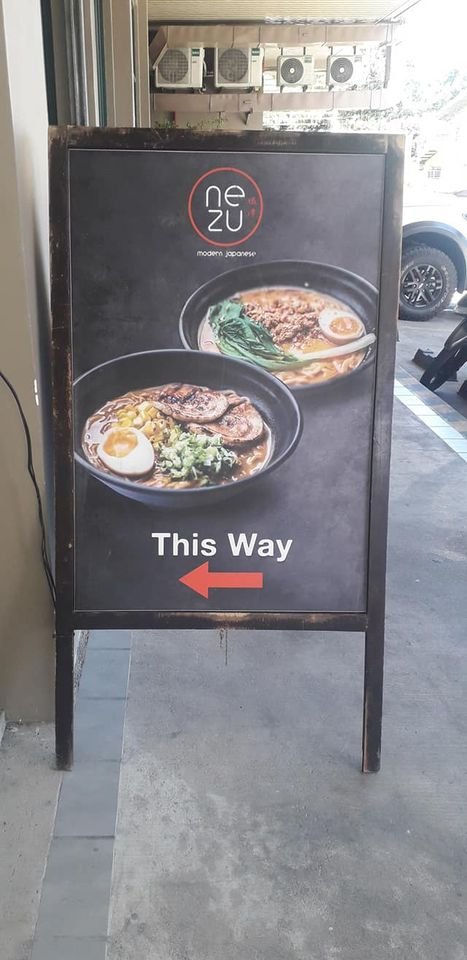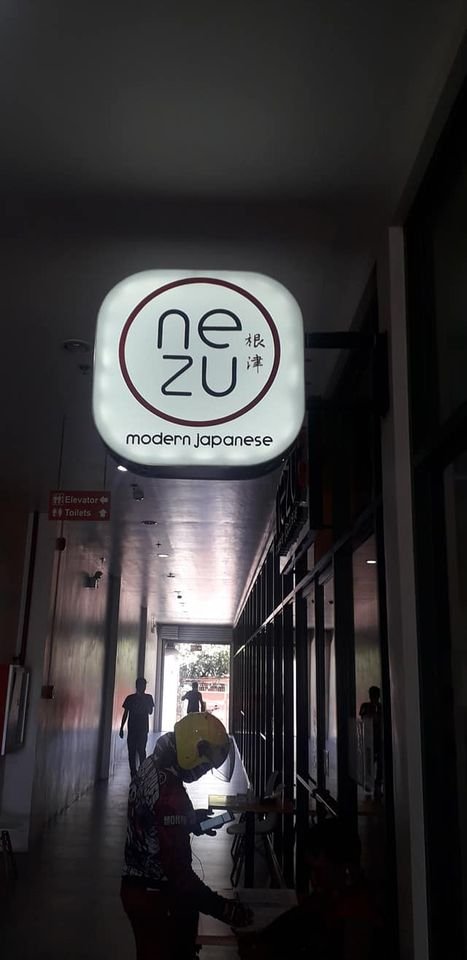 Inside, there are more spaces between tables when the 50-seat Japanese bistro pared down the number to half in observation of the necessary physical distancing. Waiters don face masks and face shields partly blocking a view of their faces. Yet their demeanor tells you that there are gracious smiles behind those masks. Their gestures warmly welcome every guest who come in to experience Nezu's kind of clean, mean Japanese cuisine.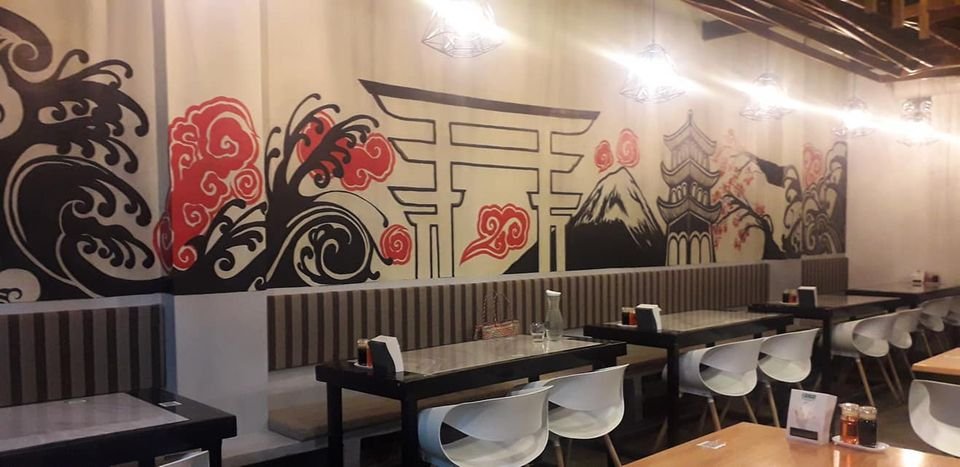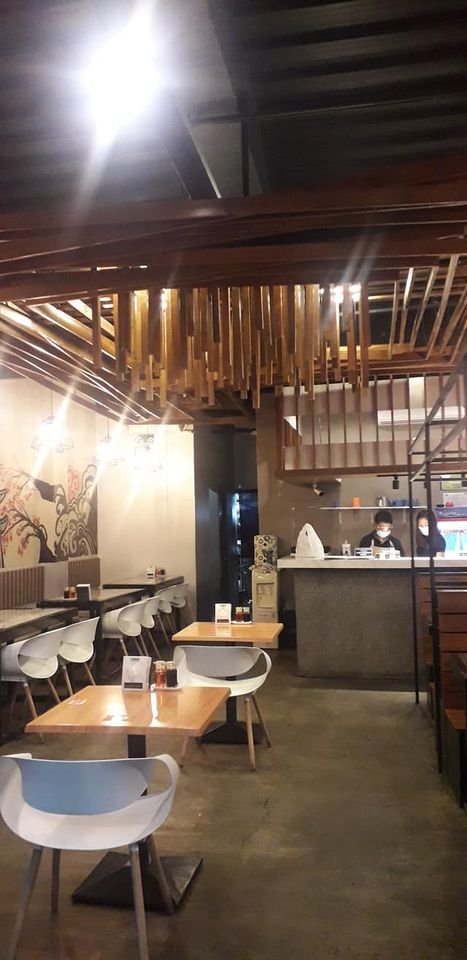 Patrons would like to know that Nezu opens everyday at 11 a.m. to 2 p.m., then, 4 p.m. to 6 p.m. That's enough time to sit down for a ramen just like I did. Or to order a platter of Grilled Shrimp Skewer which I did. Or the double delight of Seaweed Inari and the seaweed platter. Uh-huh. Yes to those! Or to satisfy a sweet tooth craving with the Matcha Cheesecake Tart. Which is exactly what I did, too.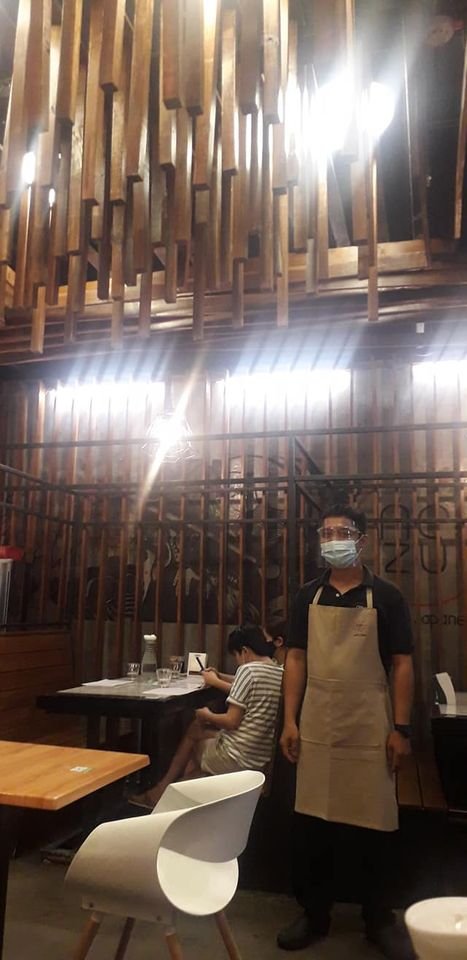 What's a nice girl like me out at a time like this? Look, my friend, a sensei told me it is possible to enjoy good food and keep safe, too. Nezu fulfills the standard requirements to operate as a restaurant. Hai! So, let me take you back to the day when I swung open Nezu's door. Shall I order now? Tabemashou!
I'm so predictable, hence, I start with a steaming hot bowl of ramen. The Shoyu Ramen (P255) is pork chosu, half an egg, menma, scallions, and black negi oil. The combination gives you a melt-in-the-mouth (thin tender pork with layers of fat), oriental (menma, or bamboo shoots), smoky (black negi oil) flavor. Ideally, the serving is good for one, so, don't sulk if your lunch date doesn't share it with you. Go get your own! There are four more ramen to choose from priced from P235 to P270 i.e., Shio, Tantanmen, Hokkaido Miso and Spicy Miso.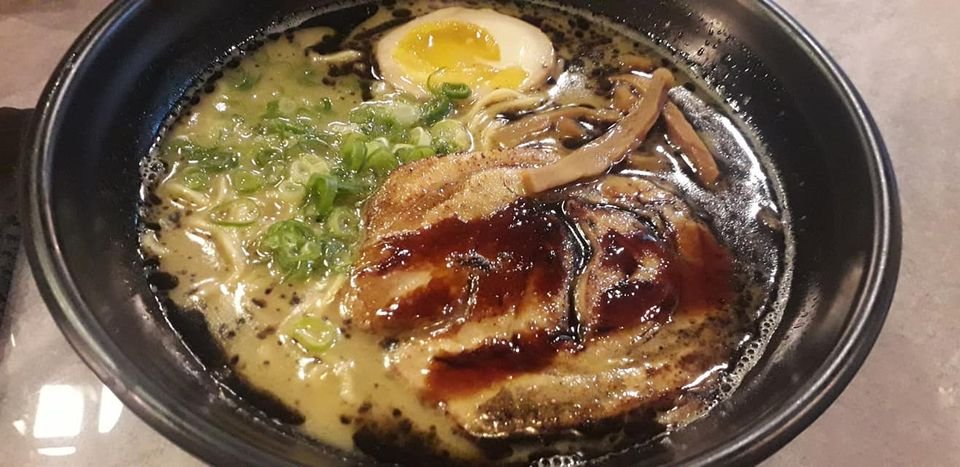 With my tummy warmed by the soup, I was ready for the Grilled Shrimp Skewer. For P265, the dish will be quite pricey for most of the Bacolod crowd (5 pieces of medium-priced shrimps). Yet, if I have to be an advocate for this, I can say that the redeeming factors are its full-bodied taste, and its presentation in light of the Japanese sense of aesthetics. Five pieces of shrimps stripped of their shells; heads intact; heavily smeared with ketsuobushi sambal and topped with finely shredded spicy daikon – the white strings adding levity to the ensemble. To add warmth to the plate and more flavor for the palate, sweet corn puree becomes the exclamation point to this pretty picture.
N.B.: Ketsuobushi is skipjack tuna that has been dried, fermented, and smoked.
Honestly, it is good. There's a reason why the shrimps keep their heads. You just gotta coax the fat out of them with the sambal, never mind the slurping sounds you'll make. In fact, the noisier you are, the better, to demonstrate gustatory appreciation just like in Japan. Oishi!
More oishi and umami coming up with Nezu's Seaweed Inari (P160). These are aburaage tofu pouches holding sticky rice topped with pickled chuka wakame seaweed and sesame seeds. Like the menma (bamboo shoots) in the Shoyu Ramen, the seaweed were brought in from Japan. Succulent and firm, the seaweed are doused in sesame oil mixing wonderfully with the vinegar. The inari was an enjoyable item on the menu.
N.B. Aburaage is deep-fried tofu pouches.
I couldn't get enough of the seaweed that I ordered extra. Oops. That is not on the menu, but this insider tip is too good to keep a sea-cret. If you want more of the chuka wakame and nothing but, ask the waiter if the pantry has ample supply of that. If so, order a platter while in stock (P200) and eat to your heart's delight.
N.B. Chuka wakame is seasoned sesame seaweed salad.
Surprisingly, Nezu included a dessert item, and I mean "a". The spotlight shone solely on the Matcha Cheesecake Tart. The tart is a round pie the size of a small round dessert plate served on a big round dessert plate probably to emphasize the infinite lusciousness of this cheesecake in a pie crust. The Matcha Cheesecake Tart (P175) is worth every peso. Creamy, the color of celadon, not overly sweet, it is a matcha made in heaven as an almost imperceptible pleasant bitterness meets the tastebuds. The Matcha Cheesecake Tart can be shared. That's tea for two.
Nezu's take on Japanese food is satisfactory overall. The limited hours and seats should encourage one to make reservations. Call 4457392. Reserve a table and please come on time.
If you have to go Japanese, then, go Japanese all the way.