Been to Berbeza lately? That haven of Southeast Asian cuisine at the Sunlife Building along 20th Street in Bacolod City? As young and upbeat as its owner the boyish chef Don Colmenares, Berbeza will turn two this year and has managed to reinvent its menu since its inception. Brave and never boring Berbeza brings us an updated list of its offerings.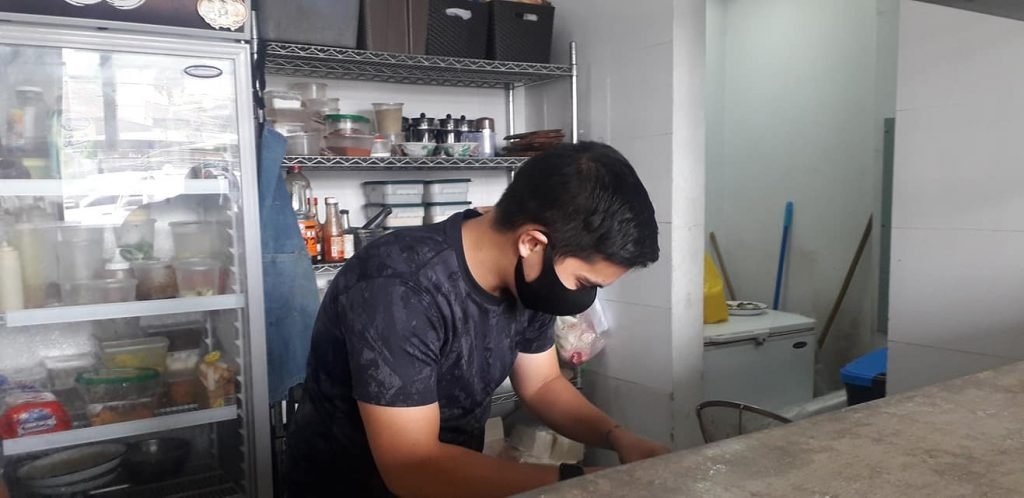 First of all, new protocols are introduced to adapt to the new normal to ensure the safety of its staff and customers. A disinfectant-soaked doormat by the front door sanitizes footwear, a table nearby displays hand sanitizer to be used before entering, a guest's temperature is checked and, when seated, his name registered in the list. The staff wears face masks and 15 to 20 customers are allowed inside instead of the usual 40. For al fresco dining, two tables are set outside to accommodate four persons per table. Inside, the high ceiling and bare glass window offer the ideal combination of better air circulation and natural sunlight.
Next, each table and chair are sanitized after a customer leaves and misting is done every night for a thorough reach into every nook and cranny.
For the finicky client, Berbeza will spoil you further by offering an exclusive dine-in for a minimum of 10 people to a maximum of 20. The place is yours, and yours alone and so is a customized menu that ranges from P1000 per head to P2,500.
Exclusivity does not necessarily translate to high-brow; a customized take-out or budget meal can be arranged for a minimum of 10 persons. What's more, set platters for 6 are thoughtfully varied, savory and filling. Try the Filipino Bilao (P1,599) that offers a mouth-watering blend of Filipino dishes i.e. Ensaladang Talong, Green Mango Salad, Chicken Inasal, Sinugba nga Isda, Grilled Shrimp Skewers, Mashed Kamote, and Garlic Fried Rice.
Check out Berbeza's Fat Hacks listing. It's convenient, affordable and delicious. From main dish to desserts, Fat Hacks give you "frozen goodies that you can enjoy in the comfort of your home." Choices include four kinds of bulgogi (beef, spicy beef, pork, spicy pork), Callos de Familia, Gyoza, to cake in a jar (Red Velvet, Oreo Cheesecake, Black Forest, Tiramisu) and prices ranging from P55 to P230. What's even more exciting are the Budget Bento: Lumpiang Shanghai, Chicken Fingers, and Gyoza all served with a salad and rice and egg (except with Chicken Fingers). Fat Hacks Budget Bento are at P85. Uh-huh. You must be getting incredulous now.
Before I go further, it is assuring to know that Berbeza uses local ingredients for all its dishes and only the freshest fish and seafood will do. There is absolutely no storing of these sea creatures for a long time.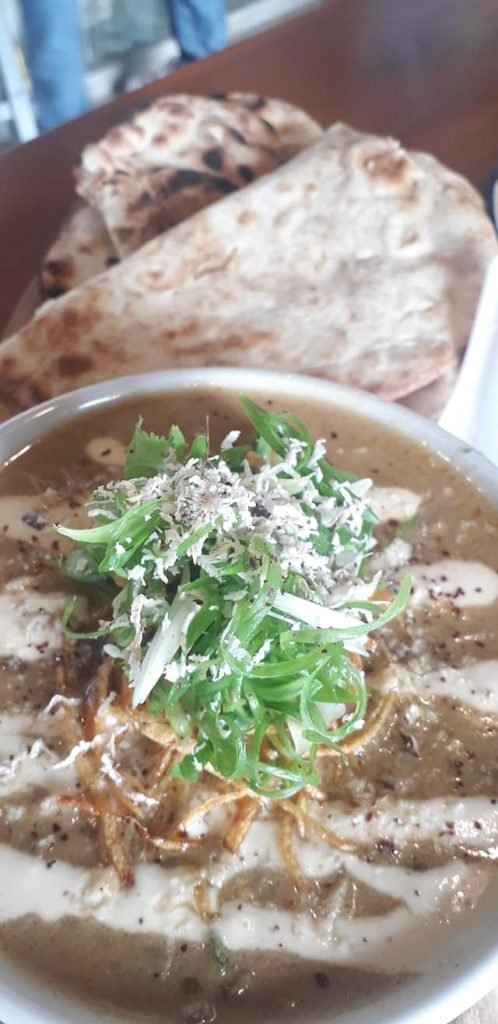 The choices may be bewildering, so, let me suggest a menu for lunch. As a trying-hard vegetarian, I was pretty pleased to note that it is possible to avoid meat, so, I went for the Dhal Sambal with Roti (P260). Berbeza's has mung beans, yellow lentils, gata (coconut milk) and house spice. It is not too spicy and is, in fact, on the slightly sweetish side. Unmistakably Negrensified! Even a regular Indian customer has no problem with this. It's very flavorful and makes a heavy meal with the warm roti. Don't worry if the bread cools – it tastes just as good and takes on a cracker-like quality.
My lunch date Tanya Lopez and I also had the Vegetable Lumpia Bowl (P210), a lumpia filling mix of local mushrooms, black fungus, dried singkamas, and tauge with sweet and spicy vinegar sauce nestled between two crisp lumpia wrapper shells. Crack the shells and mix everything up to give you a taste of chewy, crispy, sweet, sour, spicy.
Acting as a foil to the full flavors of the Dhal and the lumpia bowl is the Green Mango Salad (P215) of Indian mango strips, peanuts, dried hibe, fish sauce, coriander and spearmint. Vegans will have to ask Kitchen to remove the hibe because…shrimp. Trick question: does the fish sauce count as non-vegan because…fish?
The meal-ender was a voluptuous glass of chendol (P130). Berbeza must be the only restaurant in Bacolod with chendol on its menu. Their version of the famous Singaporean cooler of shaved ice, pandan jelly, and beans, has candied mung beans, usually candied bananas though what was served us had mango cubes, coconut milk, and muscovado syrup. Since we do not produce gula melaka (palm sugar) in our island, our very own muscovado does the job of sweetening very well. By the way, Malaysians say that the chendol is theirs, so, there is an ongoing tug-of-war between the two nationalities over chendol rights. Let's leave them alone and enjoy our chendol just the way we like it.
All the above are meant to be shared. Berbeza is bahasa for "unique". What is unique is the fact that although each dish is distinctive – the Indian provenance of Dhal Sambal with Roti, the chinoise origin of Vegetable Lumpia Bowl, the Thai notes of Green Mango Salad, and the Malay chendol – put together, they all blend and complement so beautifully. When the menu indicates that the serving is good for two, don't believe it. The servings were ample and if one orders the items suggested above, make sure that there are three of you, or even four normal ladies. Tanya and I made a really difficult decision to leave unfinished food on the table despite our "no food waste" policy. We just could not take anything in anymore. Not even if you pointed a wok to our heads. Flavor plus price make a very attractive combination. Berbeza's dishes are prepared with Western techniques using Southeast Asian flavors from locally-sourced ingredients.
Berbeza was born to be unique.
Restaurant hours: 10 a.m. to 6:30 p.m. and opens from Tuesday to Sunday
Landline: 034-4313188 Mobile: 0939-6400556 (Smart)