"Sadya-sadya" (very funny) is how I describe the 2017 film Tori Girl shown at the Japanese Film Festival  also known as the Egasai brought to SM City Bacolod by the Japan Foundation and the Embassy of Japan.  The Egasai is generously supported by JTI, Mitsubishi Corporation, Japan Airlines, the Film Development Council of the Philippines, Cultural Center of the Philippines, Cinemalaya, and SM City Bacolod.  This film festival runs from August 9 to 12 with regular time slots of 12:30 p.m., 3:00 p.m., 5:30 p.m., and 8:00 p.m. with free admission to the public.
Critically-acclaimed films to be shown include ReLIFE, CHIHAYAFURU Part 1, CHIHIYAFURU Part 2, CHIHIYAFURU Part 3, Tora-san of Goto, Memoirs of a Murderer, Honnoriji Hotel, Daytime Shooting Star, Survival Family, Let's Go, JETS! From Small Town Girls to U.S. Champions?!, and Rudolf the Black Cat.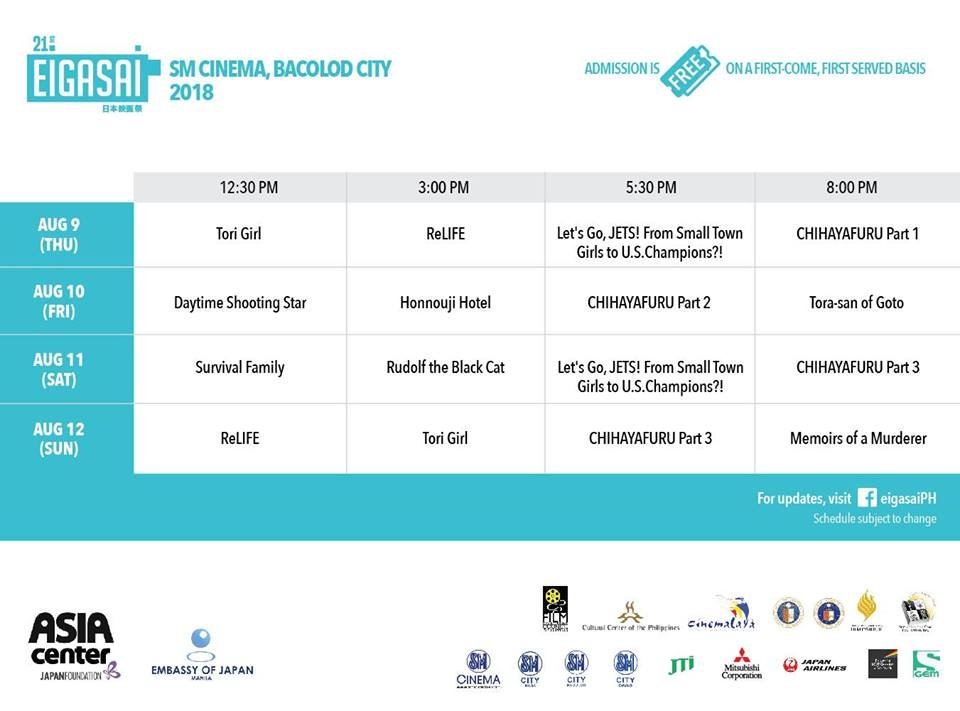 Now, back to Tori Girl and why it's a fun film.  A new and feisty university student Yukina joins the pilot team of the school's flight club upon the invitation of her crush Kei.  About 100 members of the club are in the midst of preparing for a summer flight contest.  Yukina meets the disillusioned, crass Sakaba who is traumatized from a previous flight competition.  They do not see eye to eye, but fate throws together to team up for the new flight competition when Kei suffers a serious injury.
Directed by Hanabusa Tsutomu, this comedy has its numerous hilarious moments and it is powerfully serious at the same time with life lessons in determination and persistence, and getting over one's deep-seated fears.  The fantastic storyline is complemented by strong performances by Tsuchiya Tao (Yukina), Takasugi Mahiro (Kei) and Mamiya Shotaro (Sakaba).  The audience was engaged by the amusing dialogues highlighted by the rapid-fire exchange of insults between Yukina and Sakaba during their frequent heated arguments.  It is a miracle that they ever trained so well when together.  Tori Girl is scheduled again on Sunday, August 12 at 3:00 p.m.
Again, the Egasai offers free admission to everyone on a first-come, first-served basis, so, try to be early to get good seats.  Learn more about Japanese culture, Japanese film-making, and the Japanese actors who are so good and so cute that I had a girl crush on Yukina and new boy crushes in the persons of Takasugi and Mamiya.