This is really exciting:  30 printed-on-canvas artwork by distinguished featured artists who had captured the beat of the nation. The original works are at 6 feet by 12 feet and these have been reduced to 4 by 2 feet reproductions for convenient viewing.  The Siningsaysay traveling exhibit is an art and history project of the University of the Philippines, the UP Alumni Association, and the Araneta Center, Inc.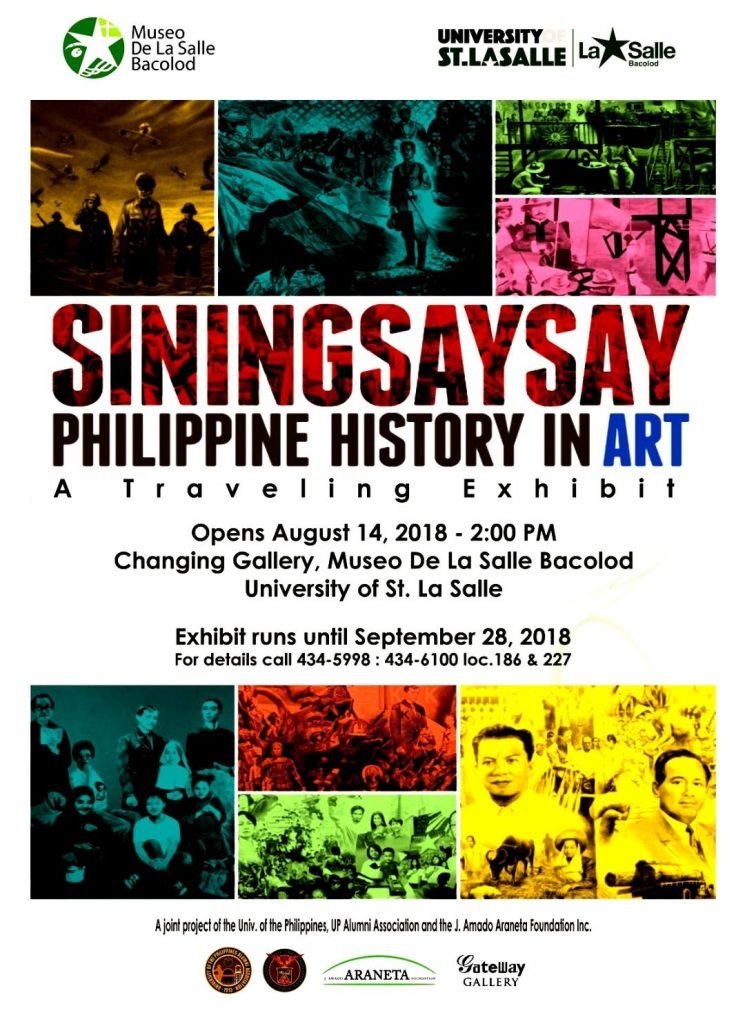 30 canvases depicting the highlights of Philippine history are "innovative means of teaching history, promoting art appreciation, understanding Filipino identity and imbibing cultural pride, constituting valuable aspect of public service."  10 of these canvases are embedded with Augmented Reality (AR) that allows viewers to enjoy traveling back in time with visuals and audio.  For this, visitors should not forget to take their phones with them in order to download the app.  Siningsaysay is on exhibit at the Museo de La Salle Bacolod until September 29, 2018.
Here are a few photos and their captions that might be of interest to you.  The artists' names and artwork titles are included.
#3
#6
#7
#10
#16
#21
#25
The exhibit goes through other administrations via Yellow Fever by Angel Cacnio, Dyipni Ride by Michael Velasco, The Journey Continues by Grandier Bella, and ends with the happy, exuberant Celebration by Romeo Carlos to highlight the religious provenance of our fiestas.
Siningsaysay: Philippine History in Art takes us down to the corridors of our past with art  leading us through the gripping tales, exciting twists, and mind-opening stories of who we are as Filipinos.
The Museo de La Salle Bacolod is open everyday except Saturdays and Sundays, from 8:00 a.m. to 12:00 noon; and 1:30 p.m. to 5:00 p.m.