When my parent adds more years to her life, I would want to add more life to her years.  There is nothing more satisfying than giving back to my mother and seeing the joy on her face when something makes her happy.  It is just so rewarding.
So, what would make her happy? Clothes?  She does not shop anymore and she still loves her old clothes sometimes not even wanting to part from them.  Food?  She has lost her craving for rich, heavy dishes and prefers her usual light-on-the-tummy fare of fish and fruits.  Parties? This has become a thing of the past for her.   Travel?  She'd love this, but not only had she been there done that around and outside the Philippines, but she does mind the distance now.
How wonderful for us to have this thing called a staycation.  We can take a vacation without going out of town.  What a great invention.  The first thing I considered in search of  a piece of real estate is location, location, location. The hotel must not be in a secluded area.  There should be restaurants near it so we can walk to there for dinner.  There should also be a convenience store, and a patch of greens to soothe the senses.
We found the ideal location in Seda Capitol Central.  It is along Lacson Street where restaurants line up and where convenience stores can be found; and just beside it is the Capitol Lagoon Park with the trees and landscaped gardens.
It would have been a great idea to go out for a stroll and some fresh air, but my 86-year-old mother had other ideas.  This is going ahead of the story, so, let me start at the beginning.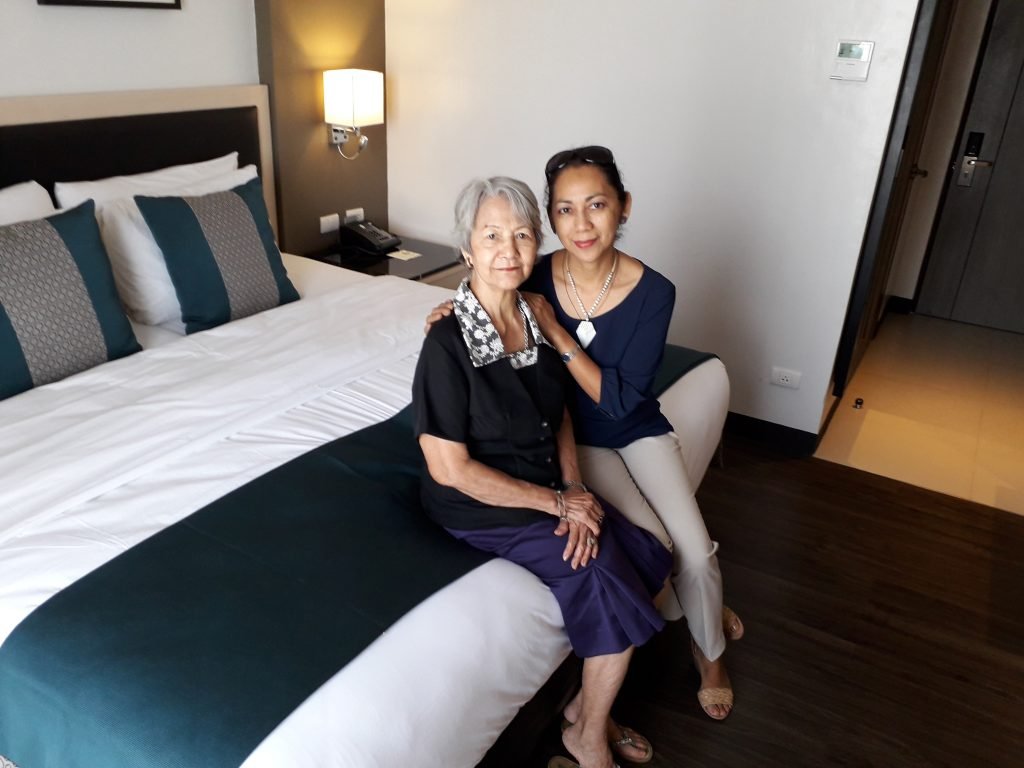 She was delighted with our well-appointed room.  It was funny when she said that the setting reminded her of her and Dad's honeymoon. But, then, in 1964, their hotel room did not even have a television set.  Our 25-sq.m. deluxe room is equipped with a 40-inch LED HDTV with cable channels, a media panel with HDMI, USB, and audio-visual connectivity.  Plus, to keep me busy, there is complimentary WiFi and internet access.
From our 6th floor room, Mama can view the swimming pool below.  "How blue!" she exclaimed like a child discovering water for the first time.  I told her that we are across the Capitol Lagoon Park.  Perhaps we can take stroll later after dinner?  "No," she said; she preferred to sleep.  I couldn't blame her.  The king-sized bed looked really inviting.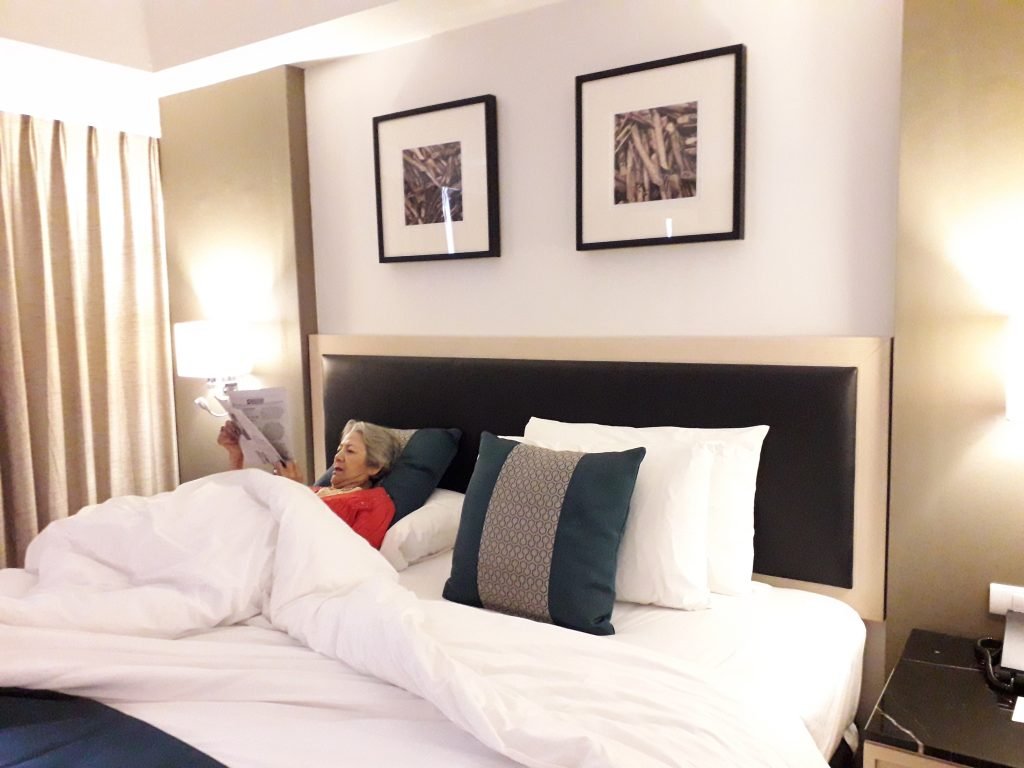 So, she crawled into bed and read the Catholic periodical ADSUM, and took a nap.
I am tempted to do the same.  The plush terry slippers and thick bathrobe spelled L-U-X-E and comfort that I almost felt guilty to be enjoying these.
Mom and I had a light chicken dinner across the hotel at Chicken Deli.  We made a quick trip afterwards to the convenience store for her favorite chocolate drink.  Then, we went back to our room for her favorite activity of the day.
Here I am still awake working while Mamá is in Dreamland. Ssshhh…

 
The next day, it was bright and cheery.  We explored the pool that she so admired yesterday.  Look! She's contentedly sunning herself by the pool.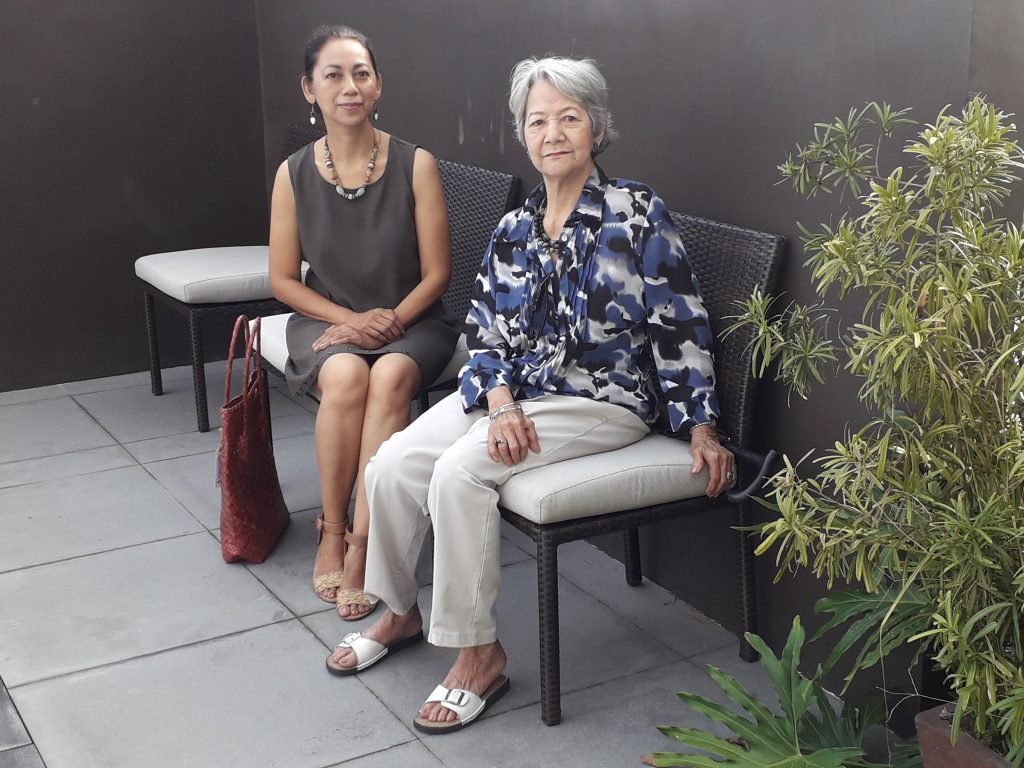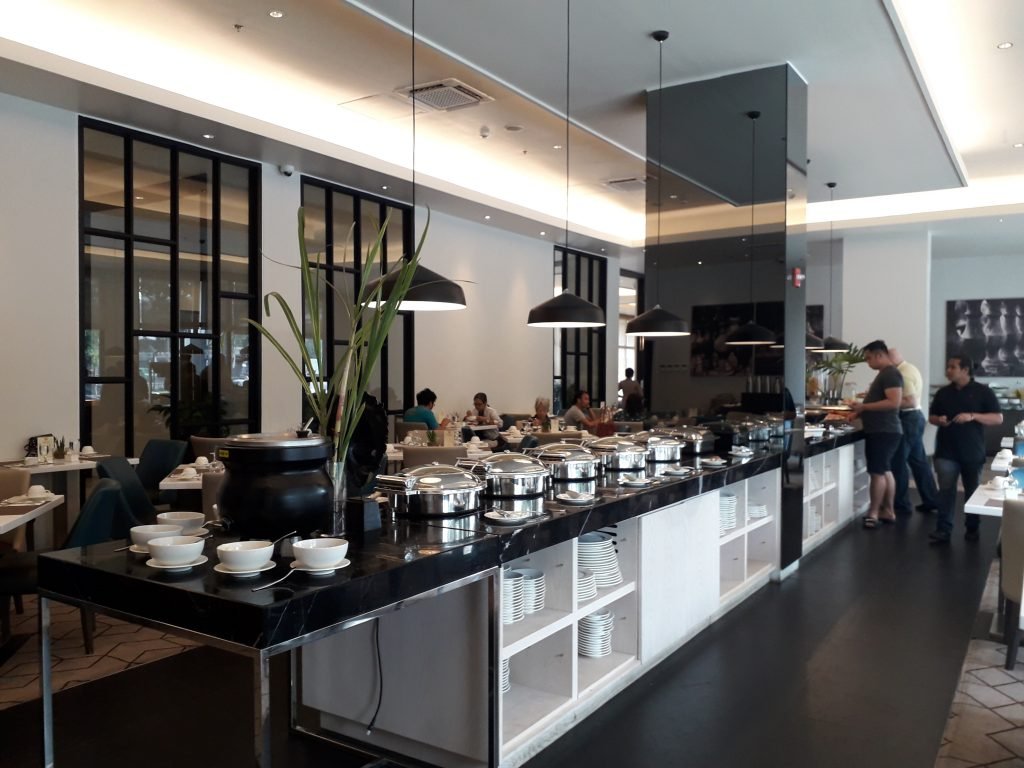 Misto is the all-day dining restaurant.  We had a lovely breakfast here that offered continental and Filipino favorites. I had some muesli (prepared from scratch), the fresh fruits with the sweetest pineapples from Murcia, the pan de sal, the sun-dried tomatoes punctuating my fresh green salad; Mom's favorites were danggit and a slice of crisp bacon.  Yes, she is allowed to sin at the table sometimes.  Me, too – I didn't pass up the moist and so divine brownies.  I can have them for breakfast, can't I?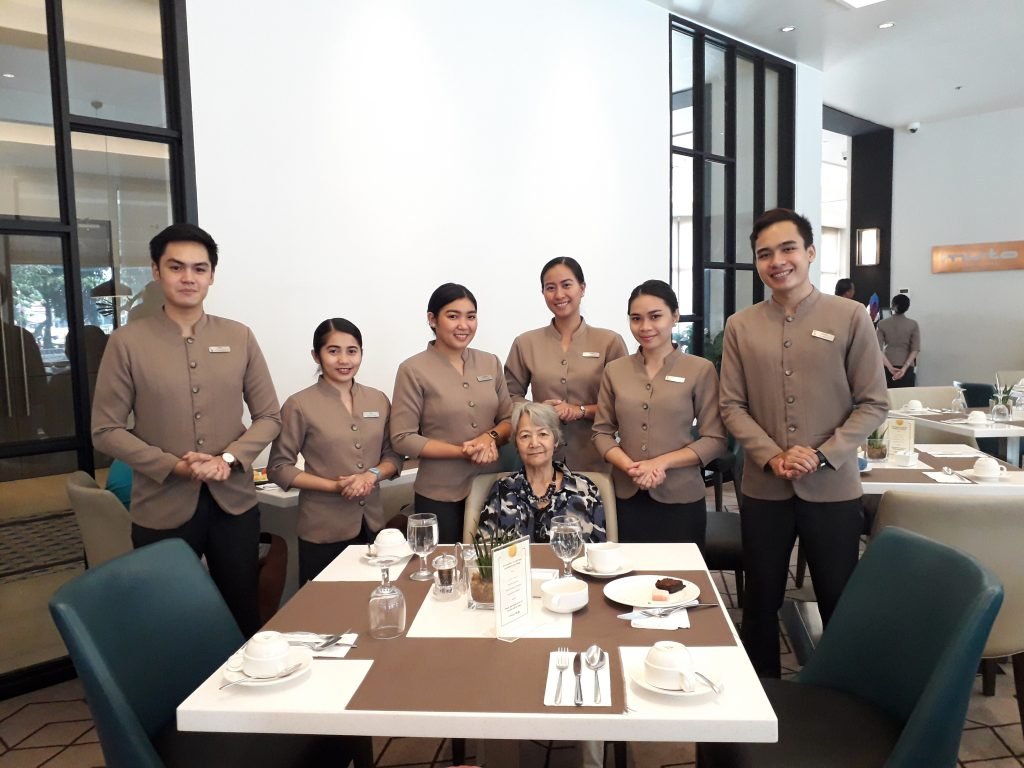 When I say that Mamá had a really time, that is an understatement. Getting out of the house even for just a night was a break from the drudgery of the familiar. I know that she felt refreshed by new experiences and a new environment, and this staycation had given us both "together" time to add to our memory banks.
Seda Capitol Central has 154 rooms and is located at Lacson Street cor. North Capitol Road, Bacolod City
Contact number: (034) 703-8888
Email address: CAPITOL@SEDAHOTELS.COM