In the Philippines, there are halo-halo, inday-inday, baye-baye, maya-maya, and, as I discovered in Pangasinan, there is pigar pigar.  Akin to our carne frita without the sauce, the beef is cut into short strips, stir-fried in hot oil with sliced cabbage and lots of onion rings.
  "Pigar pigar" is the constant motion of stirring and turning over of meat and vegetables.  When done, these are drained and served on a platter with soy sauce on the side.  Pigar pigar is found in almost all restaurants in Lingayen, Pangasinan's capital, where I stayed.  Ubiquitous, too, in Pangasinense cuisine is the bagoong which is often paired with steamed vegetables (usually okra).  Food here is well-seasoned with salt.  After all, Pangasinan comes from the words "pang asinan".
What is Pinoy food without bagoong and patis?  At a bagoong factory in Pangasinan, drums and receptacles are filled with fish and alamang fermenting until patis and bagoong are produced.  There is a strong smell of the sea as the process is going on of turning fish and shrimp into the Philippines' most essential condiments.
One interesting tub has concrete wheels lying on their sides on the surface.  The tub is filled with alamang on their way to be transformed into bagoong.  Instead of using the age-old technique of stomping on the shrimp, the concrete rounds are used to press down on the alamang.  Somewhere are sacks of salt piled high for the next batches of fish and shrimp.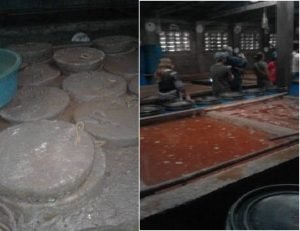 The salt beds of Alaminos are lined with clay tiles.  In Negros, the Bago saltbeds used to be lined with clay tiles, too,  until plastic sheeting came along.  Since clay tiles are still being produced in Pangasinan, it is convenient for the salt maker to replace broken tiles.  For five months of the year, just like in Negros, salt is produced during the dry season.  When the rains come, the saltbeds instantly become fishponds.  Just like ours!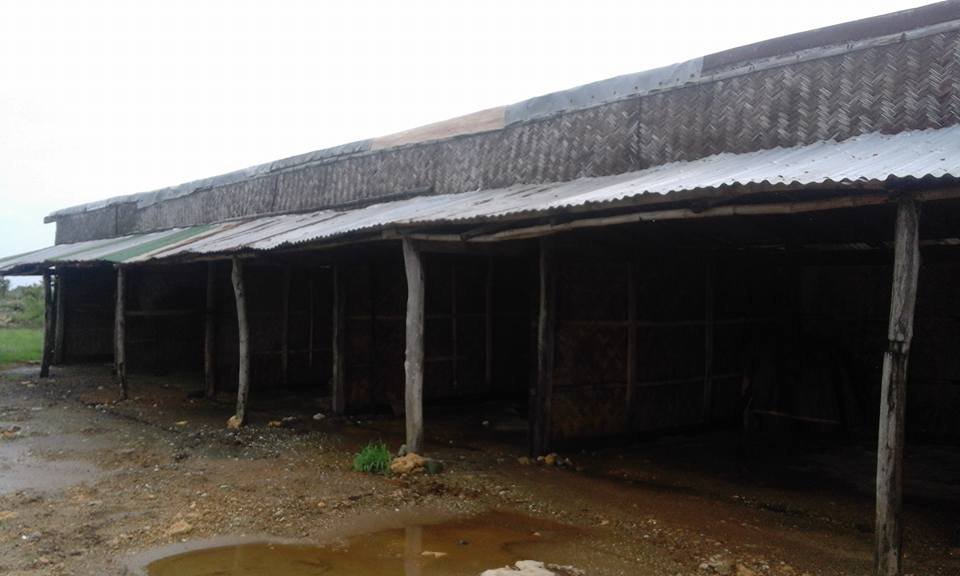 A bangus fish pond is like stars; you can't see them, but they're there. (Chos lang.)
There is no other fish here as popular as the Bonoan bangus.  This bangus with a small head and shorter lower tail has spurred on other unscrupulous vendors to trim non-Dagupan bangus to achieve that shorter lower tail. The Dagupan bangus eats an algae called lablab and scrounging  the river bottom for the algae causes the lower tail to scrape against the floor, hence, its shortening.  The bangus are raised in cages strategically placed in estuaries where the tide can flow in and out assuring clean water.  So, the fish does not have the muddy taste other bangus have.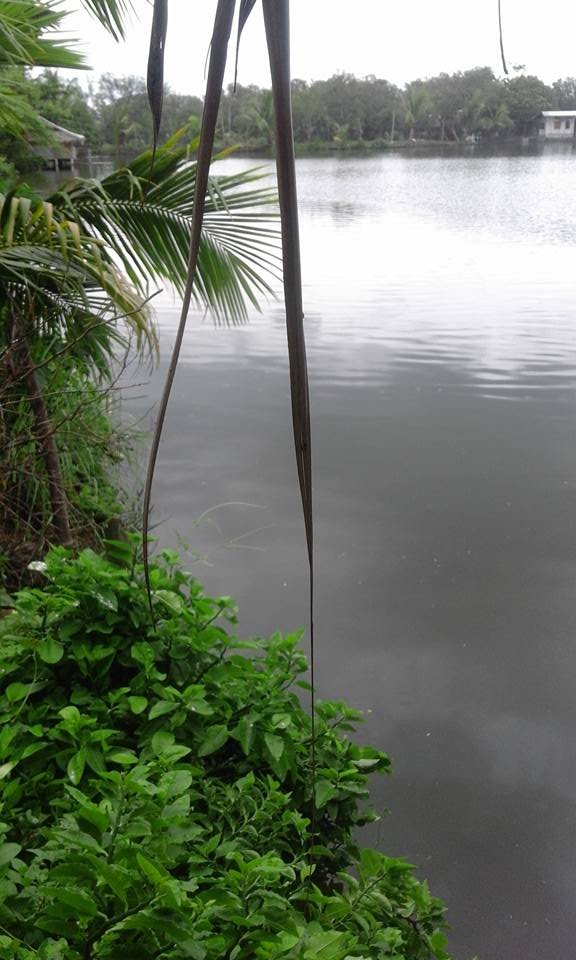 Pangasinan's food, thanks to former Dagupan Tourism Officer Rose Marie Teng Mejia who fed me, are our comfort food – pinakbet,  bagoong, ukoy, hopia sibuyas, the famous and delicious Calasiao puto (sold by weight), bucayo and other coconut-based candies.
Lingayen is also where the disgustingly-named sundot kulangot originated.  Pangasinan has the patupat (malagkit rice wrapped in coconut fronds and cooked in syrup), and the famous tupig (malagkit and coconut strips) roasted in banana leaf wrapping. While the above satisfy stomach and soul, it is silag toddy that remains in my memory as the sublime nectar of the gods trickling down my throat.  Silag is our budjawi, the fruit or nut of the buri tree. Here, the nut is eaten raw while ours are eaten boiled.  It is the toddy from the tree that enthralled my tastebuds.  Unlike the tuba or coconut toddy, the silag is sweetly innocent – like liquid nata de coco. Mrs. Mejia brought me a liter gathered from Mt. Balungaw, 1 ½ hours from Dagupan.  It was a privilege to partake of this treat for this is not commonly produced in other parts of Pangasinan.
It was also a privilege to have lunch at Pedrito's in Dagupan and see that our piaya is part of the pastries displayed there.  Pedrito's is the only bakery there that makes piaya.  We had a wonderful meal of talakitok drenched in a ginger sauce with eggs beaten in. And I cannot forget the squash ukoy – thick, chewy, good to the last bite when dipped in an onion-vinegar sauce.
Many thanks are in order for Ma'am Rose Marie Teng Mejia who took the time to show me her part of the province.  I will not forget her generosity and hospitality the same way that kudos are in order for the organizers of the 9th Tour Guides Convention in Lingayen for such an organized event.