When the internet became an instrument for writers of all kinds (professional, frustrated, trying-hard, and the (ugh!) copycats), weblogs developed into platforms for all sorts of expressions (creative, rants, gossip, and (eeks!) fake news).  Popularly known now as "blog", individuals or groups create their online publication where they post regularly and update  those posts.  These people are known as bloggers.
There are bloggers, and there are bloggers.  Many of them are looked up to as reputable sources of information and pieces of advice.  But the black sheep of the blogging community continue to spoil blogging's reputation by "storytelling a lie".  And that's ba-a-a-a-ad!
So, why did I become a blogger?  I saw almost fourteen years writing for Sunstar.Bacolod's lifestyle section and cannot think of writing for another local daily.  Yet, times have really changed and even Sunstar has a website.  So, why can't I straddle two types of media myself?  I discovered that blogging frees up one's imagination, lets creative juices flow, gives the blogger financial opportunities, and actually raises personal standards because of the competition out there.  However, it is also meticulous and hard work, as I found out.  I not only became researcher, photographer and writer; I also became my own editor, lay-out artist, and publisher.   There are costs to consider, too, such as investing in a good camera, investing in a laptop for mobility, buying a site, maintaining that site with fees, spending a lot of time editing and posting.  I guess I am pretty spoiled in this paper for all I need to do is email my article and photographs, and our editorial staff does the rest.  But this is only after I have racked my brains over what to feature, attend the event/interview the subject/spent time and money traveling to my featured destination/ and burning the midnight candle actually writing.  Sometimes, I do not even make the deadline.
I am humbled by blogging, Ate Mocha notwithstanding.  Joining the Negros Blogging Society, Inc. made me realize the responsibilities of this profession.  You don't know what blogging is really like until you blog and it is not a bed of roses.  First of all, bloggers are relegated to the sidelines with traditional media given more prominence.  Second, blogging has not been fully accepted as media as we know it, so, there is "media" and there is "bloggers" despite the fact that Huffington Post and Politico (both started as organizations of bloggers) were awarded the Pulitzer prize for journalistic reporting.  As a Negrense Blogger now, I have as my colleagues some of the most accomplished, talented, creative, amazing computer-literate individuals I have met.  Let me introduce them to you.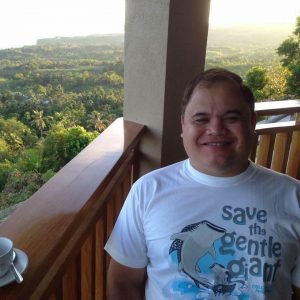 Eli Gatanela blogs for www.businesssphere.com. He is a lawyer specializing in real estate, and a Certified International Property Specialist. Aside from being a blogger, he is a licensed environmental/urban planner who was formerly a legal advisor at the United Nations Human Settlements Programme, the U.N. international agency for human settlements and sustainable urban development.  A really dynamic person, I know him to be generous and his optimism is contagious.  Guess who is behind this ever-smiling gent?  A wife, of course, who is equally dynamic and generous.   And, she is…
Elena Pineda Gatanela blogs for www.bacolodliving.com and www.bacolodrealty.com. She studied Certified Digital Marketer Program at the Ateneo Professional Schools.  Also a real estate professional, she is a licensed real estate appraiser and real estate broker and an International Realtor Member of the National Association of REALTORS of the United States of America. She finished Executive Program for Real Estate Development at the Asian Institute of Management. A civic leader, she is the president of the Rotary Club of Bacolod South, Rotary Year 2017-2018.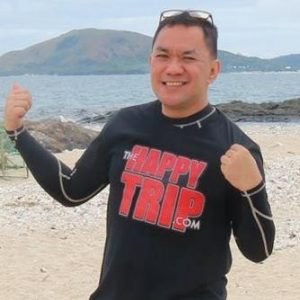 The rock star of the organization is Jojo Vito, MBA, PhD, an entrepreneur and in-house designer of his own brand Jojo Vito Designs Gallery which made became a favorite place to visit by tourists because of their huge number of Masskara inspired souvenir pieces. He teaches at LCC-Bacolod in the MBA and Doctoral Programs and  runs his own consultancy firm- Intraspec Management Consultancy Co. He is also a favorite speaker at seminars that enable him to travel around the country.  His business travels led him to blogging.  Now, he manages  4 blogs: The Happy Trip (Travel); Pinoy Bisniz (Business and Entrepreneurship); Top on my List (Lifestyle); and Abbynture (Kids)  He was recognized twice internationally when he won the 2016 Kerala Blog Express Contest in India and 2016 Tourism Authority of Thailand Blogger Campaign which enabled him  to travel to these places for free as part of his prize. He also won the 2016  Org's Second Place Best Blog and in  2017 won 3 awards: Blogger of the Year of the Globe Media Excellence Awards; Best Travel Blog (The Happy Trip) and Best Business Blog (Pinoy Bisniz) both from the Rotary Club.

Maritel Riego Ledesma is mom, daughter, heritage enthusiast, a caregiver, the family driver and troubleshooter, house princess, devoted nurturer, concerned meddler, Doctor of Medicine, MBA-holder, public servant, diocesan and parish volunteer, and accidental blogger. Her blogs are http://www.iamhangingtough.com , http://www.silayheritage.com, http://www.merlmd.com, and http://lifeafterfifty.blogspot.com.   She has this to say:
"About Life, Day by Day (www.iamhangingtough.com)
Life, Day by Day is my personal blog. I started this way back in 2003 but never really took it seriously till recently, not for want of anything to say but simply because I did not know what to do with a blog. My initial motivation was basically to use it as a medium where I can rant and rave.  I write about my life journeys as well as everything and anything that interests me…the things I like to do, my travels, my little adventures (since I am not very adventurous), my concerns and causes, and last but most important to me…my family."
Here's another husband-and-wife team.  The husband, Dennis Lo has www.marriagemarkers.com.  Dennis loves the city of Bacolod. While he finished his college education in Cebu, he came to a firm decision that he would come back to Bacolod and be part of building up the city–even in his own small ways. He thought that he can use his education to contribute to the growth of the city. Then he realized that there are not many opportunities to contribute to in the field of Electronic Engineering. However, he is zealous to contribute to the growth of the city so he stayed. Then he met his blogger wife, Sigrid, who introduced him to the platform of blogging and discovered that he can have a voice there. He is not a writer but he knows that if he can talk, he can write. (And boy, can he write!) Now having an active role in the Negrense Blogging Society Inc. as a member of the recruitment and membership committee, he believes that he is a part of something big in the digital information future of the city.
Maria Sigrid Dugeno-Lo, affectionate wife to Dennis is a work-at-home mom who tries to juggle taking care of the kids, homeschooling, covering events, designing, writing, and blogging. After finishing her degree in Mass Communications from the University of St. La Salle, Sigrid went on to become a news reporter/writer for a local daily and eventually pursued a career in advertising as a copywriter and graphics designer. After her stint in the corporate world, she became a freelance writer, contributing to national and international publications regarding a variety of topics. She was a contributing food writer to COOK Magazine before she became a food and mommy blogger. She blogs at: www.sigridsays.com, www.lovinglymama.info, and www.mamacooks.info.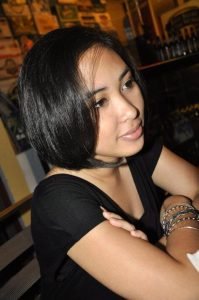 NBSI's beauty guru is Mea Pabiona (Meainbacolod.com (lifestyle), and Thepracticalbeauty.com (beauty and fitness).   She is a Nursing graduate with a PRC license but is non-practising and prefers to work in the digital field as Content Producer, Site Owner.  She is a freelance content strategist, and writer with expertise in SEO, Content Strategy, Writing, and Web Development.   Us ladies in the group  go to her for make-up advice; after all, she was  Beauty Blogger of the Year Awardee (Rotary South).
This is it for now.  Get to know the rest of the members of the Negrense Blogging Society, Inc. in my blog  http://betsynegrense.com/blogging-is-life-part-ii/ ‎