Bacolod City Ordinance No. 825 sets every 28th of September to the 4th of October as Bacolod Animal Welfare Awareness Week or BAWAW. Our furbabies are surely howling and purring in delight as BAWAW highlights R.A. 9495 as "The Animal Welfare Act of 1998" that "provides the protection and promotion of all animals in the country by supervising and regulating the establishment and operations of all facilities utilized for breeding maintaining, keeping, treating or training of all animals, either as object of trade or as household pets."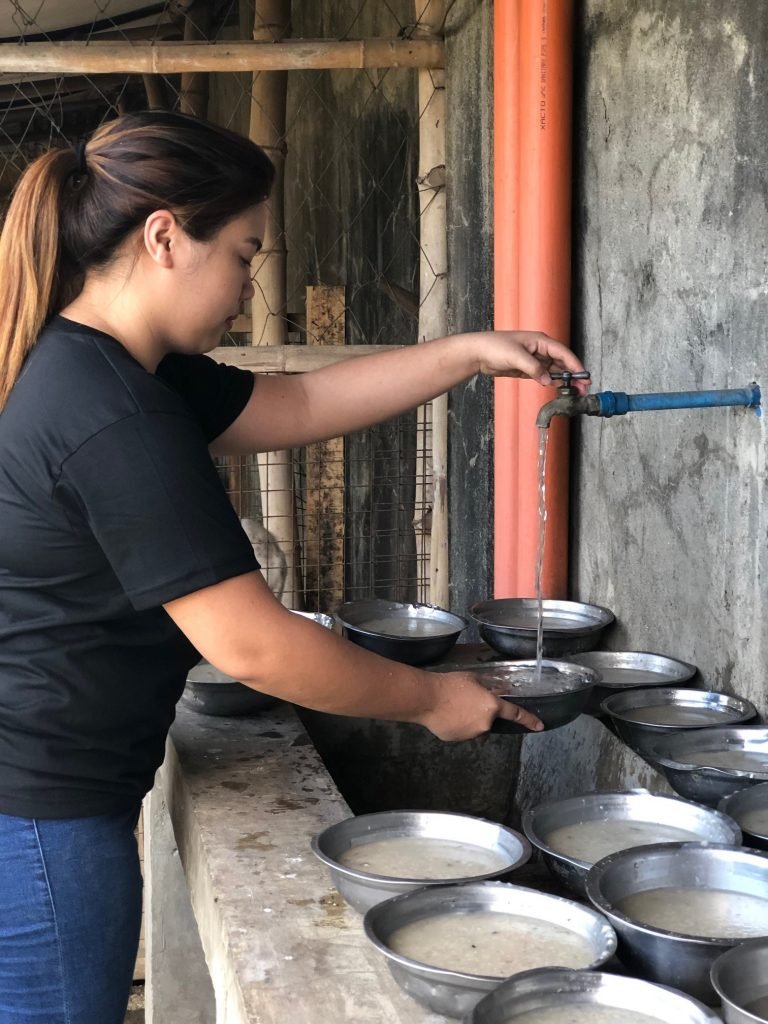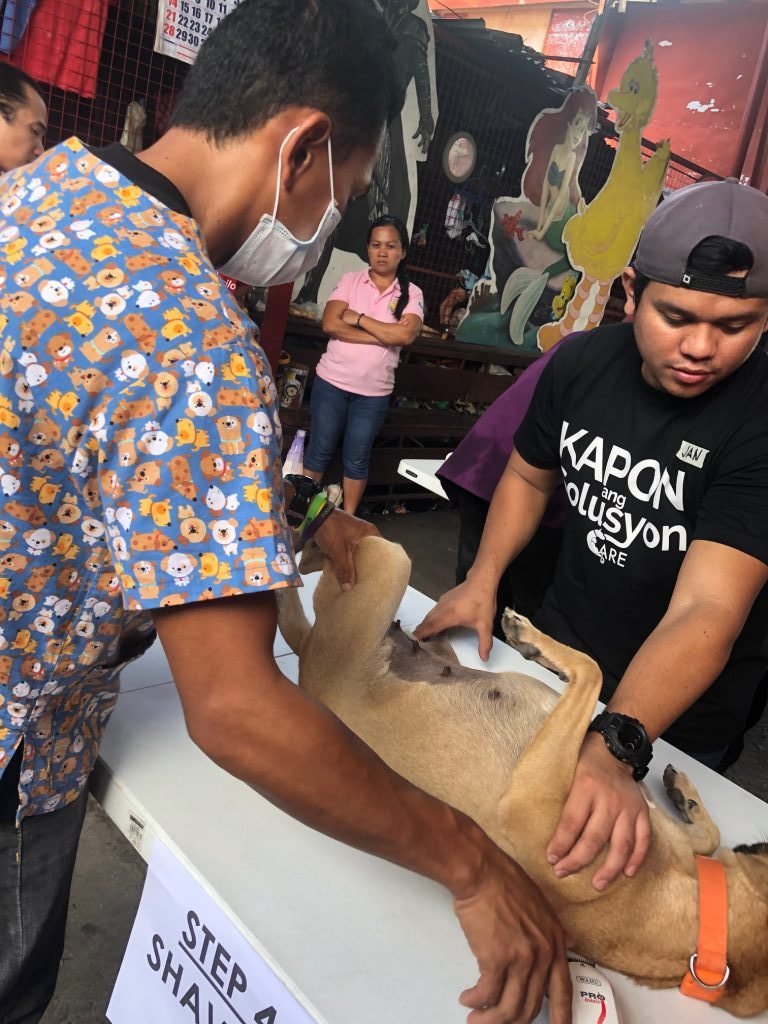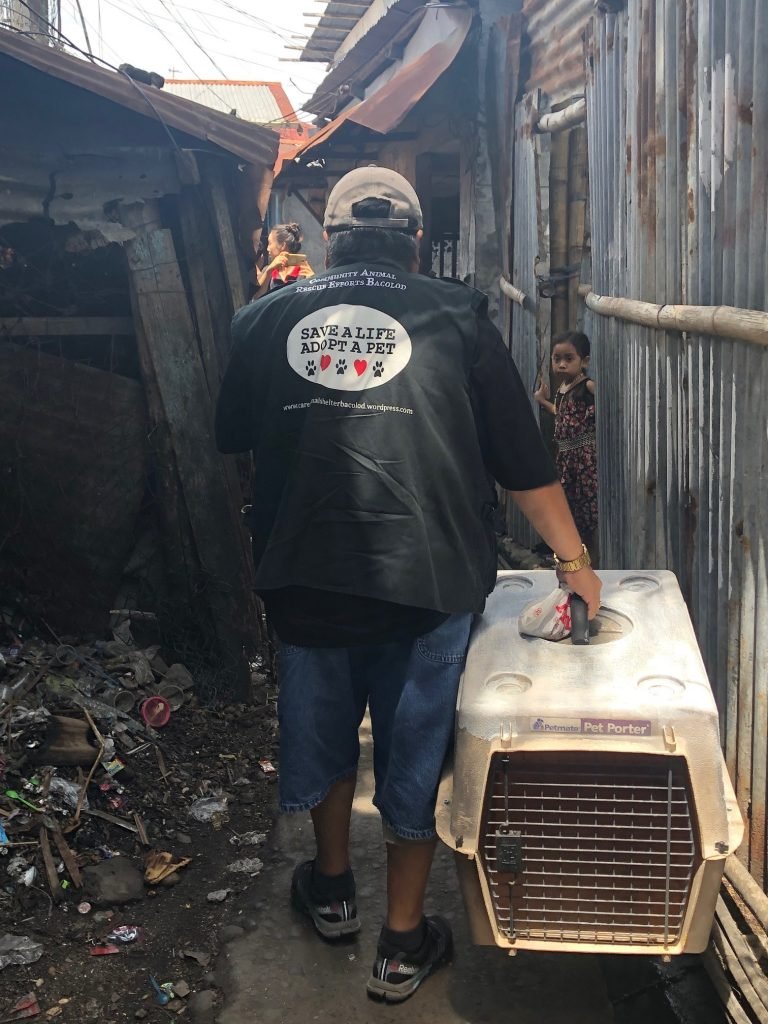 To commemorate BAWAW and further spread awareness of the loving and compassionate treatment of animals, CARE (Community Animal Rescue Efforts-Bacolod) had come up with various activities for this annual celebration of love for God's creatures. Up to 20 artistically-inclined participants may join Pet d'Arts, Turning Trash into Treasure. Anyone may participate from students to workers, amateurs and professionals, submit their finished art work on or before September 25. Exhibit venue is at the Ayala Capitol Activity Center from September 30 to October 5. Cash prizes are waiting for those who can get the judges' nods for creating works for arts that express love for animals through recycled or upcycled materials – junk, aboriginal art, or a combination of both.

For animals with exceptional abilities, register your loved ones in the Pet Got Talent Contest. Criteria are as follows: Overall Performance 50%, Audience Response 10%, Stage Appearance 10%, Originality 20%, and Personality 10%. One contestant: one pet: one entry, with a performance that runs for a minimum of 1 minute to a maximum of 2 minutes. Register through mobile number 0922-8264499 care of Ai Gamboa.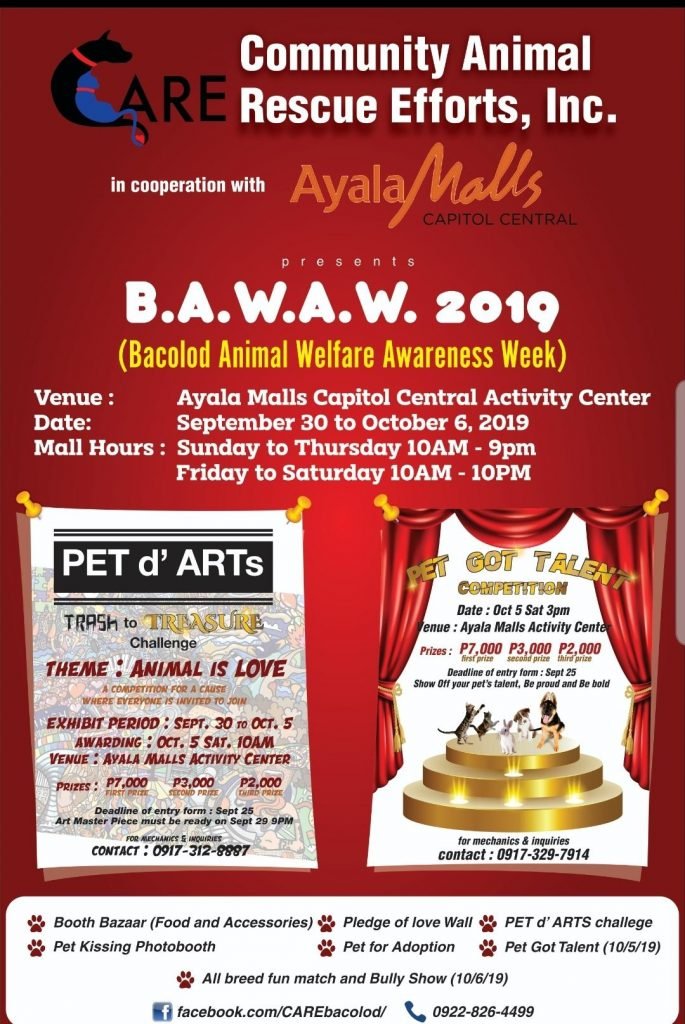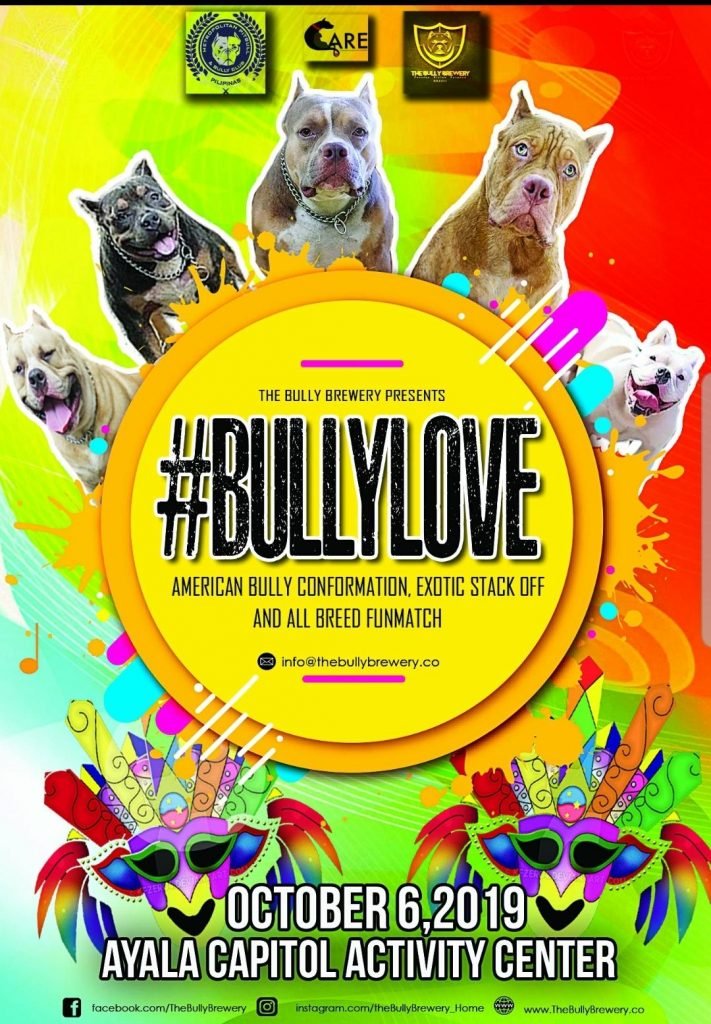 The significance of the dates for BAWAW is uncanny. September 28 is World Rabies Day while October 4 is World Animal Day, and is also the Feast of St. Francis of Assissi. For 2019, though, the dates have been moved to September 30 until October 6. This will be an exciting week with other activities such as the JLK Music Bar, a Bohemian night with Mutya ng Pilipinas Miss Global Beauty Queen Pauline Amelinckx; 20 booths in the booth bazaar and awareness campaigns, educational campaigns, kissing booth, pet adoption for rescues, a pledge wall, the Pet d'Arts exhibition, and an All-breed fun match dog show and Bully Show on the last day. Opening and ribbon-cutting ceremonies are with the presence of Ms. Pauline Amelinckx and Miss Philippine Earth 2014 Jamie Herrell. Art work sale of the Pet d'Arts entries will be done after the event with 20% of the proceeds going to CARE.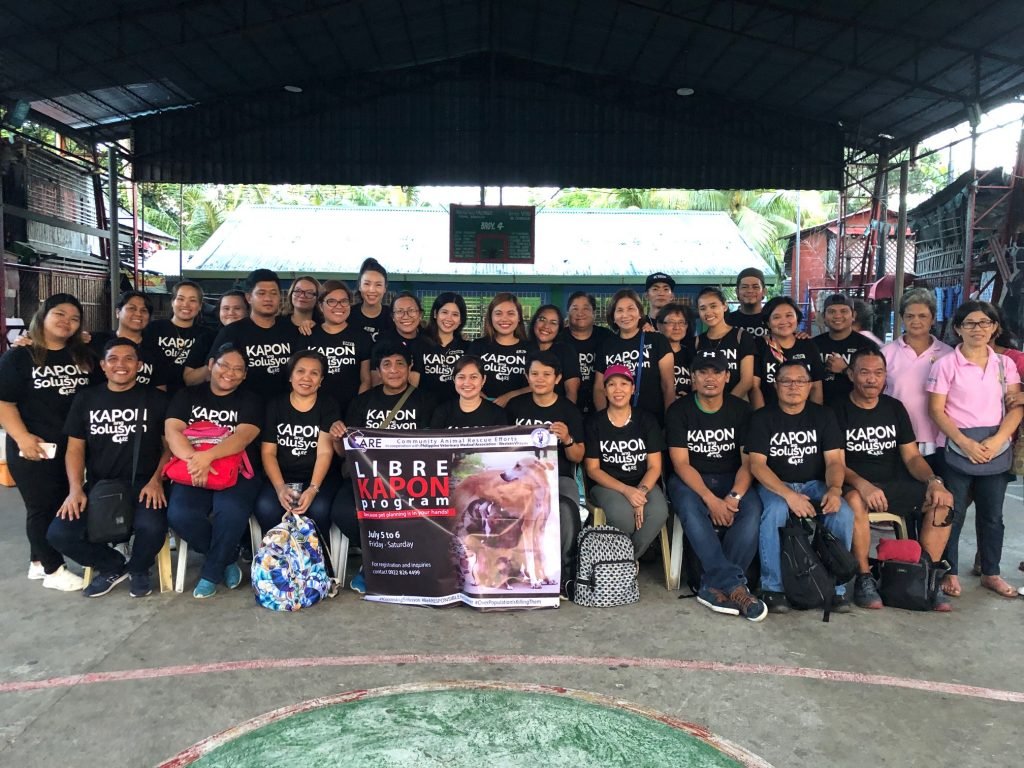 CARE's shelter for rescues is at Purok Paraiso, Brgy. Paglaum, Bacolod City, and houses 38 dogs and 27 cats per the latest count. Set on a 1,500 square-meter lot, the shelter is run by only one personnel who feeds and bathes the rescued animals. CARE has 10 volunteers and wouldn't mind more volunteers and more donations to keep the shelter well-maintained and the animals well-fed and healthy. CARE's thrust aside from rescuing dogs and cats, is also to educate people on responsible pet ownership through their Kapon program by spaying/neutering at a minimal cost, or even free in their Libre Kapon for the less-privileged fur parents. Even better than buying puppies from a puppy mill would be pet adoption from the City Dog Pound or at the CARE Shelter. Many of these rescues are such sweet, loving creatures who deserve a better life in loving homes