Hubad and Walang Iwanan are two of the latest theatrical productions of the PerfLab, Inc. was staged at the Black Box beginning on September 20 at the Negros Museum.
Nothing is wholesome in either of the two short plays. They are steamy, sensual, sexually-laden. Prudes are not allowed to sit in for no one has fainting salts handy for the flustered maiden or shot glasses of vodka to fortify the cool gent who suddenly becomes hot under the collar. Blame these temperature changes to Rody Vera and Liza C. Magtoto for penning Hubad, or Rene O. Villanueva for coming up with Walang Iwanan. Blame directors Renee Posecion (Hubad is her directorial debut) and Fundador Tipon II whose works demand a daring audience for these provocative and thought-provoking foray into human sexuality.
Hubad is the story of a married couple who hope to bring back the fire into their relationship by playing out their sexual fantasies. The dialogue is laden with graphic discussions on their desires, and their role-playing includes Student and Professor, and Chauffeur and Lady Boss.
Walang Iwanan has a hotel room as the setting for an illicit relationship between Eric and Katrina who bare their souls to each other as they delve into the matter of whether to continue seeing each other or not.
Both have the effect of making the audience an unwanted presence in their "rooms". I felt like a very reluctant voyeur listening in on their problems, their little spats, and I was ready to flee the Black Box with the initial torrid exhibition. Well, you kinda get used to it after a while as you consciously detach yourself from the setting.
What is a nice girl like Renee Posecion directing a shockingly sexual play like Hubad? Renee's day job as a Legal Researcher 2 at the Regional Trial Court belies her theater background with the Maskara Theatre Ensemble from 1991-1997. She acted in TATLO-TATLO (1997) and CROSSROADS (2005) and had undergone workshops such as Arts for Healing; Expressive Arts; Stage Directing under LutgardoLabad and Dennis Gupa; Playwriting under Malou Jacob, Luna Sicat-Cleto and Glenn Mas; Scriptwriting and Storytelling under Jag Garcia. She supported and lent her skills to different NCCA projects for Western Visayas and is currently the Executive Director of the Performance Laboratory, Inc.
Direk Fundz Tipon, on the other hand, is an actor, theater instructor, winning playwright and writer-trainer in literary contests, independent filmmaker/producer, and stage director. He is a writing fellow of IYAS National Creative Writing Workshop and Taboan: Philippine Writers Festival and won the IYAS Literary Awards for Hiligaynon drama for his plays "Emo Trip" in 2012 and "Palad" in 2013 and for his screenplays of short films "Landong" in 2017 and "Niños Inosentes" in 2018 at the Cine Agustino Film Festival. He has been affiliated with USLS Maskara Theatre Ensemble, The Performance Laboratory, Santermo Writers Circle, The Negros Museum Summer Arts Workshops-Kiddie & Teen Theatre, Teatrokon: West VisayasTheater Network, and NCCA-Committee on Dramatic Arts.
Direk Tipon's other works are "Taltal: Ang Kalbaryo sang Krus," "Waxworks: SietePecados," "Waxworks: Orakulo," "Emo Trip," "Palad," "Café Specials," "Café Specials 2," "Escritorio 3: Confession," "Si KanLaon, ang Sota, kag ang Pito ka Ulo nga Dragon," "Por La Sangre," "Sign Language," "Hunas," "Kon Ngaa Koton Kendi Ang Mga Panganod," "Dalan sang Dinalan," "Al Cinco de Noviembre," "Reyn, Reyn, Go Away," "Tabi-Tabi," "ParaisongPapel," and "Hingaway sa Dulonan," and adaptations of "Rizal is my President," "Where the Wild Things Are," "The Nutcracker," "Alice in Wonderland," "The Wizard of Oz," and "The Little Prince." He has also produced the short films "Delingkwente," "Landong," "Niños Inosentes," "Pula," and "Kon Ngaa Koton Kendi Ang Mga Panganod."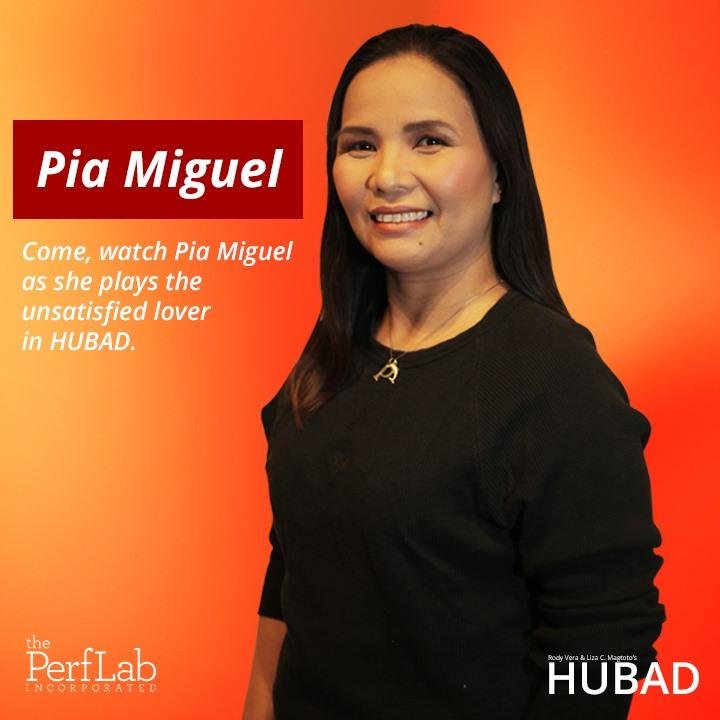 Pia Miguel is a graduate of BS Computer Science at the University of Saint La Salle, Bacolod City. She has been part of several theatre groups such as; DulanayanTheater Arts Guild and USLS Maskara Theatre Ensemble. She has undergone acting workshop under Star Magic of ABS CBN in Bacolod (2011). Pia acted in various theatre and film productions namely; The Birthing Trial (Philippine Premiere), Broken Pieces, PAMANA NI LOLA: AngPaktakon, Happy Birthday, Manang Jennifer and many more. She would like to continuously explore and discover more of her capabilities, expanding her horizons and experiencing growth in her craft.
Willbryan Garcia studied Psychology at USLS and was a member of Maskara Theatre Ensemble. He has done acting jobs both on stage and on TV. All throughout his college years, MTE inculcates the need of a performer to be versatile, the mere reason why he has attended workshops in basic acting, being, movement, and stage make up.He feels passionate about good conversations, that's why he loves talking with friends over a good meal, a cup of coffee or a bottle of beer.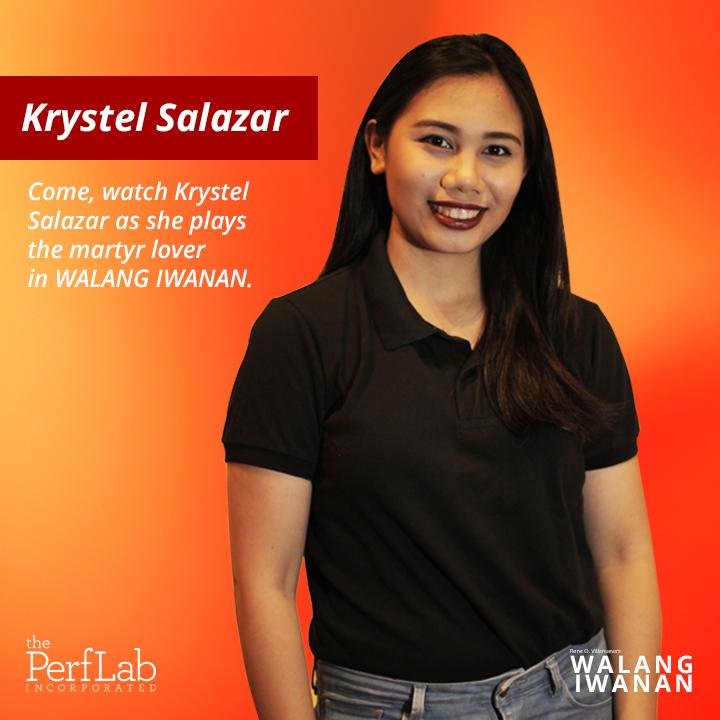 Sultry-looking Krystel "Stel" Salazar is a fresh graduate of BS in Industrial Pharmacy from the University of the Philippines Manila. While she's currently practicing her profession as a production supervisor in a drug manufacturing industry, she's been giving her time in honing and expressing her passion for music and performing arts. Even during her college years, she has been performing in various events and competitions in Metro Manila as a singer-songwriter, dancer, and a theatre actor. Stel has been affiliated in university- and community-based cultural organizations such as Pharmacy Junior Ambassadors of Music, UP Pharmakinetics Dance Society, UP Manila Dramatista, UP Manila Belle, and Philippine Educational Theater Association. She played the lead role in stage plays in Manila such as "Lean", "Sa Silong ng Muhi" (Dramarathon 2017), and "Ang Mga Bisita ni Jean" (based on Virgin Labfest 12) and is part of the cast screening for the upcoming "BonggaKa Day", which is organized by PETA. Stel expresses her deepest gratitude to the people who constantly support her professional career and passion for performing arts.
The fresh-faced Kurt Steven Soberano is an actor for theater, film, television and an events host with projects mostly based in Western Visayas. He has studied and was trained under the Negros Summer Workshops, Bacollywood Workshops, Maskara Theatre Ensemble, Dance Pull School of Performing Arts, Voice Chords Music Studio, Repertory Philippines, Star Magic, Moscow Art Theater, and American Conservatory Theater. He has acted in major theater productions such as A Mid-Summer Night's Dream directed by Lutgardo Labad of TeatrokonVisayas, Lupad directed by Cleo Patricio of The Performance Laboratory Inc., and Right You Are (If You Think So) directed by Adolf Shapiro of the Moscow Art Theater — Stanislavsky Summer School. He has starred in films such as Red by Jay Abello, Inhabitants by Lawrence Fajardo, Goyo: AngBatangHeneral by Jerrold Tarog, and Magikland by Christian Acuña. Kurt is currently practicing screenwriting and directing in the field of film production representing Negros.
Congratulations are in order for PerfLab for its new production. What an assuring thought that theater is still alive in Bacolod.