The newly-opened Weego Bistro is such a joy to visit.  Cozy and tucked away somewhere at Go Hotel's lobby, the 40-seater restaurant is the youngest family member to join Terence Dacles' Tippy's and Imbiss.  Imagine dining in a room with art on the walls and ceilings.  And such art!  The whimsical style of Nemar Sencil with the help of his fellow artists converts Weego Bistro into a huge conversational piece.
Walking into Weego is like getting more than one bargained for – expecting a restaurant, but ending up in an art gallery.  The spaces painted with out-of-this-world creatures is every child's fantasy and will make him jump up and down with delight.
Weego Bistro was put up to become a venue for artists and to support local art. Although the owner is a marine biologist, it seems that he cares not only for the ocean and its creatures, but also for its humans and the need for expression.   Terence says that it's not only about the food but the vibe.  The vibe, indeed.  Such burst of colors!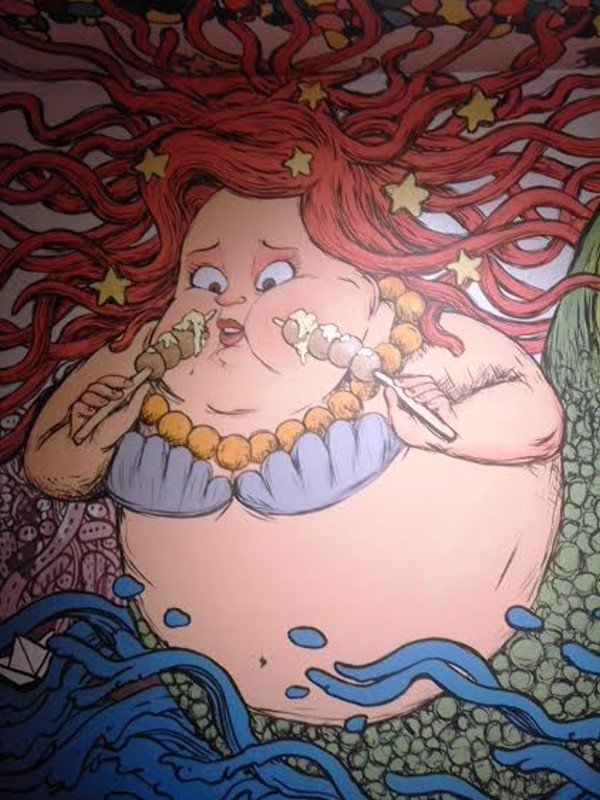 Such artistic ideas!  The kind of art displayed here is wholesome and not offensive.   Art here is meant to amuse and entertain.  Being located in a hotel, Weego Bistro does its bit, too, for the tourism industry.  One fun thing to do is to look for tourist spots of Bacolod amidst the doodles.
Travellers can pick up pasalubong items such as Malunggay Revel Bars, and Cashew Bars, or stay awhile and have some Carrot Cupcakes with either whipped cream or chocolate ganache frosting. Weego Bistro is open everyday from 6:00 a.m. to 8:00 p.m. serving Filipino comfort food.  Also try their thinner-than-thin-crust pizza which can be addictive.
So, congratulations to Weego Bistro for opening.  To the latest family-friendly restaurant, here Weego!