One good deed deserves another.
So, Globe Telecom and The Walt Disney Company, Philippines, collaborated to come up with Time Please.  Time Please is a volunteering program that gives an avenue for companies, organizations, employees, families, and friends to open their doors to volunteerism, either by providing volunteer activities, or becoming volunteers in existing volunteer programs.
President and Chief Executive Officer of Globe Telecom Ernest Cu says, "We look at Time Please to extend Globe Telecom's purpose-led culture to our customers.  With the help of technology, we wish to make volunteering more accessible to many Filipinos, thereby, making it easier for our partners and customers to contribute to nation building."
There is a volunteer matching portal: www.timeplease.ph.  This was developed with Globe Future Maker iVolunteer Philippines and the volunteer portal of Gawad Kalinga.  It is through Time Please that individuals or groups of volunteers are matched with whatever volunteer programs may be found around the country.  This will be a breeze to implement knowing how magnanimous a Filipino heart is.  Did you know that according to the Charities and Foundation (CAF) World Giving Index 2017, the Philippines ranked 7th for the most number of people who gave of their time and there were 25 million Filipinos volunteering in 2016!!
Which sector mobilizes volunteer activities? These are sectors such as non-government organizations, government agencies, Corporate Social Responsibility departments of companies, or company foundations, the academe through their school activities, and the private sector.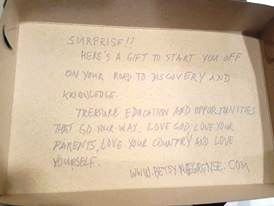 Have Group, Will Travel
It is through Time Please that volunteers may choose from "a robust menu of volunteering activities." How?  With online access, individuals can sign up for free, and form groups to join volunteer activities enrolled in Time Please. Each group must have a minimum of two and a maximum of four individuals to be able to join. A Team Leader at least 18 years old should be nominated.  The Team Leader should hold an active Globe or TM number to enable the group to register.  The best part is "the group with the most number of volunteer honor credits at the end of the program will win an all-expense-paid trip for 4 to HK Disneyland."  This nationwide volunteering program runs from May 25 to August 19.  Go for it!!!
Calling all Globe customers, partners, and other organizations.  Register and volunteer through www.timeplease.ph and at the volunteer portal of Gawad Kalinga.
For more information, please contact:
Yoly C. Cristanto
SVP, Corporate Communications
Globe Telecom, Inc.
Email address: gtcorpcomm@globe.com.ph
Globe Press Room: http://newsroom.globe.com.ph/
Twitter: @talk2GLOBE
Facebook: http://www.facebook.com/globeph