"Behold the World Wrapped in Darkness."
Sixteen young Philippine filmmakers tell their quarantine stories in ECQ:Eksena Cinema Quarantine (COVID-19 Filmmakers' Diaries), a project under the National Commission for Culture and the Arts – National Committee on Cinema (NCCA-NCC), in cooperation with the University of St. La Salle – Artists' Hub.. Adjani Arumpac (Count), Hiyas Baldemor Bagabaldo (Kneading Nothing), Arbi Barbarona (Right to Life), Glenn Barit (Walang Katapusang Hurno), Carlo Enciso Catu (Joy is My Mother's Name), Zurich Chan (Soul Fish), Arden Rod Condez (Random People), Kristian Sendon Cordero (Hurop-Hurop sa Kapadagusan kan Agi-agi Kan Gamgam na Adarna), Khavn Gunam-Gunam x Guni-Guni), Keith Deligero (Kalayo), Kyle Fermindoza (Kuadrado), Bagane Fiola (Alimungaw), Mark L. Garcia (Mga Bag-ong Nawong), Julienne Ilagan [Akong Pinalangga (My Beloved)], Pam Miras (Lonely Girls), and Guillermo Ocampo (From Itogon to London).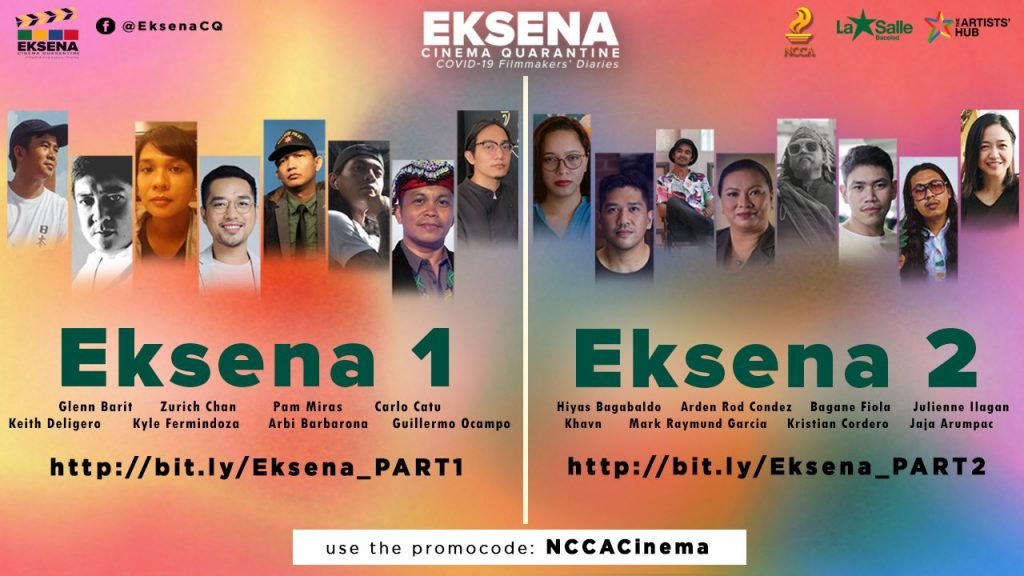 Eksena Part 1of 2 and Eksena Part 2 of 2 are the omnibus films of the 16 films above. The first part opened with Count by Adriani Arumpac and I see what I call the Chin People (two humans with eyes drawn on their chins and their mouths upside-down) having a conversation. They seem bored and frustrated. Who wouldn't be in these times? Henceforth, viewing the rest of the films took me on a voyeuristic journey through the lives of the films' subjects.
We see people at their everyday-est taking showers, eating junk food, stripping down to their unmentionables, in lovey-dovey poses, doing yoga, taking care of family members, being happy with family members, and grieving for family members. We also see people doing strange, crazy, incomprehensible stuff that we would be doing, too, if we were bored out of our wits, Or we would probably be seeing things just like some of the ladies in the films.
The two-part film ends with the documentary Itogon to London which deals with the plight of the coffee industry during the lockdown. For a short film, it wraps up the 2.5-hour movie feast with enough caffeine to keep you awake and ponder on our future with COVID-19. In between the beginning and the end are films with political statements, films that raise one's stress level, films that tug at the heartstrings, and films that give us hope.
National Committee on Cinema Chair Rolando Tolentino said, "It is important to continue the filmmaking process especially in this time (COVID-19 pandemic) when it is very challenging to do films and art for that matter."
COVID knows no tribe. "Right to Life" documents the Lumad's flight into isolation. COVID knows no time. "Kneading Nothing" tells a repetitive, hypnotic, trance-like non-story. COVID knows no beauty. "Mga Bag-ong Nawong" has an all-masked cast. In the end, Love knows no COVID-19. "Random People" shows canoodling couples, hugging couples, caressing couples, and a couple separated in body, but linked in spirit. The elderly gentleman pressing his warm lips on the cold tombstone.
The sixteen filmmakers from Luzon, Visayas, Mindanao and the National Capital Region bravely conveyed through films their part of the world during this trying period. For them, their art does not stop for anything.
"If we do not sustain art and culture, we would not have the testament that the pandemic indeed happened. These films will become testaments that we lived this way (now) – just like Noli Me Tangere – which gave us a glimpse on what happened during the Spanish colonialism because Jose Rizal wrote Noli Me Tangere. That becomes a powerful testament over time even after centuries," Tolentino added.
Four webinars were also set for January 25-28, 2021 with clustered filmmakers who shared their filmmaking process in producing their short films and thresh out detailed insights into their personal struggles and successes in doing the film.
To view the films, access them online after registering for a free account at vimeo.com or through the vimeo mobile app. Films maybe accessed as video on demand until January 28, 11:59PM for free via the promo code NCCACinema.
For more details visit https://bit.ly/EksenaCQ or join us at https://bit.ly/EKSENACinemaQuarantineLaunch for updates.