I've been told that I'm a wise spender and that I only shop for what I need. C'est true! I have developed this sound habit of separating my wants from my needs, and Heaven knows that I need to shop. Haaayyy…the problem with being rich is that one is just burdened with so much cash to spend. With this pesky COVID-19 scourge, my usual shopping expeditions have come to an almost complete stop. I nearly went out of my mind. And, then, Landers.ph came along and saved my life.
You don't know how grateful I am for Landers Superstore's online shopping alternative. My life now has a purpose. I may be rich, but I am not one of those idle rich ladies. Look, I don't twiddle my thumbs all day- my index finger has to work, too, you know. After I have a manicure, of course!
How did I find out about Landers.ph? Well, my secretary tipped me off. She usually schedules my appointments to my favorite shops. She knew that I was dying to browse around again. Her name's Alexri. "Alexri! Where do I buy Bogutti Chocolate Sugar-Free Cookies in Bacolod?" She popped her fake blonde head into my lounging room with a twinkle in her eyes.
"Madame, it's on sale at Landers. 30% off! Now only P69.75 from P99.75" "What do you mean at Landers? Do you expect me to fly to Cebu for that?" "You can order online now and they deliver to Bacolod for a fee." "What do you mean I order? YOU order!" I paused for a while. "Wait a minute. I think this will be fun. I can go shopping again!"
When I'm happy, Alexri is happy. So, she brings in my expensive laptop. I tell her I'm using my expensive phone. "Good idea, Madame. You can actually do online shopping anywhere in Negros Occidental." "Wonderful! Get it ready while I change my outfit. Do you expect me to go shopping in my house dress?"
Alexri replied, " Do you want me to fill up your membership form? Annual membership fees are discounted now, and you get great benefits from being a member." Then, Alexri started explaining that I need to choose between Premium and Business. It's Business, of course, so I get an Extension Card Eligibility for four cards instead of the one card that Premium offers.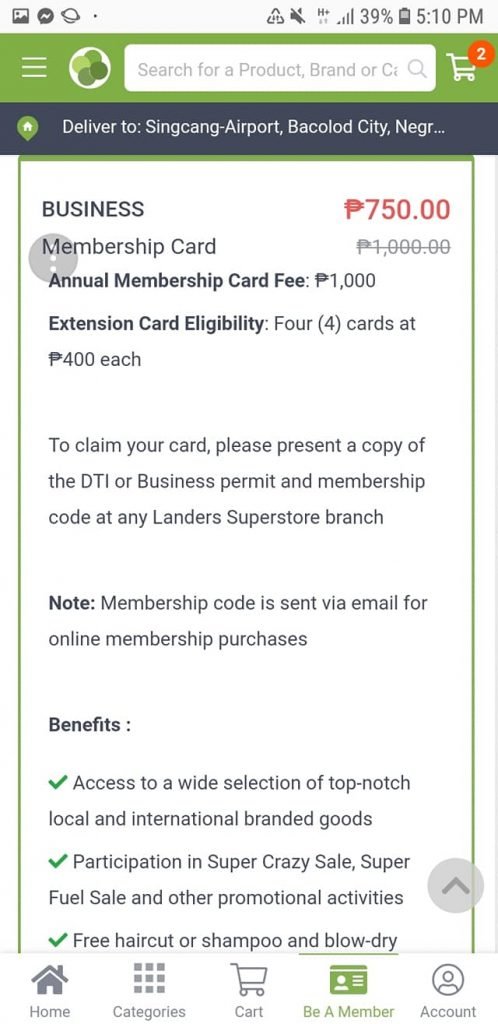 The Benefits of Landers membership are interesting. They are:
Access to a wide selection of top-notch local and international branded goods
Participation in Super Crazy Sale, Super Fuel Sale and other promotional activities
Free haircut or shampoo and blow-dry services at Federal Barbers
Up to ₱10.00 off per liter on gasoline at Landers Caltex stations
Member discount at Capital Care Pharmacy
Excellent food and drink choices from Landers Central, Doppio, Dough & Co.
Fast and easy shopping on our online store
How do you become a member at Landers?
1) Make an online account at landers.ph
2) Click on "Apply membership"
3) Fill up the form. Lovely! You don't have to rummage for a pen.
4) Select how you'd like to pay and place your order
5) Wait for the Lander's email for your membership code
6) Link the membership code to "My Membership" tab in the Landers dashboard
For women of substance like me, I make sure my time browsing would be worthwhile, hence, it was a delight to see the online store carry a multitude of local and international brands in different categories. There's Fashion; Health and Beauty; Fruits and Vegetables; Baby, Kids and Toys; Bakery; Food Cupboard; Beverages; Beer, Wine & Spirits; Home and Outdoor; Outdoor; Home & Outdoor; Rotisserie, Meat, Poultry & Seafood; Dairy & Chilled; and my favorite Chocolates, Candies & Sweets. I can see that they have chairs, storage bins, etc., etc. I think the guestroom should have the Ralph Lauren Premium Down Alternative Twin Pack Pillows (now only P2,899.75 from P3,199.75), and the kitchen needs Ralph Lauren Kitchen Towels that are (gasp!) 36% off from P1099.75 to P699.00.
Now, I'm going berserk over the variety Landers.ph has to offer. There are uncommon finds such as Boy Bawang Cornick, and Perla Original Blue Laundry Soap Bars. There are exclusive brands (Badia spices, Huer candies, Koita milk, Double Rainbow ice cream), and All-Out Deals and Sales.
Alexri starts to get restless. When I'm excited, she gets excited. She clicks "On Sale" and voila! Milton Mini Sterilizing Tablets that are 83% off (from 299.75 to 49.00). How about 75% off for Olay Daily Clean Wet Cleansing Cloths 30's from 399.75 down to 99.00. "Alexri, let's load up on these and those Ringspun Cotton Washcloth that are 50% off (49.75 to 24.75)." Landers.ph offers crazy bargains such as Buy 1 Take 1 deals, andtheir SurPrice offer of P1 per item. I discovered that I can click on the photo of the item to read more product information. Wonderful! I don't usually shop for household items since my mayor doma does it for me. But I miss shopping so much that I'm willing to do the dirty work for her.
Whew! At this point, I begin to get restless. Be still, my heart. Too many items, too little time- I have Confit de Canard slow-cooking in my spacious kitchen. I have to hurry now because I need to send the dish over to my mother. She loves Confit de Canard. Now, my heart can sense a little tug. A feeling of warmth washed over me.
My dear Mamá (accent on the second syllable) deserves Landers. For my first online order, she is going to be the first recipient of my loving and thoughtful shopping moment.
"Alexri! Eureka!" When I'm excited, Alexri gets excited, too. (I think I said this before.) "Everything I'm ordering now will be for Mamá (accent on the second syllable). She will have the Mariani Prunes, the Peace River Rolled oats, Close Up Ultra Cinnamon (because she likes cinnamon bread), and the Ringspun Cotton Washcloth.
My heart beat faster. I am overwhelmed by so much love for my mother. When Mamá (accent on the second syllable) is happy, I am happy. Thank you, Landers! Bissous-bissous, cherie.
#LandersGoesNationwide #ILoveLanders #landersph #LandersSuperstore