Eight Hotel Management graduates got their pots and pans together to put up Squad Bistro.  The name connotes casual barkada dine outs for young professionals and students.  The interiors has a country feel from the airy atmosphere to the furniture done in light wood to the "wallpaper" which is literally paper squares cut out from magazines and pasted neatly all over the wall.
Squad Bistro is a relaxed, let-your-hair-down eating place, but, God forbid, not a come-as-you-are destination.  Squad Bistro is casual but not that casual.  It is a decent bistro meant for the young and hip.  Well, older folks will feel right at home, too.  In the first place, the bistro is bright and spacious and has its own comfort room which its neighbors are not fitted with.  No loud music blares from the speakers.  And the food! Oh yeah, the food.  Squad Bistro's cuisine has most of what people look for in a casual diner.  Although bereft of a soup and salad selection, it has filling servings of All-Day Breakfasts, pasta, rice meals, and fruit shakes and drinks to go with them.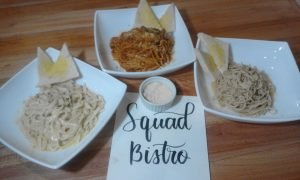 All-Day Breakfast gives you the 'silog combinations starting from P90.  Rice meals such as sate babi, lechon kawali, chicken pesto, and 7 Spice Chicken give you your meat quota for the day.  Familiar pasta dishes such as pesto pasta, spaghetti Bolognese, Pasta Alfredo, Pasta aglio e olio, and Spanish sardine pasta can be paired with another dish so that two people can share each dish for variety.
Squad Bistro is proud of its 7 Spice Chicken and I agree that it is perfectly seasoned and fried. Crisp on the outside, cooked well to the bone.  The Chicken Pesto Quesadilla is flavorful, so, try this, too.
One of the partners highly recommends the Chicken Galantina and this comes in three sizes – whole at P1,200, half at P600, and as a rice meal (P150).  The sourish taste is unusual after having our galantine usually sweetish.  The slight sourness comes from lots of chopped olives and pickles.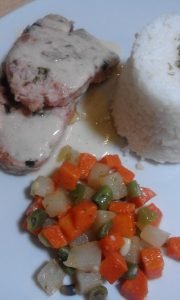 If there's sour, there's sweet.  Desserts include leche flan (firm but light on sugar), black sambo, mango royale, and (yum!) home-made ice cream. The ones available were Cookies and Cream, and my new favorite – Matcha!
Then, go order some drinks, y'all! Squad Bistro serves fruit shakes, juices, and cocktails.  This one will make you happy – beer is at P40/bottle during Happy Hour from 10:00 a.m. to 6:00 p.m. Or get a Beer Bucket at P270 for six bottles plus kropek.
Squad Bistro is where I can get a good meal in a decent place and complain about how low the price is.