When Art meets Energy, Passion results and becomes the building blocks that make up the very successful duo of Architects Bogoy and Cathy Sicangco Hagad. Armed with their degrees from the University of the Philippines (for Bogoy), and the University of Sto. Tomas (for Cathy), the Hagads started Art Energy as an architectural firm cum store for their designs. They were in their 20's and had an idealistic aspiration for the local design scene: to make a statement which was an aesthetically minimalistic approach at a time when the Country Look was in vogue. So, there it was in Art Energy's straight lines, and the use of black and natural wood with Cathy bringing in her California exposure into Bacolod, ideas fresh from the United States.
One must have heard of the rule that couples should not be in business together, yet, it pays that there is no overlapping of functions. In their 28-year-old firm, the husband and wife team mean business. Bogoy is the architect while Cathy comes in as the licensed interior designer. The latter took up her M.A. in Art in Furniture Design (with emphasis on wood) from the San Diego State University which included furniture making where she learned how to purchase wood, have them hauled and cut at the mill. As a student, her work, an abstract ultra-modern bench made of maple and padauk, was featured in Fine Woodworking Design, Book Four, in "320 full-color photographs of the finest work in wood."
It is the perfect combination of the couple's talents that enable them to come up with stylish, modern furniture and accessories. Art Energy's excellent designs enabled them to tap the export market. Among their clients were the United States, Japan, Australia and even Saudi Arabia. They did the ships of Negros Navigation, resorts in Negros, hotels and commercial buildings in Bacolod City, model homes for Cebu real estate developers, and Mindanao residences for a huge real estate development company. Presently, Art Energy is concentrating on a purely local market with focus on home furnishing targeting the AB market. The Hagads continue to deal with corporations and institutions, and design residences.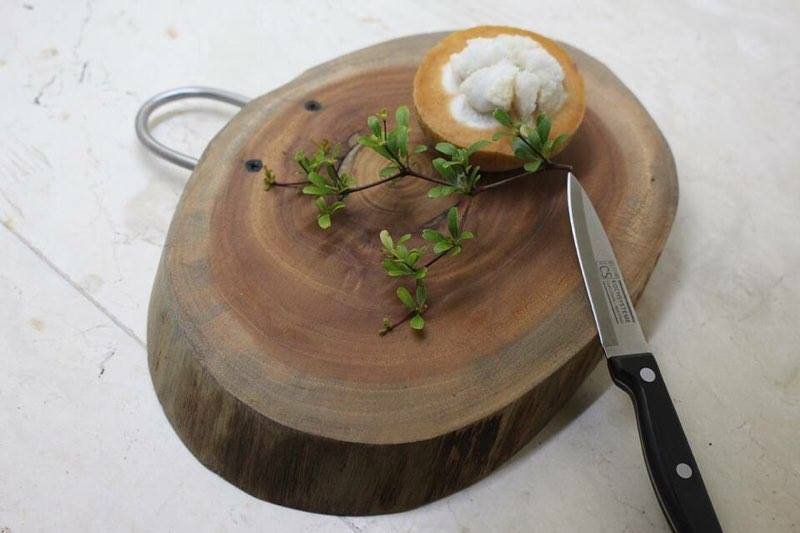 Designing also extends to unique and functional pieces for the home. Art Energy's creative juices come to the fore when it puts elegant homes and offices foremost as its inspiration. As a member of the Association of Negros Producers since 1990, Art Energy creates art for art's sake. Consider rustic touches for any living room or kitchen are hand-carved wooden bottles and cheese cutting boards. Or, sought-after hard-to-find items such as miniature hand plows and tiny versions of the molino de sangre (canecrusher) that have delighted many a buyer at the showroom. After all, these are proof of a well-heeled tourist's journey to Sugarcane Country.
Fine things come to those who expect the best, especially when excellent hand-crafted items are lovingly done. When Art marries Functionality, it must be love.