If there's a rags-to-riches story worth knowing and emulating, it is the leathercraft store 4-G Shoes.  With over 20 years of experience in the business mainly of shoe repair, it is the go-to store for genuine leather supplies and other materials, for military-related items, for genuine leather belts that last for years, and for shoe repair that gives one's favorite footwear another lease in life.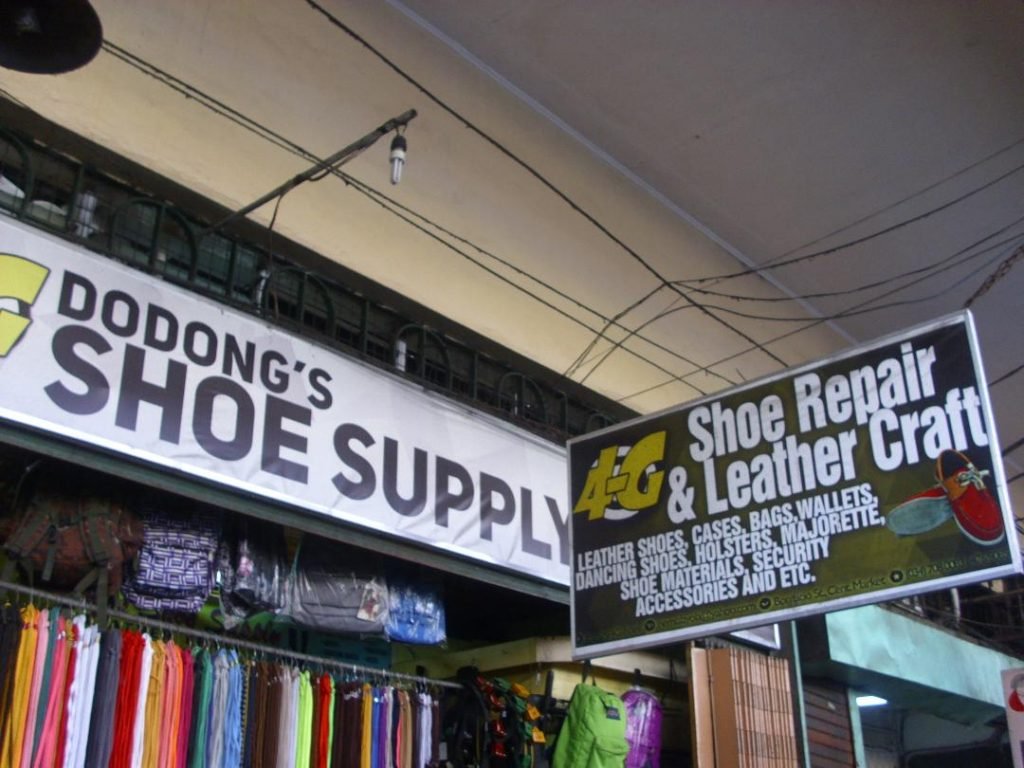 Dodong Layola was a high school drop-out when he worked as a laborer in the hacienda where his father worked.  He left the farm at 17 to go to the Big City Manila where he found employment as a houseboy to the owner of a shoe factory in Marikina.  He later worked at the factory as a helper.   When the factory closed down, Dodong got employed by a more stable shoe factory.  When at work, he would keep an eye on the operations, learning how to make shoes.  This curiousity would serve him well especially in his next job at another shoe factory that makes made-to-order shoes.  At this new job, he was, this time, the designer.  This experience led him to a better job with more opportunities to be creative.  In a Makati shoe factory, Dodong was designer AND pattern-maker, cutter, and upper-maker (or the one who assembles the vamp.)  This factory creates fashionable footwear for shoe brands such as Manel's, Mendrez, Kashieca, and Ohrelle.
Dodong's employer happened to be a sibling of Nemia's employer.  Nemia, who would be Dodong's future wife, worked as a househelp.  She, like Dodong, was an offspring of hacienda workers in Negros, but, she had big dreams.  Not being contented with being just a househelp, she echoed her sentiments to her boss who put up a grocery store and assigned Nemia to manage it.    Nemia's business acumen was longing to be tapped and it was not long when she convinced her boss to be a partner in a sideline which was purchasing goods from Divisoria and selling these for a profit.
Nemia also helped out in the factory where Dodong was working for.  Extra work meant additional income for her.  The couple already had their twins by then, hence, children to support became their motivation to increase their income.  Nemia saved part of their earnings no matter how small it was.  This savings habit proved nifty when husband and wife decided to move back to Negros to start their business of repairing shoes.
Their P20,000 capital afforded them one second-hand sewing machine and one grinder which was used to polish leather.  But this happened only a year after they established themselves in Bacolod.  It took the Layola couple one year to locate a suitable site for their shoe repair business and this was in Burgos-Lacson Street, very near the present 4-G shop.
Throughout this one year search, Nemia sold Marikina-made slippers to tide them over and, in 1995, the Burgos shop was born – in a "payag".  As a marketing gimmick, shoes that were sent to them for repair were hung at the shop window to let passersby know that they were in the business of repairing shoes.  The couple repaired the shoes themselves.  It was a month after operations when they got one zapatero to assist them.  After a year, they hired two inexperienced workers whom they trained as zapateros.  Now, 4-G has 30 employees.
AT first, the shop didn't have a name yet.  When they finally named their shop, it was two years after the business was set up.  4-G's first business name was Glennmark named after their son.  The 4-G brand replaced it to represent their 4 children, namely, Gladys and Glady who are twins, Glennmark, and Gerica.  From the "payag" came other stores.  4-G has branches in Bonifacio Street (at the Bacolod Public Market), Lopue's East, the Cybercenter, and at Kabankalan City.  The main shop is still along Burgos-Lacson Street.  The store repairs not only shoes but also bags and makes other genuine leather goods such as shoes, gun holsters and wallets.
The Layolas' boldness manifested early in the business.  This derring-do will serve them well in growing their leathercraft skills.  With no experience in making bags, they accepted their first bag repair job and learned along the way.  Guess what?  Their first customer was surprisingly their competitor in the shoe repair business who approached them to have his bag fixed.
The couple certainly had come a long way.  Success didn't come easy for sure and they put body, soul and sole into their dreams.  From parents who weren't able to go to college, came two nurses, an Economics graduate who is also a Management Accounting graduate who is now in Canada studying Logistics, and a Marketing and Operational Management graduate.  The couple enjoys the fruits of their labor by traveling to other countries the most memorable of which was their trip to Florence, Italy, to visit a leather factory.  The path to abundance and successful living is narrow, but, yes, Dodong and Nemia walked that way.